If you've been playing racing sims for a while, you've probably considered upgrading your steering wheel to a direct drive wheel. While direct drive technology is expensive, it delivers smooth and realistic force feedback like none other, making it a must for aspiring sim racers.
In this guide, we share the best direct drive wheel bases on the market, based on quality, price, and several other factors.
The Top-Rated Direct Drive Wheel Bases
| Editor's Pick | Wheel | Peak Torque | Score |
| --- | --- | --- | --- |
| Top Pick | Fanatec Podium DD1 | 20Nm | 92% |
| Runner-Up | Fanatec Podium DD2 | 25Nm | 92% |
| Budget Pick | AccuForce Pro V2 | 16Nm | 86% |
| Also Great | Simucube 2 Sport | 17Nm | 84% |
| Honorable Mention | Sim-Plicity SW30 | 15Nm | 82% |
| Luxury Pick | SimSteering 2 | 16Nm | 93% |
| Budget Runner Up | Simagic M10 | 10Nm | 82% |
Top Pick: Fanatec Podium DD1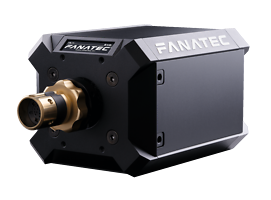 Fanatec once again tops our list with a modern revolution in the terms of racing sim driving experience
Buy on Fanatec
The Fanatec Podium DD1 is, simply put, mastery in the field of direct drive technology. Other than being made of very high-quality metals, and looking the part of a professional sim setup, it shines in all it does.
The ultra-high torque ensures a smooth driving sensation, like the one of belt-driven wheels, while still leaving space for all the other incredible additions. The OLED display allows for incredible levels of data retrieval and, thus, customisation. The upgrade tuning menu hence matches like a wonder, allowing you to adjust things such as steering lock, force-feedback strength, shock, ABS, drift mode, force, spring, damper, and force affect intensity. The integrated electronics within wheel base housing make it so that you will never experience latency issues, instead getting immediate feedback from your sim.
Fanatec has assured buyers that the DD1 is not only compatible with all their peripherals that are currently on the market, but with all the peripherals Fanatec will make in the future. That includes any Fanatec wheel rim, which can be changed out with ease using the base's quick release system, as well as their handbrake, shifter, and pedals.
When it comes to compatbility, the DD1 works with PC and Xbox One out of the box. It doesn't work with PS4, but Fanatec do offer a dedicated sim racing wheel – the Podium F1 – specifically for PlayStation users. Funnily enough, the Podium F1 is actually built on the DD1.
The DD1 does not come cheap, as very few top-notch racing wheels do, but it does everything commendably. If you're looking for a sim racing investment, you've found it. For more information, read our complete review of the Fanatec DD1.
Runner-Up: Fanatec Podium DD2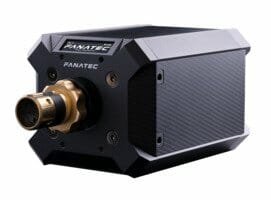 The DD1's younger and slicker cousin comes at a higher price, but it dials all the positives into 8th gear
Buy on Fanatec
The Fanatec Podium DD2 can simply be described with one word: excellence. Imagine taking the intense torque of the DD1, dialling it up a bit, and adding a few new features. To be precise, the DD2 has improved torque, cool carbon fiber plates, and a two-in-one kill switch and remote power button.
Other than that, though, the DD2 is mostly the same as the DD1. The size and weight is the same, and it'll feel very similar during 99% of the sim racing experience. The reason it takes second place is the fact it costs a whopping $300 more than the DD1 — but do see our full comparison of the two here.
Back to torque, the DD2 is the first ever wheel to have a direct drive motor optimised for racing simulators, and it shows. It achieves a peak torque of 25Nm, which is identical to the torque output in most real race cars which use power steering, and even in the harshest racing conditions the holding torque is never less than 18Nm. If you have a preferred wheel which is heavier and are thus afraid it might have a negative impact on your simulating experience fear not. The DD2's motor speed and acceleration does not suffer from heavy wheels.
The excellence of DD wheels does not come cheap, but it's no joke when we say that this is truly the pinnacle of Fanatec's incredible product line-up. Read our full review of the DD2 here.
Budget Pick: Accuforce Pro V2
The Accuforce Pro V2 shows mastery in the craft of sim racing like few other products on the market
Let's start our review of the AccuForce Pro V2 by making something clear. This is the only complete steering wheel on this list. That's right: out of the box, this direct drive base includes a beautiful 33 centimeter wheel rim, which means there's only one price for you to worry about.
Moving onto performance, the feedback this wheel gives the user is truly unparalleled, balancing the torque and torque resolution perfectly. And don't worry, much like the wheel gives you precise feedback, it also gives the sim pinpoint accurate data. The motor updated 50,000 times per second, and the game is provided the information you input in less than 2 milliseconds. Even for races which are decided by a split hair this is incredibly fast.
One of the most impressive additions is the auto-optimize feature. This means that the wheel will be able to change its settings to best mirror what you need. It can be auto-optimized to fit your driving style, your driving line, what track you're on, what car you're using, how these two interact. Simply put it's your own little engineering department inside the wheel itself.
The wheel itself is still built with high quality components and materials, but they simply don't feel as top of the range as the ones the DD1 or DD2 uses. This is perhaps the only criticism we have for this wheel, and if that's not praise enough then nothing will be able to satisfy your needs.
Also Great: Simucube 2 Sport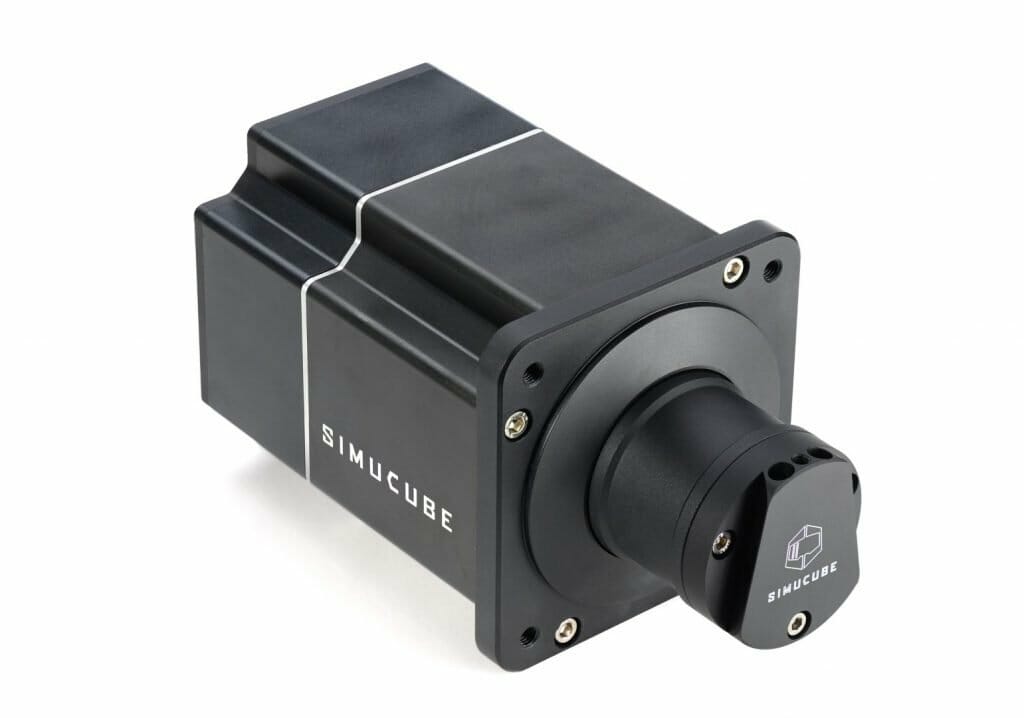 Another impressive addition to the DD wheel family, the Simucube 2 Sport will have you feeling every grain of dust your wheels touch
Both the Simucube 2 Pro and Simucube 2 Sport are excellent direct drive wheels which follow in the footsteps of the legendary Simucube 1. Perhaps not as well-known as Fanatec, this wheel from Granite Devices will have you loving every second of the ultra-accurate direct drive force feedback it shoots back at you.
Thanks to the natural signal processing the Simucube 2 employs, you will be able to feel the force feedback exactly as was intended by the physics engine of your sim game. Of course this means the wheel is only as good as the game your running but it means that the game you're running can perform exactly as it was meant to. Natural sign processing also includes natural damping, inertia and friction filters. Coupled with the robotics grade angle sensors which grant unmatched angle precision, every damp part of the track, every time you graze the gravel when you understeer a turn, every little physical phenomenon will be indistinguishable from its real world counterpart. The added benefit of the passive cooling system also means that your wheel will consume less and make less noise, allowing for a totally immersive experience. All in all, a great choice.
Honorable Mention: Sim-Plicity SW30
Perhaps not at the same levels as others on this list, the SW30 is still a great DD wheel
The SW30 is not the top pick in terms of DD wheels, although it remains a very good one. By far its biggest praise is the adjustability it allows for, and the simplicity with which changes can be made. A simple window on your computer will have you adjusting everything from its rotation and torque, to advanced telemetry options and the creation of profiles. This wheel will leave you tinkering in order to find what options work best for you for hours. And this is by all means a positive. It will obviously take some time and trial and error, but the satisfaction of improving your time by a few seconds because you took the effort to test out what works best, will have you feeling like a bona fide Niki Lauda. The fact that the wheel is covered by a 2 year warranty is also definitely a bonus, as the wheel is cheaper, but still not cheap. Speaking of price this is where it's difficult to make a judgment call. It's true that the SW30 is cheaper than the other options on this list, but it's not excessively cheaper. Considering the very high price for any direct wheel, perhaps it's better to save up for the DD1 or any of the above options unless you simply can't wait to get your hands on any (still excellent) DD wheel.
Luxury Pick: SimSteering 2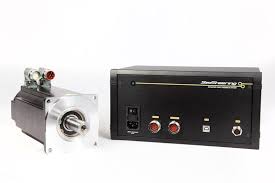 For those who want the best of the best, the SimSteering 2 is an excellent choice
The SimSteering 2 might just be the best choice for high end racing simulator applications. With that said, the excellence comes at a price, costing as much as two to four times more than other great wheel bases. For amateur sim racers this wheel may be overkill, but for the pros, the brushless motor with a whopping 1500° rotation range offers unparalleled realism with all the details of a real world driving experience.
Aside from performance, the SimSteering 2 boasts a two part design which allows you to mount the wheel base itself inside your cockpit, while hiding the control box up to two meters away. There's also an optional wheelshaft clamp, which allows you to attach a rim of your choice.
Budget Runner-Up: Simagic M10
A full direct drive wheel for the price of a Fanatec wheel base
The Simagic M10 is a great all-in-one direct drive steering wheel. Unlike some of the other options on this list, the Simagic M10 isn't just a wheel base: it's a full wheel complete with a rim, toggle switches, push buttons, and paddle shifters.
What with 10Nm of torque, this wheel base is definitely less powerful than the others on this list. Having said that, it's hard to go wrong for this price.
Frequently Asked Questions
What is a direct drive wheel?

A direct drive wheel is a steering wheel where the motor is directly attached to the wheelshaft. This is different from most other commercial steering wheels, which use a system of belts and/or gears to connect the motor and wheelshaft, making it possible to use cheaper, less powerful motors. However, the more direct the connection, the better the force feedback.

What are the benefits of direct drive wheels?

Direct drive wheels have a few advantages over other types of drive system, like belt or gear-driven systems. The biggest advantage is that they offer smoother and more precise force feedback, since the motor directly rotates the wheel. They can also provide stronger feedback than other wheels, since they use signifcantly more powerful motors. This also means that they are less susceptible to wear.

Is a direct drive wheel worth it?

If you're an experienced sim racer, then it's definitely worth investing in a direct drive wheel. The ultra-realistic racing experience that comes from having your wheel directly attached to the motor is absolutely worth the cost. However, if you're a beginner, we recommend starting out with a more affordable sim racing wheel (such as a Thrustmaster) before you splurge on a direct drive setup!

Can you use any rim with a direct drive wheel base?

Not all rims will work with direct drive wheel bases. That being said, companies have taken steps to make most rims work on most of their products. This is especially true for Fanatec products, where all rims and wheel bases are cross-compatible. In order to be safe we always recommend you check on the product's website for compatibility.

Are direct drive wheels compatible with consoles?

Depending on the manufacturer, there are some direct drive wheels that are compatible with consoles like the Xbox One and PlayStation 4. In particular, Fanatec offers great support for consolegaming, with dedicated steering wheel bundles for both Xbox and PlayStation.
What to Look for in a Direct Drive Wheel
If you're new to the world of direct drive, you might be wondering what to look for in your first direct drive wheel base. Below, we'll listed five of the most important factors to consider when choosing a direct drive system:
Peak Torque
Peak torque is the maximum torque that a wheel's servo motor can produce at any given time. Since direct drive wheels rely only on their motors for realistic force feedback, the higher the peak torque, the stronger the feedback that can be generated. If you plan on taking particularly sharp turns, you'll want the strongest force feedback you can get, and thus the highest peak torque you can get.
Adjustability
Direct drive wheels are like sports cars: they're incredible machines, but the driving experience takes some getting used to. When you first start racing with a direct drive wheel, you might find the torque excessive and uncomfortable. As a result, it's good to choose a wheel which allows you to adjust the torque as needed.
Compatibility
It goes without saying: you should absolutely choose a direct drive wheel base that is compatible with your preferred system and game. All of the steering wheels and wheel bases on this list offer support for PC gaming, but only some of them can be used on console. In the case of Fanatec's Podium series, both the DD1 and DD2 are compatible with Xbox One, but neither with PlayStation.
There is a second aspect to compatibility, and that's whether the wheel base you choose will be compatible with your desired wheel rim. Once again, Fanatec makes this easy: both of their direct drive wheel bases are compatible with all of their wheel rims. With other wheels, this may vary.
Weight
Another important factor to bear in mind is weight. Typically, more powerful sim racing wheels weigh more, since powerful servo motors tend to be heavy. The real reason weight is important, though, is that you need to take into consideration how you will mount the wheel in your sim racing rig.
Materials
Like any other steering wheel, you'll want to choose a direct drive wheel which is made of high quality materials, like steel and leather. Considering you'll be spending the best part of a thousand dollars (if not more!), it's essential that your wheel is not just powerful, but also solid, comfortable, and good looking.
Open Sim Wheel (OSW): Build Your Own Direct Drive Wheel
Open Sim Wheel, known in short as OSW, is an online movement centred on creating homemade direct drive wheels by utilizing separate servo motors, motor drives, USB interfaces, motor mounts, wheel hubs, wheels, paddle shifters and many other materials. This allows for a very powerful and tailored DD set-up for a cost slightly lower than those of premade wheels from brands such as Fanatec. The process is complicated, and not intended for those with little experience, but can be hugely rewarding. Think of OSW as akin to building your own PC, but for sim racing.
Last Updated on November 23, 2020