A direct drive wheel is one of the best investments an aspiring sim racer can make. Over the last few years, we've had the pleasure of testing some of the market's best direct drive wheel bases, including systems from Fanatec, Simucube, and other luxury sim racing names. In this guide, we'll walk through our top picks based on quality, reliability, price, and more.
Best Direct Drive Wheels of 2022
Top Pick
Fanatec Gran Turismo DD Pro
This incredible value direct drive bundle from Fanatec features their new CSL DD wheel base with the added boost kit, plus load cell pedals and an attractive Gran Turismo themed rim
When Fanatec announced their CSL DD wheel base, we thought there must have been a typo in the price point. Because not only is the CSL DD Fanatec's most affordable direct drive wheel base, it's the cheapest direct drive wheel base on the market. Period.
This particular bundle takes the podium in our round-up, since it combines the awesome CSL DD, which usually comes with 5Nm of torque, with the boost kit, which can supply a further 3Nm of torque. Not to mention, you'll get a beautiful Gran Turismo wheel rim and CSL Load Cell pedals in this set.
Most direct drive wheel bases have a substantial footprint, but the CSL DD has shaved a considerable 13cm off the depth of Fanatec's other direct drive bases, giving you more space on your rig. Despite this, Fanatec has managed to cram a lot of technology into a tiny space.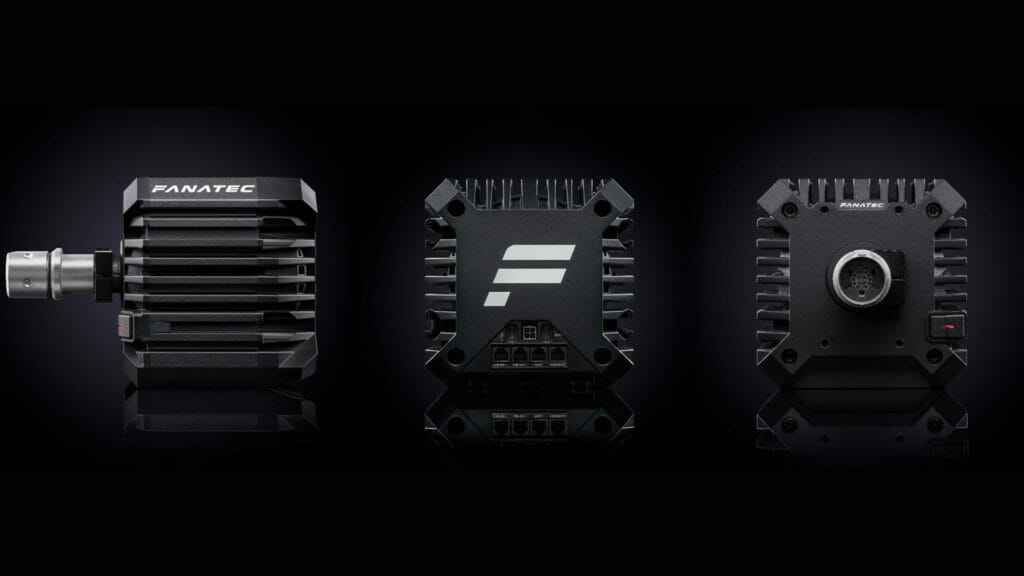 Fanatec combines their patented "FluxBarrier Technology" with a carbon composite motor shaft for a smooth and intuitive steering experience that responds to the slightest inputs while delivering informative feedback direct to your hands.
The CSL DD wheel base is compatible with most Fanatec peripherals (read our in-depth review to find out which) and is designed to accommodate future releases via component upgrades (such as the QR2 system).
As for platform compatibility, you'll be pleased to know that this bundle works on PC, Xbox, and PlayStation!
Runner-Up
There's a lot to like about the world's most popular direct drive wheel, from its attractive design and massive rotation range to its immersive peak torque
The Fanatec Podium DD1 is probably the best-known direct drive wheel base on the market, and for good reason. With smooth and realistic force feedback, great build quality, and out-of-the-box compatbility with Fanatec's other popular sim racing accessories, it's the perfect all-rounder for most people who want more torque than the CSL DD has to offer.
When it comes to specifications, the Podium DD1 is equally admirable. The nature of direct drive technology combined with wireless communication with supported rims means it has an unlimited rotation range, which ends up being limited by the sim (depending on the game and car) for realism. The peak torque of this wheel base is a whopping 20Nm, which you can only access by plugging the included torque key into the back of the base. To be completely honest, though, this wheel base delivers enough torque for most casual racing without using the key at all.
A particularly nice touch on this wheel base is the OLED display. You can customize it to show whatever data you want, including everything from force feedback analysis to temperature analysis and system information, which can be particularly handy if you need to debug any problems.
Fanatec has assured buyers that the DD1 is not only compatible with all their peripherals that are currently on the market, but with all the peripherals Fanatec will make in the future. That includes any Fanatec wheel rim, which can be changed out with ease using the base's quick release system, as well as their handbrake, shifter, and pedals. This is particularly important because the reason a lot of people go with the DD1 is for its seamlessness with other products in the Fantec ecosystem.
When it comes to compatbility, the DD1 works with PC and Xbox One. out of the box. It doesn't work with PS4, but Fanatec do offer a dedicated sim racing wheel – the Fanatec Podium F1 – specifically for PlayStation users, which is built on the DD1.
Luxury Pick
Another impressive addition to the direct drive market, the Simucube 2 Sport is one of the top alternatives to Fanatec's Podium direct drive line
Both the Simucube 2 Pro and Simucube 2 Sport (the entry level model) are excellent direct drive wheels which follow in the footsteps of the legendary Simucube 1. Perhaps not as well-known as Fanatec, this wheel from Granite Devices will have you loving every second of the ultra-accurate direct drive force feedback it shoots back at you.
Thanks to the natural signal processing the Simucube 2 employs, you will be able to feel the force feedback exactly as was intended by the physics engine of your sim game. Of course this means the wheel is only as good as the game you're running but it means that the game you're running can perform exactly as it was meant to. Natural sign processing also includes natural damping, inertia and friction filters. Coupled with the robotics grade angle sensors which grant unmatched angle precision, every damp part of the track, every time you graze the gravel when you understeer a turn, every little physical phenomenon will feel incredible. The added benefit of the passive cooling system also means that your wheel will consume less and make less noise, allowing for a totally immersive experience. All in all, a great choice.
In terms of appearance, the Simucube 2 models are pretty good looking and also boast solid build quality. There's also a wide range of compatible third party wheel rims, including popular Formula-style wireless rims from Ascher-Racing.
Budget Pick
Despite its comparatively low price, the AccuForce Pro V2 from SimXperience shows mastery in the craft of sim racing like few other products on the market
Let's start our review of the AccuForce Pro V2 by making something clear. This is one of two complete sim racing wheels on this list. That's right: out of the box, this direct drive base includes a beautiful 33 centimeter wheel rim, which means there's only one price for you to worry about.
Moving onto performance, the feedback this wheel gives the user is truly unparalleled, balancing the torque and torque resolution perfectly. And don't worry, much like the wheel gives you precise feedback, it also gives the sim pinpoint accurate data. The motor updates 50,000 times per second, and the game is provided the information you input in less than 2 milliseconds. Even for races which are decided by a split hair, this is incredibly fast.
One of the most impressive additions is the auto-optimize feature. This means that the wheel will be able to change its settings to best mirror what you need. It can be auto-optimized to fit your driving style, your driving line, what track you're on, what car you're using, how these two interact. Simply put it's your own little engineering department inside the wheel itself.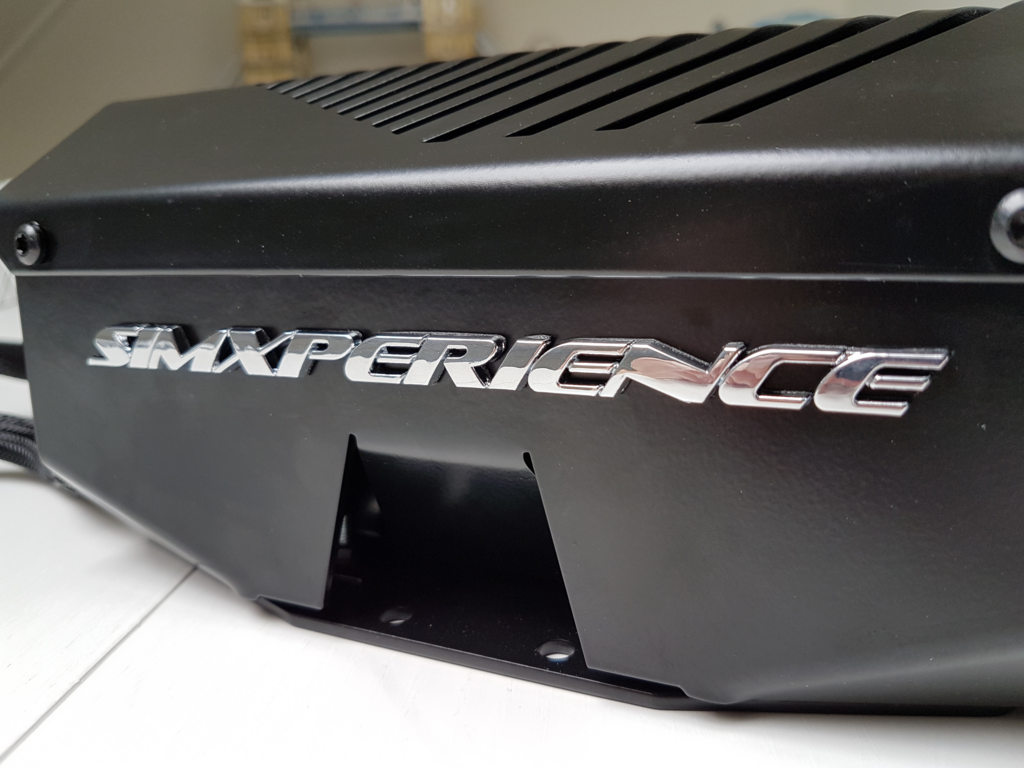 The wheel itself is still built with high quality components and materials, but they simply don't feel as top of the range as the ones the Fanatec DD1 and DD2 use. This is perhaps the only criticism we have for this wheel, and if that's not praise enough then nothing will be able to satisfy your needs.
Also Great
The successor to Fanatec's legendary Podium DD1 boasts several upgrades, including more torque, carbon fiber plating, and a bright red kill switch!
The Fanatec Podium DD2 can simply be described with one word: excellence. Imagine taking the intense torque of the DD1, dialling it up a bit, and adding a few new features. To be precise, the DD2 has improved torque, cool carbon fiber plates, and a two-in-one kill switch and remote power button.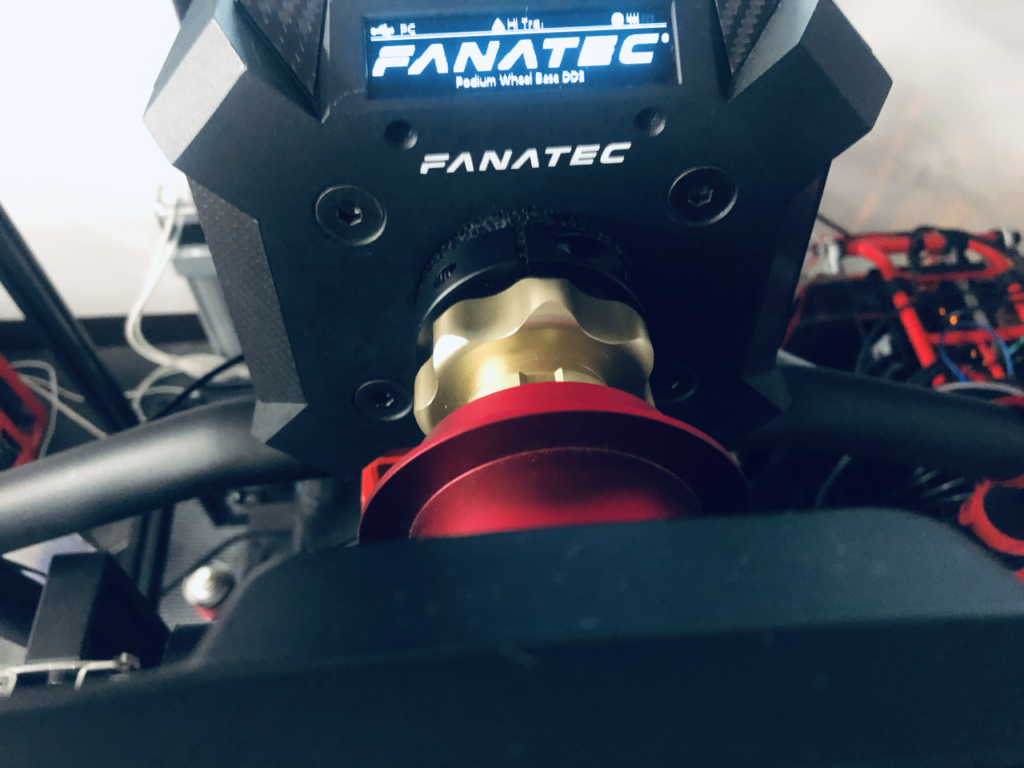 Other than that, though, the DD2 is mostly the same as the DD1. The size and weight is the same, and it'll feel very similar during 99% of the sim racing experience. The reason it takes second place is the fact it costs a whopping $300 more than the DD1 — but do see our full comparison of the two.
Back to torque, the Fanatec Podium DD2 is the first ever wheel to have a direct drive motor optimised for racing simulators, and it shows. It achieves a maximum torque of 25Nm, which is identical to the torque output in most real race cars which use power steering, and even in the harshest racing conditions the holding torque is never less than 18Nm. If you have a preferred wheel which is heavier and are thus afraid it might have a negative impact on your simulating experience fear not. The DD2's motor speed and acceleration does not suffer from heavy wheels.
Compatibility-wise, it's the same as the DD1, which means you're good with all Fanatec wheels and peripherals, on both PC and Xbox.
Best for Pros
It may cost a pretty penny, but the SimSteering 2 is probably the best direct drive wheel on this list for professional racing simulator applications
The SimSteering 2 from Leo Bodnar might just be the best choice for high end racing simulator applications. With that said, the excellence comes at a price, costing as much as two to four times more than other great wheel bases. For amateurs this wheel may be overkill, but for the pros, the brushless motor with a whopping 1500° rotation range offers unparalleled realism with all the details of a real world driving experience.
Aside from performance, the SimSteering 2 boasts a two part design which allows you to mount the wheel base itself inside your cockpit, while hiding the control box up to two meters away. There's also an optional wheelshaft clamp, which allows you to attach a rim of your choice.
Honorable Mention
Perhaps not at the same levels as others on this list, the SW30 is still a great DD wheel
The SW30 is not the top pick in terms of DD wheels, although it remains a very good one. By far its biggest praise is the adjustability it allows for, and the simplicity with which changes can be made. A simple window on your computer will have you adjusting everything from its rotation and torque, to advanced telemetry options and the creation of profiles. This wheel will leave you tinkering in order to find what options work best for you for hours. And this is by all means a positive. It will obviously take some time and trial and error, but the satisfaction of improving your time by a few seconds because you took the effort to test out what works best, will have you feeling like a bona fide Niki Lauda. The fact that the wheel is covered by a 2 year warranty is also definitely a bonus, as the wheel is cheaper, but still not cheap. Speaking of price this is where it's difficult to make a judgment call. It's true that the SW30 is cheaper than the other options on this list, but it's not excessively cheaper. Considering the very high price for any direct wheel, perhaps it's better to save up for the DD1 or any of the above options unless you simply can't wait to get your hands on any (still excellent) DD wheel.
Other Direct Drive Wheels We Reviewed
Fanatec, SimXperience, Sim-Plicity, and SimSteering are probably the four biggest names in the world of direct drive sim racing wheels. However, they're not the only choices. In fact, there are quite a few lessser-known direct drive wheels that offer a similar racing experience, often at much more palatable prices! Here are just a few of them: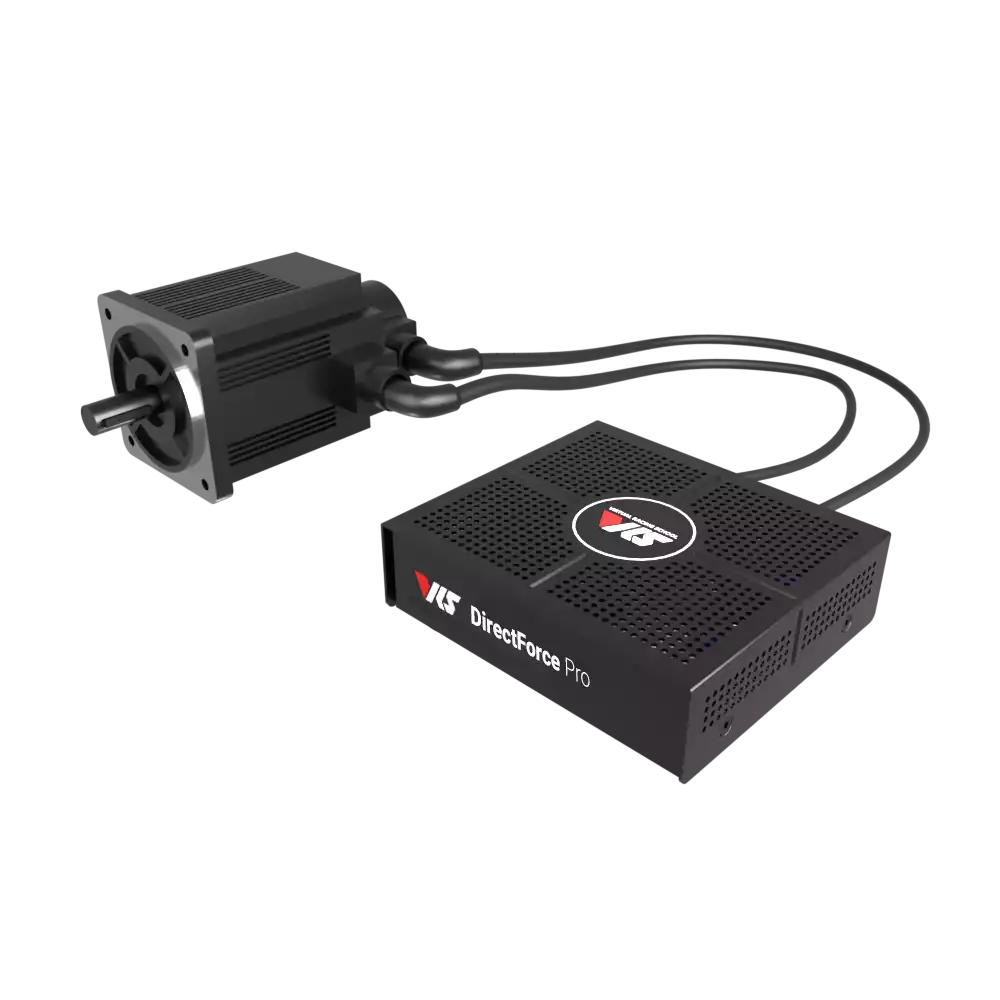 This might be one of the most interesting releases the direct drive world has seen in the last couple of years
As far as "alternative" brands go, the DirectForce Pro from Virtual Racing School (VRS) is one of the most exciting wheel bases we have seen in the last few years. It's incredbily affordable, and yet still boasts a 20 Nm peak torque motor.
Users across the web who have picked up one of these bases are almost all happy with their purchase. Perhaps the biggest issue with this wheel (at least for some) is that it's only availlable for the EU and US markets.
An affordable direct drive wheel base from a manufacturer that is quickly gaining popularity
Simfai previously produced the popular Simagic M10, which they have now replaced with the Simagic Alpha Mini, which is their entry level offering. This affordable wheel base offers very reasonable specs at an attractive price point.
With 10Nm of torque, this wheel base is definitely less powerful than the others on this list. Having said that, Simagic has plenty of satisfied customers, so they must be doing something right!
Our only complaint is that the previous version of the wheel used to be sold with an attractive wheel rim (complete with paddle shifters and buttons) at a very similar price. Now, without that added wheel rim, it's not as great value as before. With that said, it seems they have upgraded the motor.
A completely new Simfai offering, this wheel base offers greater torque and resolution than before
Simfai also produce a more advanced version of the Simagic Alpha Mini, which is simply called the Simagic Alpha. Perhaps its most noticeable improvement is in the motor, where the max torque is as high as 15 Nm (in comparison to the humble 10 offered by the Mini).
But specs aren't the only thing that have changed. The Simagic Alpha, which must be purchased with a wheel rim at this time, costs almost twice as much as the Mini, and more than the Fanatec Podium DD1 or Simucube 2 Sport. As such, it's hard to get excited about this base until Simfai build more of a name for themselves.
The Mini Mite from Ricmotech finds itself at a tough place in the market: it's as expensive as a Fanatec or Simucube base, but doesn't have quite the same reputation
There's nothing inherently wrong with this direct drive offering from Ricmotech; in fact, it's a great wheel base built with a lot of the same components as SimXperience's AccuForce Pro V2, plus some extra torque (16Nm at peak).
The Mini Mite's problem is its price. Like the Simagic Alpha we looked at a second ago, it clocks in similarly to the Fanatec DD1 and Simucube 2 Sport, making you wonder why you don't just get one of those wheel bases instead.
Complete Guide to Direct Drive Wheels in 2022
Now that we've covered our top picks, let's go into some more detail on exactly what direct drive is, what benefits it offers, and what you should look for in a wheel base that uses this technology.
What Is a Direct Drive Wheel?
A direct drive wheel is a steering wheel where the motor is directly attached to the wheelshaft. This allows for significantly smoother and stronger force feedback than most commercial sim racing wheels, which use a system of belts and/or gears to connect the motor and wheelshaft.
Benefits of Direct Drive Wheels
In our eyes, here are the biggest benefits of direct drive wheels:
High Torque
Gear driven and belt driven wheels get away with using weaker motors, since the gears and belts can amplify the torque felt in the rim. With direct drive wheels, the torque you feel corresponds directly to the torque being generated by the motor. This means direct drive wheels always feature powerful motors.
Better Feedback Fidelity
More torque at the motor doesn't simply mean more power; it means more range and therefore more potential fidelity and range of sensations that can be simulated by the force feedback motor. Especially when used with high-end simulators, DD motor drives are capable of translating data from the physics engine into nuanced approximations of real-world sensations such as losing traction of a wet road or driving on gravel. It is probably fair to say that DD is the HD of sim racing.
Improved Durability
With great power comes great responsibility, and DD wheel manufacturers have had to take into account the considerable strain placed on these wheels bases when equipped with a direct drive servo motor. Perhaps the most welcome result of this engineering is that many components that are traditionally made of plastic or cheap metal have had to be replaced with advanced ceramics and more durable metals. The end user can feel this change in the considerably heavier wheelbases, as well as the smoother and more premium feel that ensues when playing a racing game.
More Realism and Immersion
Not a separate point so much as the culmination of the previous points, it's worth considering that all of the innovation and design that goes into creating this new generation of sim gear is ultimately meant to improve the experience of end users. As we move into the future, we only expect the power and fidelity to keep improving – but now is a great time to be alive and in possession of these amazing sim racing wheels!
More Competition
When new tech is unfolding and spilling onto the scene, manufacturers scramble to be the first to implement new features and/or be the best at implementing them. This competition ultimately leads to exponential increases in array of experiences available to consumers and drives prices down. This phenomena tends to even have a trickle down effect to lower-end tech that is suddenly less-desirable by bleeding-edge enthusiasts; we're seeing this even today as older gear or belt driven steering wheels become slightly less appealing and expensive.
What's Inside a Direct Drive Wheel?
Every direct drive wheel base features a few core components: a controller, a motherboard, and a motor.
Motor
The motor is what generates force feedback. It receives signals from the controller (which in turn receives signals from the sim) and translates them into rotational movement, so that the wheel rim pushes back against you as you make a tight turn, or spins out of control after you crash. More on the different types of motor in a second!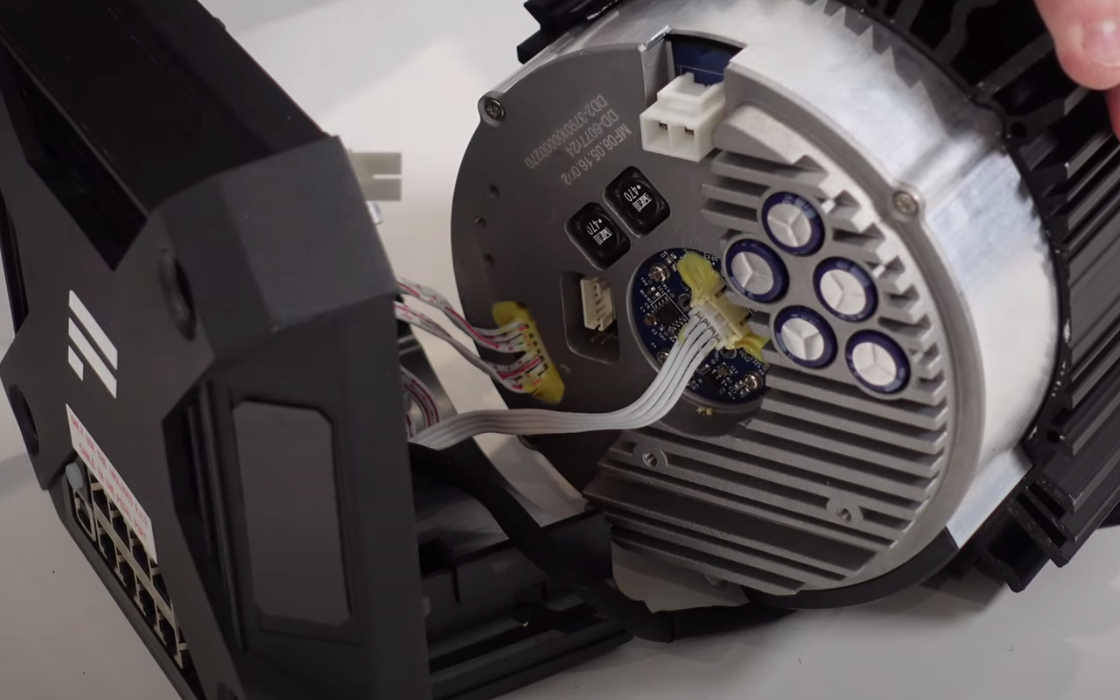 Controller
The controller is the brains of the operation, translating input and output in real time to connect peripherals to PC/console and in turn to the sim's physics engine.
Motherboard
The motherboard brings all of the other internal components together, delivering power and relaying data. The motherboard also houses the I/O ports that you can see on the outside of the wheel.
Types of Direct Drive Motor
The motor is of course the most important part of any wheel base, so it deserves special recognition. In direct drive wheels, there are a few different types of motor that are commonly used.
Stepper vs Servo
The first distinction to make between motors is whether they are stepper or servo motors.
Stepper motors literally rotate in tiny steps. They are able to generate more torque at low speeds and less torque at high speeds. However, because of the steps, they can cause some vibration at low speeds, making them much less common in direct drive wheels.
Servo motors, on the other hand, do not operate in steps. They generate less torque at low speeds and more torque at high speeds, and don't suffer from any vibration. They are the motor of choice in most direct drive wheels.
In fact, of all of the wheel bases on this list, the AccuForce Pro V2 is the only one that uses a stepper motor as part of its hybrid stepper and servo design.
Outrunner vs Inrunner
Another distinction you can make between direct drive motors is whether they are outrunner or inrunner motors. Basically, every motor has a stationary part (the stator) and a rotationary part (the rotor).
In an inrunner motor, which is more common, the rotor rotates inside the stator. In an outrunner motor, the rotator rotates around (outside) the stator.
Inrunner motors are more common, and don't require as much cooling. They're used in the various Simucube wheels, the Fanatec CSL DD, and most other direct drive bases.
Outrunner motors are less common since they usually do require cooling. However, they are able to produce more torque. On this list, only the Fanatec Podium DD1 and DD2 use outrunner motors.
What to Look for in a Direct Drive Wheel
If you're new to the world of direct drive, you might be wondering what to look for in your first direct drive wheel base. Below, we've listed five of the most important factors to consider when choosing a direct drive system:
Peak Torque
Peak torque is the maximum torque that a wheel's servo motor can produce at any given time. Since direct drive wheels rely only on their motors for realistic force feedback, the higher the torque, the stronger the feedback that can be generated. If you plan on taking particularly sharp turns, you'll want the strongest force feedback you can get, and thus the highest peak torque you can get.
Adjustability
Direct drive wheels are like sports cars: they're incredible machines, but the driving experience takes some getting used to. When you first start racing with a direct drive wheel, you might find the torque excessive and uncomfortable. As a result, it's good to choose a wheel which allows you to adjust the torque as needed.
Compatibility
It goes without saying: you should absolutely choose a direct drive wheel base that is compatible with your preferred system and game. All of the steering wheels and wheel bases on this list offer support for PC gaming, but only some of them can be used on console. In the case of Fanatec's Podium series, both the DD1 and DD2 are compatible with Xbox One, but neither with PlayStation.
There is a second aspect to compatibility, and that's whether the wheel base you choose will be compatible with your desired wheel rim. Once again, Fanatec makes this easy: both of their direct drive wheel bases are compatible with all of their wheel rims. With other wheels, this may vary.
Weight
Another important factor to bear in mind is weight. Typically, more powerful sim racing wheels weigh more, since powerful servo motors tend to be heavy. The real reason weight is important, though, is that you need to take into consideration how you will mount the wheel in your sim racing rig.
Materials
Like any other steering wheel, you'll want to choose a direct drive wheel which is made of high quality materials, like steel and leather. Considering you'll be spending the best part of a thousand dollars (if not more!), it's essential that your wheel is not just powerful, but also solid, comfortable, and good looking.
Frequently Asked Questions
Is a direct drive wheel worth it?
If you're an experienced sim racer, then it's definitely worth investing in a direct drive wheel. The ultra-realistic racing experience that comes from having your wheel directly attached to the motor is absolutely worth the cost. However, if you're a beginner, we recommend starting out with a more affordable sim racing wheel (such as a Thrustmaster) before you splurge on a direct drive setup!
Can you use any rim with a direct drive wheel base?
Not all rims will work with direct drive wheel bases. That being said, companies have taken steps to make most rims work on most of their products. This is especially true for Fanatec products, where all rims and wheel bases are cross-compatible. In order to be safe we always recommend you check on the product's website for compatibility.
Are direct drive wheels compatible with consoles?
Depending on the manufacturer, there are some direct drive wheels that are compatible with consoles like the Xbox One and PlayStation 4. In particular, Fanatec offers great support for console gaming, with dedicated steering wheel bundles for both Xbox and PlayStation.
Open Sim Wheel (OSW): Building a Direct Drive Wheel
Open Sim Wheel, known in short as OSW, is an online movement centred on creating homemade direct drive wheels by utilizing separate servo motors, motor drives, USB interfaces, motor mounts, wheel hubs, wheels, paddle shifters and many other materials. This allows for a very powerful and tailored DD set-up for a cost slightly lower than those of premade wheels from brands such as Fanatec. The process is complicated, and not intended for those with little experience, but can be hugely rewarding. Think of OSW as akin to building your own PC, but for sim racing.
Last Updated on July 1, 2022