If your idea of sim racing fun involves rally and drifting, then it's essential to consider purchasing a handbrake. A handbrake will not only allow you to drive more aggressively, but also tackle tighter turns without losing speed and time. We've dug deep into user reviews and product specifications for this popular peripheral in order to help you find the best sim racing handbrake for your setup.
Best Sim Racing Handbrakes of 2022
Breakdown of the Best Sim Racing Handbrakes
Based on our extensive research, here are the best sim racing handbrakes:
Top Pick
This popular Fanatec handbrake is fitted with an analog sensor, so the more you pull, the harder you'll brake.
The Fanatec ClubSport V1.5 is a 1:1 replica of what a real car would have, made entirely of metal with the exception of the grip (which is in foam). The analog sensor means that the harder you pull, the harder you'll brake, providing significantly more realism than other sim handbrakes.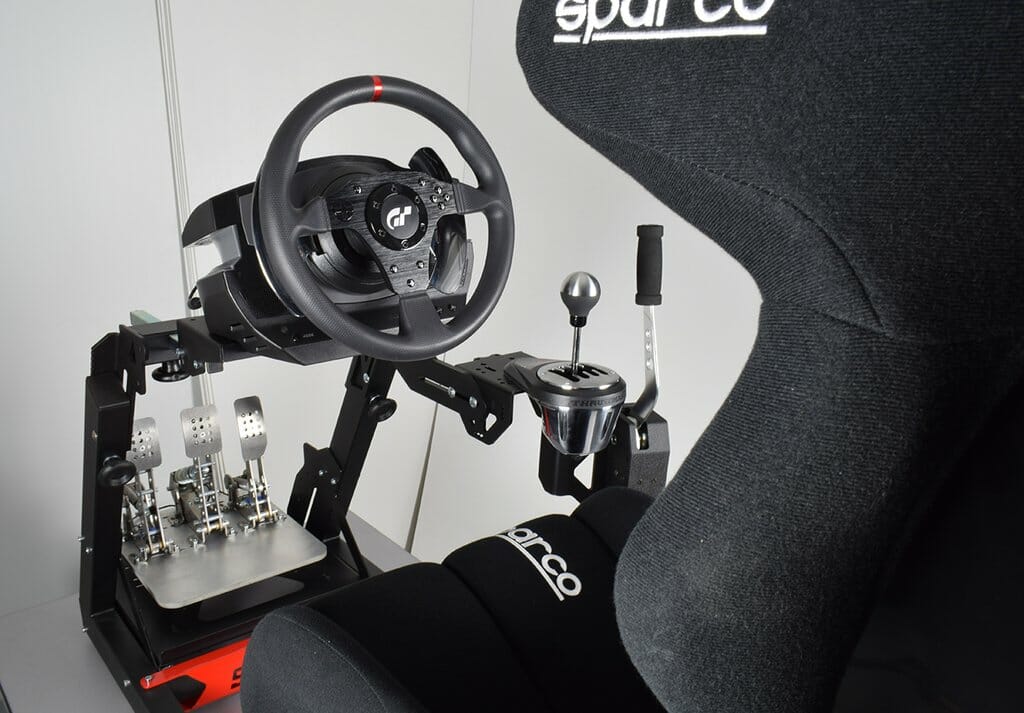 The main advantage it has over many rivals is the fact that you can decide whether you would prefer the handbrake to be vertical or horizontal, granting you an extra level of customization that you would otherwise lack.
The Fanatec ClubSport works on PC as well as Xbox One and PS4 if connected to a Fanatec steering wheel. What with cross-platform compatibility, excellent build quality, and a price tag half of that of our Runner-Up, this handbrake is a superb purchase.
Runner-Up
A well-built handbrake that doubles as a sequential shifter, the TSSH is officially licensed by Sparco!
Not only does the Thrustmaster TSSH feature in our guide to the five best sim racing shifters, but it almost tops this list too. This is because of the very successful collaboration with Sparco, the TSSH being a 1:1 replica of Sparco equipment you would find within actual race cars. The handbrake is made almost entirely of aluminium and stainless steel, with the exception of the plastic handle. This brake feels incredible, and driving with it will feel as though you're in an actual rally car.
Another incredible bonus with the TSSH is the ability to use it as a sequential shifter. With nothing more than a simple flick of the switch you can shift from pulling a handbrake to brave the tightest of turns, to changing gears to regain speed, and then back again. The brake itself is expensive but, given its quality and the dual function it has, it could be nowhere but the top of this list!
In terms of compatibility, we have no complaints whatsoever. This handbrake works with most racing titles on PC, Xbox One, and PS4.
Luxury Pick
The best of the best, this Heusinkveld offering is one of few handbrakes on the market to implement load cell technology for maximum immersion
The Heusinkveld Sim Handbrake might just be the best performing handbrake on this list. It makes use of incredible load cell technology for a significant boost in realism. This means that the harder you pull, the stronger your braking response will be in-game, and the firmer the brake will feel.
The build quality of this handbrake speaks for itself. It has built-in overload protection to prevent wear to the load cell and is made of solid materials like stainless steel.
One big setback of the Heusinkveld Sim Handbrake is compatibility. Although it comes with a USB cable, it only works with PC. Even then, not all simulation software supports the use of analogue handbrakes like this one. However, Heusinkveld Engineering does explicitly state that the handbrake works with these games:
Richard Burns Rally
Live for Speed
Automobilista
Dirt Rally
Project CARS 2
Budget Pick
Okay, it may not be Fanatec, Thrustmaster, or Heusinkveld, but it definitely is cheap!
If you're looking to save up money to purchase other peripherals, but are also looking for a sim handbrake, then this generic handbrake is for you. As a quick but important note: this handbrake will only work on PCs. Having said that, considering its price, it offers a solid experience. The body is entirely made of steel, giving it that genuine feel, and the handle allows for good grip. The main advantage, other than price, of this peripheral is its portability. It's by no means tiny, but since it's not a 1:1 replica of a handbrake the body is more compact, allowing for easier transport or for it to fit in smaller rigs.
All in all this is a safe bet when looking for a starter handbrake system for your set-up. If, however you know you're planning on creating a top of the range system, perhaps look elsewhere. Its overall quality is not bad, but it cannot compare to other inclusions on this list.
Best for Pros
The only hydraulic offering on our list, this superb handbrake takes realism to another level, with a focus on professional sim racing applications
For those who will settle for nothing less than the absolute best, the Simtag Hydraulic Handbrake is here to pillage your wallet in exchange for providing the most realistic approximation of rally car or drift handbraking. Simtag has truly spared no expense with this handbrake and it shows throughout the product's design and build quality.
The adjustable handbrake lever arm can be set up in vertical or horizontal positions, then further tuned to an angle of 30 to 90 degrees – assuring you can recreate the the feel of whichever race car(s) you prefer. There's even a 20cm extension for the lever in the event you need to stretch things out a bit to accommodate the set up of your sim racing cockpit.
The titular hydraulic system is comprised of a genuine Wilwood master and slave cylinder, stainless steel flexible brake lines and industry-quality brake fittings. Users have the choice of two types of bushes (both are included) to tweak stiffness to taste. Bosch pressure sensors and Cosworth connectors round out the premium components packed into this handbrakes rugged form.
Other Handbrakes We Reviewed
Even though they're not our top picks, there are other great handbrakes on the market that we have reviewed:
Multi-Purpose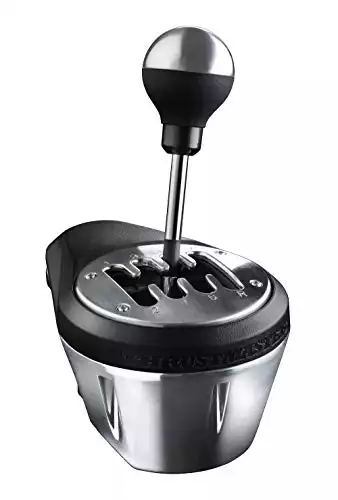 If you want a handbrake for very occasional use, why not pick up a shifter that can play both roles?
Starting from the quality of the material utilized, the TH8A Add-On Shifter not only has an authentic feel thanks to the top-grade aluminum, but could arguably be considered of higher quality than some shifters and handbrakes found in actual cars.
The H.E.A.R.T. tech employed by Thrustmaster means that, no matter how much or how hard you plan on utilizing the TH8A, it will not lose accuracy. If you plan on getting a top-quality product that will give you as much versatility as possible then this is what you're looking for.
Even if you already have a shifter and are only looking for a sim handbrake, we still recommend you pick this up. It will scratch your itch wonderfully and, chances are, you'll start preferring this to the shifter you already own.
The only downside is the currently limited compatibility regarding games, so we recommend you check on the Thrustmaster website to make sure that it works on your system, with your wheel, and for your games. In terms of platform, the good news is that this shifter works with PC, Xbox One, and PS4!
Aiologs Hydro Handbrake
The Aiologs Hydro Handbrake is another luxury sim racing handbrake. Coming in at $170, it's priced similarly to the Heusinkveld Sim Handbrake. Although it's definitely less popular than the Heusinkveld, choosing between the two isn't as easy as you'd think…
What makes the Aiologs really special is its use of hydraulic damping. This means that the handbrake gets harder to pull the further you pull it, just like in a real rally or drift car. There's a fantastic demonstration of this on the manufacturer's site, where you can see them pulling the handbrake with rubber bands: the further they pull the handbrake, the more the bands stretch, since they are experiencing greater force.
Akina Handbrake Ignition
Another less popular option at the same price point as above is the Akina Handbrake Ignition. It's a slightly different aesthetic, which some may prefer, although customizability and mounting appears very similar.
The Akina handbrake is unique because of its Dual Electronic Feeling (DEF) system, a proprietary technology which allows you to change the response of the brake by flicking a switch. That means you can easily change between hydraulic damping (as before, the idea being that it gets harder to pull the handbrake the further you pull it) and a linear response.
DSD Hydraulic Handbrakes
Finally, it's worth considering the hydraulic handbrakes availlable from from DSD (Derek Speare Designs). These plug-and-play handbrakes also make use of hydraulic damping for a true rally driving sensation.
The two handbrakes currently availlable are the huge Type 3, which is probably the biggest commercial sim handbrake, and the Type 2. Both are great choices!
Buyer's Guide for Sim Racing Handbrakes
Now that we've looked at the top picks for sim racing handbrakes in 2021, let's dive a little deeper into what it is we're after in a great handbrake.
What to Look for in a Sim Racing Handbrake
Handbrakes can be as simple or elaborate as you like – keep the following on top of mind when shopping for yours:
Sensor Types
Sim racing handbrakes are only as good as their included sensors, and the range of solutions on offer is more varied than sim racers might suspect. Load cell technology makes for sensors that feel extremely realistic, whereas handbrakes equipped with Hall Effect sensors have to work a little harder via other mechanisms in order to give an immersive sense of force to the user – but the contactless nature of the Hall Effect sensors bodes well for their longevity. Even the humble potentiometer can provide a great experience when paired with hydraulics.
Compatibility
You can expect that all of these products will work with PC, but console (Xbox One, PlayStation, etc.) compatibility is less common – so make sure you check the manufacturer's site before taking the plunge. Not all sim racing titles support handbrakes, and fewer still pieces of simulation software recognize and take advantage of the level of data that comes across the USB cable of an analog handbrake.
Rig Suitability
Make sure you're buying a handbrake that will play well with your cockpit! Consider the location and position of rest in which you'll be mounting – race cars require a level of control that can only be achieved by keeping your vehicle control components at arms' length.
Frequently Asked Questions
Do you need a handbrake for sim racing?
You do not need a handbrake to play racing simulators. However, having a sim handbrake can provide a much more immersive experience. If you plan on only playing F1 games then a handbrake will have limited use. If instead, you plan on hitting the gravel with a rally sim, then a handbrake becomes a very fun and practical addition.

Can you use a shifter as a handbrake for sim racing?
Some shifters can also function as handbrakes with just the flip of a switch. This includes Thrustmaster's TH8A and TSSH shifters. However, this is not a function common throughout all shifters.
Do handbrakes work on all sim racing games?
Handbrakes do not work on all sim racing games. This might be because the game doesn't recognize it, or because the car itself would not support a handbrake (think F1 cars). We recommend double-checking that the one you're purchasing is compatible with your favorite simulation software, especially if it is analog and/or uses load cell technology.
Last Updated on May 4, 2022