We are reader-supported. If you buy through links on our site, we may earn a small commission.
If your sim racing needs fall outside of F1 Grand Prix and are more akin to rallying, then it's essential to consider purchasing a handbrake. A handbrake will allow you to drive not only more aggressively, but tackle tighter turns without losing speed and time. We've looked into this niche peripheral in order to help you find the best one for specific set-up.
The Top-Rated Handbrakes for Sim Racing
Top Pick: Thrustmaster TSSH
Not only does the Thrustmaster TSSH feature in our guide to the five best sim racing shifters, but it also tops this list as best handbrake available. This is because of the very successful collaboration with Sparco, the TSSH being a 1:1 replica of Sparco equipment you would find within actual race cars. The entirety of the handbrake is made of metal, with the exception of the plastic handle in order to grip it more easily. This brake feels incredible, and driving with it will feel as though you're in an actual rally car. 
Another incredible bonus is the aforementioned mode which turns it into a sequential shifter. With nothing more than a simple flick of the switch you will shift from pulling a handbrake to brave the tightest of turns, to changing gears to regain speed, and then back again. The brake itself is expensive but, given its quality and the dual function it has, it could be nowhere but the top of this list! Read our full review of this shifter here.
Runner-Up: Fanatec ClubSport V1.5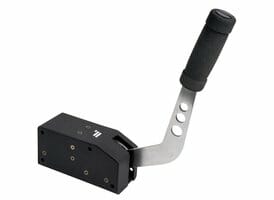 The Fanatec ClubSport V1.5 is a 1:1 replica of what a real car would have, made entirely of metal with the exception of the grip (which is in foam). The analog sensor allows players to initiate drifts even when the wheels are still rotating rapidly, allowing you to perform complicated maneouvers.
The main advantage it has over many rivals is the fact that you can decide whether you would prefer the handbrake to be vertical or horizontal, granting you an extra level of customisation that you would otherwise lack.
The excellent quality and ability to tailor this brake to your preference, coupled with easy cross-platform compatibility, makes it a worthwhile purchase. The pricetag is also half of the TSSH, but it should be noted that the above handbrake also couples as shifter, while this doesn't. Read our full review of the ClubSport V1.5 here.
Budget Pick: Generic USB Handbrake
If you're looking to save up money to purchase other peripherals, but are also looking for a handbrake, then this generic handbrake is for you. As a quick but important note: this handbrake will only work on PCs. Having said that, considering its price, it offers a solid experience. The body is entirely made of steel, giving it that genuine feel, and the handle allows for good grip. The main advantage, other than price, of this peripheral is its portability. It's by no means tiny, but since it's not a 1:1 replica of a handbrake the body is more compact, allowing for easier transport or for it to fit in smaller rigs. 
All in all this is a safe bet when looking for a starter handbrake for your set-up. If, however you know you're planning on creating a top of the range system, perhaps look elsewhere. Its overall quality is not bad, but it cannot compare to other inclusions on this list. 
Multi-Purpose: Thrustmaster TH8A
Sale
Starting from the quality of the material utilised, the TH8A Add-On Shifter not only has an authentic feel thanks to the top-grade aluminium, but could arguably be considered of higher quality than some shifters and handbrakes found in actual cars.
The H.E.A.R.T. tech employed by Thrustmaster means that, no matter how much or how hard you plan on utilizing the TH8A, it will not lose accuracy. If you plan on getting a top-quality product that will give you as much versatility as possible then this is what you're looking for.
Even if you already have a shifter and are only looking for a handbrake, we still recommend you pick this up. It will scratch your itch wonderfully and, chances are, you'll start preferring this to the shifter you already own.
The only downside is the currently limited compatibility regarding games, so we recommend you check on the Thustmaster website to make sure that it works on your system, with you wheel, and for your games.
Frequently Asked Questions
Do you need a handbrake for sim racing?

You do not need a handbrake to play racing simulators. However, having a handbrake can provide a much more immersive experience. If you plan on only playing F1 games then a handbrake will have limited use. If instead, you plan on hitting the gravel with a rally sim, then a handbrake becomes a very fun and practical addition.

Can you use a shifter as a handbrake for sim racing?

Some shifters can also function as handbrakes with just the flip of a switch. This includes Thrustmaster's TH8A and TSSH shifters. However, this is not a function common throughout all shifters.

Do handbrakes work on all sim racing games?

Handbrakes do not work on all sim racing games. This might be because the game doesn't recognize it, or because the car itself would not support a handbrake (think F1 cars). We recommend double-checking that what you're purchasing is compatible with your favorite games by looking at both the game and product specifications.