Best Sim Racing Cockpits of 2021
Breakdown of the Best Sim Racing Cockpits
Based on our extensive research, here are the best racing cockpits:
Top Pick
Fanatec often tops our list of the best sim racing products out there, and it's easy to see why. The RennSport V2 is all a cockpit ought to be and more!
The RennSport V2 improves from the already incredible first version with a myriad of little adjustments that make this product the best on the market so far. It has an incredible amount of stability, meaning that as you race you won't be cradled side to side. It's made from high-quality materials (mainly aluminium) and the shape of it alone shows the attention to detail that Fanatec is willing to put into their every product. The design looks like what you'd find inside of a real-life car, so much so that it ships with a roll cage.
But the real reason why the RennSport V2 tops this list is the sheer amount of adjustability you get from the very start. Yes, you can replace your seat. Yes, you can make all the little adjustments to wheel and pedals your heart desires, but that's not what we're talking about. Every single RennSport V2 is customized for the individual purchasing it. You get to choose your own seat, frame, accessories and more. It's very hard to put anything else in first place because, chances are, the RennSport will be your dream cockpit.
Runner-Up
Its unique design allows users to be in true racing positions, giving them an authentic and immersive racing experience.
This cockpit is such a fantastic piece of equipment that we had to include it here. Let's start with the customization options: the wheel can be changed in-depth as well as in height and inclination. The pedals have height options, but the distance and inclination are both variable and adjustable to your heart's desire. As for the actual fame adjustments, the K2-R allows individuals varying from four feet four inches to six feet four inches to fit comfortably. The build quality is also so great that weight should not be a problem in a vast majority of cases.
This one is kind of like a chassis in the purest of terms. It gives you a skeleton on which you must make finalizing purchases such as the seat. Having said that, in terms of skeletons available out there, this can't but be an excellent and quite affordable choice (given the quality of the product). It's very well built, it's reasonably adjustable, it's incredibly stable during use and it gives you the freedom to make your own best set-up.
Budget Pick
Designed with close feedback from professional drivers and some of the world's fastest eSports drivers, the GTTrack delivers the utmost in comfort, performance, and versatility.
The NLR Challenger Racing Cockpit is the bare necessities in the best sense. The feeling this cockpit transmits is one of authenticity and realism. You can adjust the height and distance of various parts, including the angle at which the seat is placed at, allowing all users to find the position they find themselves – and their wheel and pedal sets – most comfortable in. The design is somewhat lacking, but racing isn't about design, it's about practicality, and this product has plenty of it. One clear example of this is the fact that the center pole is closer to your seating position and not your feet. In turn, this doesn't impede you from breaking, and it makes it easier to drive with your heels on the base and toes to the pedal.
This great package comes at a fraction of the prices of some of our top picks, but still ships a high-quality product that will leave you with a complete design that's ready to be used to trim seconds from what used to be your best lap.
Luxury Pick
AP-XTREME is the king of cockpits, and the Mobile Bare Sim Chassis is one of their best offerings
This cockpit is absolutely fantastic in everything it does. It's incredibly adjustable, allowing you to move the wheel vertically, horizontally and tilt it. Same goes with the seat which can have the front and the back of it be moved up or down independently, as well as having the entire seat slide towards or away from the wheel and pedals, and recline. Even the pedal plate and shifter position can be adjusted in various positions for comfortable use.
Other than this the cockpit is as incredibly stable as it is lightweight, a mix that (when you also take into account the wheels that can be mounted) makes it incredibly practical to move around. Finally, let's touch upon the ergonomics of this great product. Everything about it, even if adjustable, was purposefully placed to reproduce an optimal GT racing position, not the driving posture of casual driving.
As a last note, this cockpit is ideal for those who want to race using their laptop screen or a VR headset, but if that sounds like you (and you have a fair amount of money to spare) then look no further. This seat will make for the best sim racing experience!
For Tall Pilots
Sure, it might cost a pretty penny, but it's resistant, spacious and convenient.
This might not be the best cockpit put there, but it does a lot of things right that many rigs simply ignore. First of all, the cockpit is ready for direct drive wheels, meaning it's built to be able to sustain quite a bit of force. Speaking of build, it's jaw-dropping how great the build of this thing is. It's clear that they considered all sizes both in longitude as well as latitude when building this magnificent product. The Extreme Simracing Cockpit V3 can hold up to 310 pounds in weight and up to 6ft6 in height. Adjustability extends to the wheel mount and you can put each pedal within reach.
The 3.0 is also incredibly easy to install and comes with extra bolts in order to allow you to install your Thrustmaster/Fanatec/Logitech wheel without you having to sleuth around to find what you need. The only negatives are that this product isn't built for older peripherals, as pedals such as the CSR Elite might not fit, or fit snugly (a problem that isn't mirrored with the V3s). Also, when assembling it, make sure you tighten all the screws as hard as you can or you will lack the stability that this cockpit otherwise offers.
Budget Alternative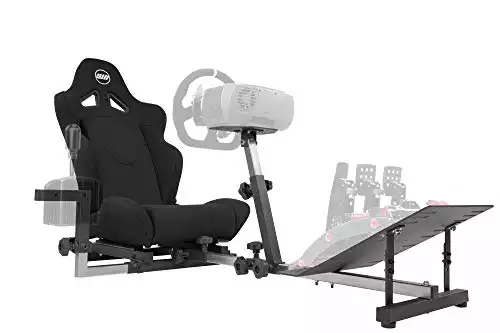 This cockpit is so good that having it as "budget pick" feels almost insulting.
The only reason why this cockpit is considered budget is because it does not have a high price tag; if we were going on merit alone, this one could comfortably hold its own against a lot of the more expensive picks out there. Almost everything is customizable, starting from the reclining back of the seat, to the adjustable distances between the seat (thanks to the seat slider), wheel stand, pedals and the various angles said pedalboard can be inclined at. It also goes without saying that the shifter on this sim racing wheel stand can be mounted on either side of the cockpit. It's stable, it is one of the best looking and it has everything you could hope for in a complete cockpit system while not going for absurd prices.
In terms of size, the seat easily accommodates sizes up to six feet two inches and should be big enough for those as tall as six feet six inches. Though we don't know the exact weight specificity, users that reach up to 250 pounds in weight own and use the cockpit. You really can't beat the price on this one!
Also Great: AP-XTREME Lite Bare Sim Chassis
AP-XTREME goes two for two with the slightly less expensive but still incredible cockpit.
This cockpit takes much from the Mobile Bare Sim Chassis, but it interprets it in its own way. It retains its ergonomics, as well as the plethora of adjustability options. What changes, however, is that this is a cockpit that's suited better for those who plan on racing while staring at a television screen rather than a computer monitor. It's also slightly heavier and less mobile (as the names would suggest) compared to its slightly more expensive brother.
What the Lite Bare perhaps does better than the Mobile bare is give you control over what exactly you're looking for in a cockpit. The Lite bare isn't meant for use by those who are looking to have a vast number of peripherals in their set-up, rather it's aimed at those who want to have the very best of the basics – wheels and pedals – at a reasonable price. That shouldn't discourage you though for, as we mentioned before, this AP-XTREME product allows you to figure out what you want. The Lite can (unlike the Mobile) be upgraded in also being able to hold a handbrake as well as house a ButtKicker. That's not where the fun stops, however, as the many small adjustments and additions you can purchase can turn this from one of the best basic cockpits out there to one of the most complete and expensive ones on the market. 
What to Look for in a Sim Racing Cockpit
If you're in the market for a racing simulator cockpit, there are quite a few factors you ought to bear in mind:
Features
Racing simulator cockpits come in a variety of shapes, sizes and configurations to meet the needs of sim racers, and the first thing you should ask yourself before shopping is "what do I need from a sim racing rig?"
While features such as a wheel deck, shifter mount a seat and a place for your pedal set are to be expected, racing simulator cockpits aren't really guaranteed to offer much else out of the box. Do you need a mount for additional racing peripherals such as a hand brake? Do you need a place to mount one monitor, or even three? Maybe a dedicated storage space for a VR headset and its accessories?
How about a built-in pedal plate for high-end pedals such as the Heusinkveld Sprint? If you plan on using powerful direct drive wheels, you'll need to ensure your prospective rig has the rigidity necessessary to stand up to the torque! Direct drive wheels can rattle lesser rigs and many even shut off if they're unstable.
Also consider if you intend to use your rig for gaming outside of sim racing games. For example, flight sims have a lot of overlap with racing sims, and you might want your rig to be versatile enough that you can easily swap pedals for rudders and your steering wheel for a yoke and throttle. The possibilities are nearly endless, so make sure you have the best idea of what you want before you dive feet first into shopping.
Stability
Cockpits are not fully blown motion rig simulators. As such, whenever a cockpit cradles you, or it otherwise moves, this isn't a feature that was included in the purchase to add to the realism. This means that the cockpit lacks stability. In turn, this will distract you and lead to make mistakes. Seeing as the entire purpose of a cockpit is not solely to help engross you in the driving experience, but also to provide a stable plane on which to play, stability during use is a key factor to look for.
As we alluded to before, not all racing simulator cockpits are created equally, and some simply can't stand up to the sheer force of a direct drive steering wheel base and the massive torque it can output. The lines between simulation and gaming can get blurry when it comes to racing, and you don't want your experience to be ruined by a unstable seat or rattling wheel deck!
Though it may be tempting to start from the ground up with a cockpit seat, it is for the reasons above that we advise against taking this approach. For maximum comfort and an optimal racing experience, you'll want to get a rig that compliments your gear – steering wheel, pedals and more – not the other way around.
Ergonomics
Your racing cockpit needs to be ergonomic. This doesn't simply mean that it needs to be comfortable (which it does) but that it supports you and that everything is intelligently placed. A non-ergonomic cockpit may have the shifter too far low or high, making it awkward to shift gears. Ergonomics is key in providing a safe as well as a precise experience.
Some seats are bare-bones in terms of comfort, whereas others have a seat slider and lumbar support cushion. Sim racers know that you can't have a great simulation experience if you're constantly shifting around in order to get comfortable, so don't skimp out on build quality and intelligent design in your seats.
If you do want features such as a lumbar support cushion, make sure you're shopping for such luxuries up-front as adding them later on will likely cost much more than if you had bought them bundled in the first place. The importance of comfort when racing cannot be overstated in terms of the improvement in experience as well as performance on the track – something real world drivers have known for a very long time!
Adjustability
Not everyone will be looking for the same things from their racing cockpits. As an example: rally racers will require that their cockpit supports a shifter and handbrake much more than an F1 racing sim pilot would. Similarly, someone used to driving on the left side of the road needs to be able to switch which side they mount their shifter on. Adjustability thus becomes vital in high-quality cockpits.
A seat slider is all but guaranteed as is a shifter mount, but where they are placed and the number of options you have for their position is a really important consideration. When in doubt, err on the side of more adjustability.
Frequently Asked Questions (FAQ)
Here are some of the most common questions users ask when choosing racing simulator cockpits:
Do I need a cockpit for sim racing?
While you can play most racing sims without a cockpit, you won't get the full racing experience nor will you be using your pedals, wheels and other gear as effectively as possible. You need dedicated hardware in order to properly install your gear in sturdy mounts so that you can sit in a proper position when gaming, which in turn will improve your comfort as well as lap times.
Why are racing simulator cockpits so expensive?
A lot of factors play into this, and there is a lot of variance – (build quality, business models, and your shopping site of choice will all play factors here) but sim racing rigs are generally reasonably-priced when you consider the material costs, labor and engineering and even shipping and marketing costs that are invested in these products.
Other Racing Simulator Cockpits We Reviewed
We looked at four other racing simulator cockpits. Even though they didn't make our top 7 list, they're still some of the market's best in various categories.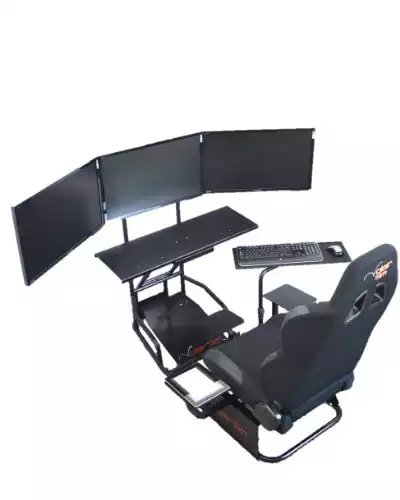 A multi-use cockpit that's at home on the track or in the skies. That's right: use this cockpit for sim racing, flight sim, or any simulation game of choice!
The Volair Sim Universal Cockpit was our top pick in our recent guide to flight sim cockpits due to its stellar performance for as a flight sim rig, but it's equally fantastic as a seat for sim racers. This steel-framed cockpit has all of the usual features you'd expect in a rig for racing games such as a shifter mount and highly adjustable seat, but also has plenty of room for for telemetry and navigation items like one might see in a professional racing rig. There's also dedicated storage space for a game system or VR headset, making this a great deal for someone in the market for a full-service cockpit.
If you need a portable or storable rig, this is it!
The Next Level Racing F-GT is unique amongst other racing simulator cockpits on the market, in that it can be neatly folded and stored in a closet or under a bed. Due to the way this seat is designed, wheels and pedals can remain mounted as even when folded, making this an especially great choice for those who find themselves gaming in shared or mixed use spaces and need to cede their gaming site regularly. This sim racing seat really is a fantastic product that's easy to recommend to drivers all over the world, and it is an especially great deal for the modest asking price.
The best bare-bones sim racing and flight sim rig on the market
The Wheel Stand Pro S Deluxe V2 has as basic a design as you could imagine – this stand doesn't have a shifter or handbrake mount, monitor brackets or even a seat – but it doesn't what it does so well that it absolutely deserves to be mentioned on this list. If you already have a great chair that's comfortable and keeps you in the best position for racing, you might want to consider if you could simply use a stand that holds your racing wheel and pedals in a convenient, compact format. Just don't try installing a direct drive wheel on this one!
Racers all over the world have been buying this thing out of stock for years, and it's easy to see why when you compare the price against its feature set and design.
The GTR Simulator – GTA-F Model is one of the best, most adaptable cockpits out there for sim racing and we'd be remiss if we didn't at least give it a nod here. Available in an unknowable number of configurations and colors, the GTR Simulator – GTA-F Model has a sturdy but lightweight fiberglass frame, highly adjustable bucket seat and more mounts that you could shake a stick shifter at.
Last Updated on June 15, 2021