The PlayStation 4 has had a long and productive lifecycle punctuated by a number of great titles across all genres of gaming – not the least of which is racing. Headlined by Driveclub and the Gran Turismo series, the PS4's racing games pair best with a great racing wheel setup. Here are the best on offer!
Best PS4 Racing Wheels of 2021
Breakdown of the Best PS4 Racing Wheels
Based on our extensive research, here are the best PS4 racing wheels:
Top Pick
Fanatec CSL Elite
It's difficult not to love this wheel when it offers such a smooth, immersive drive for such a reasonable pricetag
The Fanatec CSL Elite is probably the best value PS4 wheel that money can buy. Fanatec has been making amazingly powerful and realistic sim racing gear for many years now, and this is one of their best selling products.
The CSL Elite includes the CSL Elite wheel base and a wheel rim (currently an officially licensed WRC rim!). Fanatec makes amazing pedals as well and they're all compatible with this set, but they're quite costly as well and the total package is likely going to run north of $1,000 by the time tax and shipping is included.
What you get for your hard earned cash is a realistic leather and suede wrapped steering wheel that measures 300mm across (the size of real steering wheels) that's positively loaded with great features and tech, and a wheel base that's even more amazing due to telemetry LEDs and a powerful brushless motor that generates a massive 6Nm of torque. If you're looking for the most amazing racing experiences possible on a PlayStation 4 console, pair the Fanatec CSL Elite Racing Wheel with your sim of choice and hit the track.
Runner-Up
Thrustmaster T300 RS GT
If you want something a little less expensive than the CSL Elite that will still offer a fantastic driving experience for the money, we can't recommend this bundle enough
The Thrustmaster T300RS GT offers high-end performance at a decidedly mid-range price, and we think that it warrants consideration for top pick status. Featuring a detachable GT-style wheel rim, 1080 degree force feedback motor and solid three pedal set, this set has everything you need to get going – right out of the box.
Thrustmaster puts their name on the line with every feedback motor they release, and this one isn't a disappointment by any stretch, and the brushless design they employed here provides a smooth yet powerful response curve that has to be felt to be believed. The only real gripe that most users seem to have with this wheel is that the pedals feel somewhat cheap, but we think that's a fair compromise when they could have instead opted to actually include cheaply made pedals – which these are not.
Luxury Pick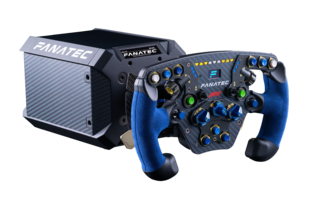 Fanatec Podium F1
The Podium F1 is a direct drive wheel with support for PlayStation, making it an obvious choice at the luxury end
We've reccomended the DD1 — the wheel base used in the Fanatec Podium Racing F1 bundle — multiple times before. It has an incredibly powerful force-feedback output thanks to the dedicated servo-motor, and the jump in quality you will feel when using this instead of your average steering wheel is incredible. Not only is the force feedback powerful, accurate and realistic, but you can also tailor it to your preferred playstyle. As a matter of fact, a vast array of options can be entirely set by you as you look for the settings that most engross you. Thanks to a relatively intuitive tuning menu you are able to adjust factors including ABS, drift mode, force, spring, damper, steering lock, force effect intensity and force feedback strength. To end the discussion on the wheelbase, the (non-)issue of latency. The DD1 has an immediate exchange of information with the racing sim of your choice, meaning that you should never feel any latency in the slightest. All in all, the wheelbase alone should have you sold.
We should also briefly mention the wheel itself. If you're looking for a versatile steering wheel then maybe this isn't quite what you're looking for but, instead, if you're looking for an incredible F1 wheel then look no further. First and foremost, it's officially licensed by the real-life F1, and this license doesn't come willy-nilly. The wheel has a set of 11 buttons, 12-way multi-position switches, thumb encoders and rocker switches, packing an incredible amount of customizable options in a single product. It also has the most realistic paddle system available on the market, as you can pre-define the clutch bite point like a real-life F1 pilot. See our full review of the Podium F1 here.
Budget Pick
Thrustmaster T150
The Thrustmaster T150 is also our preferred budget wheel for PS5, so it should be no surprise to see it on this list too
When it comes to value for money, the Thrustmaster T150 really is a steal. It's definitely not a looker, but this affordable, PlayStation-friendly wheel comes with a whopping 1080 degree rotation range (you won't find that in any other wheel at this price range), and comes with a reasonable set of pedals.
Aside from the rotation range, another thing that makes the T150 stand out is its combined use of a gear and belt-driven system. This combines the affordability of gears with the smoothness of a belt. Admittedly, the resulting effect is still a little notchy (as you'd expect from a gear-driven wheel), but it's hard to complain for this money.
Honorable Mention
Logitech G29/920
The Logitech G29 has and will always be a strong contender for the best budget wheel for PlayStation 4, although Thrustmaster usually beats it out
Before we start the review, make sure that you're looking at the G29 and not the G920. The sole difference between the two is that the G29 is a PlayStation wheel, while the G920 is an Xbox wheel.
Now, on to the meat of the review. The Logitech G29 is a wheel that's built to deliver a consistently good drive, but rarely becoming a great drive. The design is quite beautiful, and it's coupled with really solid build quality, making this feel like a true to life steering wheel. The reason why we're not crazy over the G29 is because of the force feedback. Don't get us wrong, it's still very strong and it will have you fighting like never before if this is your first purchase. Having said that, the G29 delivers it via a gear-driven mechanism, which is known to be much less smooth compared to the alternative, belt-driven, force feedback. When taking turns at high speeds you might thus feel your wheel get a bit notchy.
A big advantage of the G29 is that it comes with a pretty solid pedal set, so it's easy to get two birds with one stone. We recommend this wheel especially to those who are just now entering the racing sim world, as you'll have a product that will last you a long time. A product that delivers all that it promises to, and a product that's coupled with a good set of pedals for a reasonable price.
What to Look for in a PS4 Sim Racing Wheel
With so many racing setups out there, it can be hard to determine which is best to suit your needs; these are the keys to focus on:
Compatibility
It goes without saying but the first thing to check is always compatibility. Some very similar products might not be compatible even if you assume they are. As an example, the Fanatec CSL Elite is PS4 compatible, but some models of the ClubSport V2.5 are not, despite the two always being compared to side by side. We made sure that all the wheels in this list would work with your PS4. Should you decide to go looking for more that's ok, just make sure that they're actually compatible. If you're looking for something that will be future-proof, also check out our guide to the best PS5 wheels.
Setup Contents
The most basic expectation is that each setup contains a full wheel, which comprises a base and a rim – with this, you are technically ready to hit the track. Most sets also include a pedal set – some are just a brake and throttle, whereas others also toss in a clutch. If your set only has two pedals, that can be someone overlooked if the wheel has paddle shifters – but this is really down to your personal preferences for shifting.
Some kits also feature a dedicated shifter, but most simply allow you to purchase a shifter add-on at an additional cost. There are a lot of add-ons for that matter, such as hand brakes and swappable wheel rims, but we recommend ensuring you enjoy the product for a while before committing additional funds to accoutrements.
Force-Feedback
Buying a steering wheel without force feedback is like shooting yourself in the foot. The entire point of simulating races is to feel as though you're in the cockpit, and that simply doesn't happen unless your wheel is responsive with what is happening in the game. Force feedback can be delivered in two ways (though one needs further explaining): Direct Drive and "normal" force feedback.
Direct drive wheels are the most realistic but also the most expensive. The wheel is attached directly to a servo motor, outputting what is essentially a 1:1 replica of what real-life would feel like. These types of wheels are very rarely made for consoles.
"Normal" force feedback is divided into belt driven and gear-driven systems. Of these belt-driven systems are superior. Gear-driven mechanisms connect the motor to the wheel via a series of cogs, which in turn can feel notchy when turning. Belt driven systems connect it via a belt, which feels much smoother and frictionless, making the entire experience more realistic.
FF can produce massive amounts of torque, so we advise against allowing kids to use FF unsupervised; for everyone else, it's an all but essential aspect of the sim racing experience that you should take care to appreciate.
Rotation Range
A good rotation range will have you simulating what it feels like to drive a real-life race car. A poor rotation range will have you feeling as though you spent multiple hundreds of dollars on something, you'd find at an amusement park or an arcade. As a general rule of thumb, you should never buy a wheel that rotates less than 900°. If it rotates more, then that's great, but it's not strictly speaking necessary. All the wheels on this list will rotate at least 900°.
Price/Value
The products on this list vary in price quite dramatically, as do to the contents of each setup. Costs account for many factors including accessories, features and even build quality – so it's best to determine what you require from your racing setup before trying to find gear to fit your budget.
While it's rather hard to find a good, full setup in the budget price range, there are tons of simple setups available at cheap prices – and these are sufficient if you want a bare-bones wheel. Good pedals are nearly essential for sim racing, but they come at a premium; shifters and paddles add a lot of value in addition to cost.
Just because something is cheap, that doesn't mean it's a good deal. The inverse is true as well; many of these products simply have more to offer than many users will find necessary and as such don't give a lot of bang-for-buck.
Frequently Asked Questions (FAQ)
Here are some of the most common questions users ask when choosing a PS4 racing setup:
Do you need a steering wheel for PS4?
For casual racing games, absolutely not – your DualShock 4 will do a fine enough job of playing pretty much any arcadey racers in addition to allowing you to play the more serious affairs. If you intend to race competitively only or if you simply appreciate deeper immersion, it's all but essential that you take the plunge into a racing setup.
Are PS4 wheels compatible with PS5?
Thankfully, the answer is a resounding "yes" – for the most part. The only exceptions we're aware of are those that are strictly wireless – and therefore unable to be plugged-into the PS5 in order to download the new firmware.
Other PS4 Racing Setups We Reviewed
We looked at two other PS4 racing setups. Even though they didn't make our top 5 list, they're still some of the market's best.
Thrustmaster T-GT
The Thrustmaster T-GT was built with the Grand Turismo game in mind, but it will work fabulously with any racing sim of your choosing. Let's start off with the non-Grand Turismo exclusive boons. It has a fantastic rotation range of 1080°, giving you more than enough real estate to abandon what feels like an arcade and enter the true to life racing sim world. The T-GT is elegant, made of real genuine leather and looks absolutely stunning. If ever you could get immersed from simply looking at a product, this would be it. As if this weren't enough, the T-GT strives to have a 1:1 force feedback output when you play, taking all the data from the game and reproducing it back to you exactly as the racing sim intended you to feel it. These details alone make it a worthy purchase.
But if you plan on playing Grand Turismo, the fun is just getting started. The T-GT makes used of the T-DFB technology to make an accurate 3D map of the racing world and environment around you. This means that every little grain of sand, every blade of grass, every little bit of moisture on the track, the T-GT wheel registers it, and reproduced it for you. In terms of realism and immersion the only thing you'll rue is that too few racing wheels make use of such intelligent tech.
Thrustmaster T80
The Thrustmaster T80 is something of a "budget pick" runner-up, as it is extremely affordable while managing to offer a respectable feature set. The big caveat here is that this wheel does not have force feedback of any sort.
What you do get is a decent two-pedal set in addition to shifter paddles, a rubber-coated wheel with adjustable sensitivity and for a few bucks more, you can get sleek Ferrari styling in a special edition T80 Ferrari 488 GTB set. If you've made it this far into the list without settling on a setup, this one is worth a look.
PXN V900
The PXN V900 is a highly-rated budget wheel that has a uniquely broad range of compatibility with just about every game console on the market today – PS3, PS4, PS4 and PC are all supported, as well as Nintendo Switch and Xbox One/Series X/Series S.
Like most of the budget racing setups out there, this one doesn't have force feedback of any sort – but it does at least have vibration motors to give a sense of what you're missing out on. Also included are built in table clamps, a pair of basic pedals and great rotation range of 900 degrees for realistic steering on a shoestring budget.
Last Updated on May 2, 2021