If you want to experience the fun of a manual gearbox while sim racing, you'll need to invest in a gear shifter. For this article, I've rounded up seven of the best sim racing shifters on the market, including both traditional H-style shifters and sequential shifters:
Pro-Sim H-Pattern Shifter
SHH Newt
A Brief Guide to Shifter Types
Before we dive into my top picks, let me go over the two types of sim racing shifters, since this will probably be the most important factor in your purchase.
H-shifter
First up are H-pattern shifters, which typically have five, six, or seven forward gears and a single reverse gear organized in the shape of the letter H. They should be familiar to almost anyone who has ever sat behind the wheel of a sports or race car. The feel of an H-pattern manual transmission shifter comes natural to many, and is the most common type seen in sim racing shifters today.
Sequential shifters
Next up are sequential shifters. Here, the gears are positioned in sequence: simply pull or push the shifter to change gear. Sequential pattern shifters don't show up often in street legal vehicles, but many a race car is outfitted with them.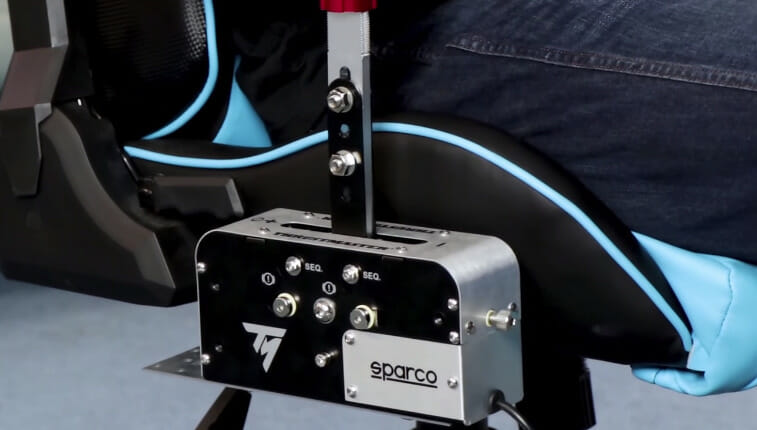 Integrating both types into one product increases production costs, but nonetheless occurs quite frequently in the industry (although the sequential mode tends to feel a bit off in many of these gear shifters).
Breakdown of the Best Sim Racing Shifters
Based on my extensive research, here are the best sim racing shifters:
Top Pick
Second to none when it comes to immersion, this premium H-shifter is perfect for top-tier racing setups
If you are looking for the best overall shifter on the market then the answer is definitely the Fanatec ClubSport SQ. Designed to perfectly replicate the classic Porsche 911, this shifter will feel weighty, resistant, and realistic, especially when paired with a Fanatec wheelbase.
Fanatec's technological know-how shines through with this worthy addition for any sim enthusiast. This shifter is made entirely from metal, is incredibly customizable for a shifter (allowing you to adjust shift feeling and resistance amongst other things) and will give you the feeling of a professional driver from gear one to gear seven. Shifting between H-shift and sequential is as easy as throwing a switch, allowing you to experiment and find which set-up you prefer.
The ClubSport SQ is compatible with PC, PS4 and Xbox, but be sure to use Fanatec wheelbase and racing wheels if you're not on a PC. The one small negative of the SQ is that to use the 7th gear you either need a Podium (DD1 or DD2), ClubSport, or CSL Elite Wheelbase, or the ClubSport adapter.
Runner-Up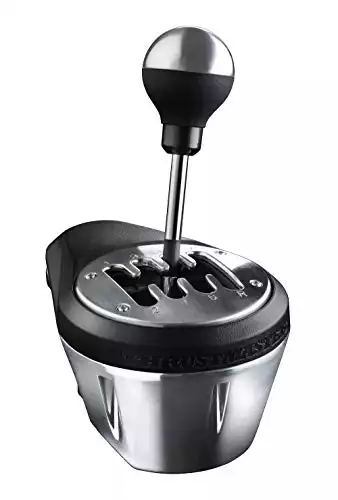 This excellent H-shifter also makes a reasonable sim racing handbrake if you're in a pinch!
Simply put, the Thrustmaster TH8A is an excellent gearbox shifter. The quality of the material utilized (almost entirely aluminum) gives it not only an authentic feel, but a better build than some shifters found in actual cars. Another added bonus is how resilient the shifter is. Many products use switches in order to relay to the game which gear you changed into, which can eventually wear out and cause the shifter to become unresponsive during intense shifting. The Thrustmaster TH8A avoids this shortfall by using magnetic switches. What this means is that there are no mechanical parts which risk getting damaged, allowing you to shift as aggressively as you may want or need. An added bonus to the TH8A is the fact that it has both the H-pattern and the Sequential shift available, allowing you to choose which is right for you.
Thrustmaster has a long track record of producing great products that marry high-end tech with mainstream appeal, which translates in great sim racing peripherals that are affordable and durable. This shifter is, thankfully, not an exception to that rule. While some of their products tend to sport generic aesthetics that belie the engineering on the inside (especially with regard to some of their console-exclusive wheel bases) that is thankfully no the case with this shifter.
The only thing to keep in mind is compatibility. On PC this will work with any sim racing wheel, but on consoles it will only work with the T500RS, Ferrari F1 Wheel Integral T500, T300RS and T300 Ferrari GTE (Playstation) and the TX Racing Wheel (Xbox).
Luxury Pick
A PC-exclusive, this sequential shifter is built to shift like a real car, and comes with three different shifter knobs to fit your racing rig
The Heusinkveld Sim Shifter only works for PCs, so us unfortunate console users are unable to take advantage of this incredible machine. The shifter is purposefully quite compact, so that it can be mounted on a range of racing cockpits. The small shifter (thanks to its short throw and adherence to sequential mode) however packs more strength than a lot of its larger counterparts. The system is built in order to simulate every gear shift as though in a real car; the ball spring resistance system giving the user powerful feedback and resistance. On the topic of resistance, this can be regulated by the user by switching between three levers which are all included with the purchase of the shifter. How much you want the shifter to fight you is up to you.
As this is a PC-only shifter it will work with any wheel on the market, allowing for your own preferred and personalized set-up. All in all this is a high end product which will happily satisfy stick shift users. The main drawback (aside from the lack of console compatibility) is how to purchase it. As with many enthusiast grade shifters, this product is not available via big box retailers – meaning that you will likely have to order directly from the manufacturer's website. Nevertheless, the fact that Yann Ehrlacher (European Le Mans Series, WTCC & WTCR race winner) is a convinced customer, and the not too onerous price-tag of around $220, should convince PC sim drivers to purchase this technological wonder.
Budget Pick
A fun and affordable H-shifter with six forward gears
If you're a fan of Logitech's G29/920 wheel, chances are the G Driving Force Shifter will win you over too. This is a solidly built shifter, with short throw distances, making it intuitive to use and very easy to become a solid pilot with after only a handful of drives. The gears are laid out intelligently and the fact that this shifter goes as cheap as it does makes this a solid choice for any Logitech user.
This shifter is one of few exclusively H-pattern shifters out there (most of the other shifters on this list offer sequential mode or both shifter type options) which is a bummer for many. Logitech has a solid track record of producing gear that punches above its weight, and the Driving Force Shifter continues that tradition by being a budget product that feels like something much more expensive. The mostly plastic and a faux leather exterior notwithstanding, the short throw steel shifter lever and other high-quality internals bode well for the longevity of this shifter.
What isn't as positive about this shifter is that it unfortunately doesn't feel as realistic as other ones on the market. When you're in the game it will feel like fun to use, but the build quality resembles that of a controller or a shifter you could find at the arcade (even though the Logitech is miles above in terms of quality and precision). Consider this as a great entry level shifter, but not something to buy if you've already committed to other high-end peripherals and are looking for a hyper-immersive racing experience at a low price point.
Two-in-One
If you're looking for a two-in-one sequential shifter and handbrake that doesn't totally break the bank, look no further than this Sparco-licensed gem!
The Thrustmaster TSSH is an incredible sequential shifter and if you know this is the type of shifter you prefer then look no further. The fact that this is a collaboration with Sparco alone should denote the quality of the product. The TSSH is a 1:1 replica of Sparco equipment you would find within actual race cars. All the components are high grade and made of metal (with the exception of the plastic handgrip, which is thankfully made of plastic).
The main feature that the Thrustmaster offers is the double-feature which allows it to turn into one of the best sim racing handbrakes. The TSSH is made to be easily switched from one mode to the next, so to rapidly change from one mode to the other all you have to do is flip a switch.
The reason why the shifter is not higher up on the list is the punitive price. Admittedly, it's warranted, as this is the highest quality shifter of this type available. As a last note, it's recommended to check its compatibility with game titles (available on the Thustmaster website). It works with most, but considering the cost any buyer should consider a quick double-look.
Best for Pros: Pro-Sim H-Pattern Shifter
Developed in conjunction with Quaife Engineering, a transmission-specialized parts maker that's been in the business for well over 50 years
Exclusively H-pattern shifter (not a sequential shifter)
Shifter compatible with PC only (internal USB device with 2m cable)
Massively adjustable and customizable
There are products that claim to be – and look like – luxury products ,but the Pro-Sim H-Pattern Shifter feels like the real thing. Many will be immediately turned off by the price tag (lowest price at time of writing is £1,140) but those who can fit this H-pattern mode beast into their budget will be handsomely rewarded with a shifter that feels more tactile and responsive than most real-world shifters.
Quaife Engineering has thrown their considerable experience behind this aluminum and steel shifter; they accomplish real car feel by incorporating "massive shifting linkage" for which they also credit the unit's considerable six-pound weight. With six speeds and a reverse gear, the H-pattern gear changes have adjustable resistance.
Speaking of adjustability, the Pro-Sim H-Pattern Shifter takes tweaking to the next level by giving users control of shifter lever centering and pivot point – as well as including a 150mm gear stick lever extension if you want to increase the default short throw stature. The hydraulic shift lock mechanism allows for simulation of both dog engagement and synchromesh style gearboxes. They even included an extra reverse gear for those who want the most comprehensive racing experience available at any price point.
Fortunately, this luxury product looks every bit as fantastic as its build quality feels – the anodized, powder coated aluminum will see to that. Perhaps the most awesome selling point are the Perspex (a clear acrylic glass alternative akin to plexiglass) panels on the sides that allow viewing of the internal mechanisms as they work.
Honorable Mention: SHH Newt2
Both H-pattern and sequential mode shifter type easily swappable with one hand
Choice of four colors, mount (L-plate, Fanatec, etc.), top plate and short or long knobs at no additional cost
Ability to add custom logo and / or custom text, in addition to premium shift plate options
Strong two-year warranty
While the SHH Newt isn't the most affordable option on this list, verified buyers across various forums praise this little gear shifter for outstanding performance and value. The SHH Newt doesn't look like something you'd hope to find in a real race car ;3D- printed ABS plastic forms the bulk of the body, but it has a charming aesthetic that can be further personalized as it comes in a variety of colors, and users can even add a custom logo or text for a nominal fee.
Customization doesn't stop at cosmetics however, as the SHH Newt can be outfitted with various shifter plates and mounts, or even an extra-long micro USB cable. While the ABS casing does look rather low-quality, it is quite rigid and has a benefit of being very lightweight – and the CNC internals and shifter lever balance things out nicely.
The most innovate feature of the SHH lies in the way users swap between H-pattern and sequential shifting – firmly pressing down on the shifter lever and turning 90 degrees smoothly engages your shifter type of choice. The simplicity of this system is quite the feat of engineering and something we'd love to see more manufacturers implement in the future. As mentioned before, various shifter plates are available but due to the adaptable design, users can simply skip the plates entirely and shift without them from memory.
What Else to Look for in a Sim Racing Shifter
There are a few other things to consider when shopping for the perfect sim racing shifter:
Build Quality
Gear shifters tend to take a beating, therefore it is important to make sure you're buying a gear shift that is built to withstand the rigors of sim racing. Better materials lead to a better feel for the user, which in turn creates a more immersive experience and faster lap times. Build quality is tightly linked to cost, but there are plenty of great shifters out there that have great build quality from gear stick to gearbox that are available at reasonable prices – so don't feel like you need a high-end product in order to get a great feel.
One particular bullet point that tends to be a really good sign of high build quality is when a shifter comes with Hall Effect sensor technology. Sometimes referred to simply as magnetic sensors, Hall Effect uses magnets instead of mechanical switches for internal sensors – leading to decreased friction and heat generation, and in-turn better durability.
Shifter Adjustability
Just as with racing wheels and pedals, you're going to want to get a gear stick that works with your sim racing rig – and nothing is more important in that regard than adjustability. The most common feature in this regard is the ability to swap between H-pattern and sequential mode shifting but there are quite a few other possibilities
Some shifters take things a step further by offering tweakable spring resistance, which allows users to get the feel just right. Most shifter knobs are replicable with real-world gear stick handles, and some even have swappable rods.
Compatibility
Unless you're sticking with a setup that is composed of products from a single brand, you'll need to make sure your third party shifter is ready to roll with your existing rig. First and foremost, consider whether you're going to need a shifter compatible with PC and/or console. Especially on console will you need to carefully research whether the shifter works with your racing wheels.
Mounting is another important consideration. Some shifters are designed especially for use in certain third party cockpits, although most of them can be modified or otherwise coaxed into shifting in your rig. When in doubt, check the manufacturers' site or sim racing enthusiast forums for further information.
Frequently Asked Questions
Do you need a shifter for sim racing?
Shifters are not required for sim racing. However, they do add immersion and fun to your experience as you will have a more holistic driving experience. If you only care about speed then utilizing paddle shifters (which are often included on the steering wheels) is for you. If your interest is emulating the real thing, and testing your skill, then you will likely opt for an H shifter.
Do you need a clutch pedal to use a shifter in sim racing?
If you plan on utilizing paddle shifter or a sequential gear shifter then a clutch pedal is not required. If you want to use an H-shifter, which is the most realistic route available to sim racers, a clutch pedal will be required.
Which games are compatible with shifters?
The full list of PC and console games that support gear shifter peripherals is massive; suffice to say that virtually every racing game will recognize a shifter when used with compatible hardware. In addition to racing games, truck and farming sims usually support racing hardware such as shifters and go a long way to increasing the immersion of those games as well.
Last Updated on May 11, 2023