If you're looking for an affordable, but high-quality wheel base for a personalized racing setup, Fanatec has the product just for you. Their ClubSport V2.5 wheel base offers extensive compatibility and customizability, without the four-figure pricetag of a direct-drive wheel.
Fanatec ClubSport V2.5
Perhaps the best belt-driven steering wheel on the market, this mid-range Fanatec offering is a definite crowd pleaser.
What to Consider Before Buying a Wheel Base
The first thing that should be noted here is the price. Much like direct drive wheels, purchasing a wheel base is expensive and we recommend these products only to the most devoted fans out there. If you're a beginner, or even just someone who only occasionally races, then consider going for a pre-built steering wheel. 
Certain aspects differentiate great wheel bases from poor ones. The first is realism. How well does the wheel base translate the inputs of the game into a realistic feeling for the user when driving with it. The second, just barely, most important aspect is accuracy. This translates to how reliable the wheel is in telling the game exactly what you're doing. Finally, customization. It's important that you can customize and adjust your wheelbase. This is because each wheel will behave slightly differently with it, and it's key that you can optimize your experience.
The Fanatec ClubSport V2.5
The Fanatec ClubSport Wheel Base V2.5 is a PC and (with an added purchase) console compatible wheel base. In terms of other peripherals, it's compatible with most Fanatec wheels, and all Fanatec shifters and pedals. The V2.5 presents itself as the top range product on the market, and though this may be a bit of a stretch, it remains an incredible piece of engineering. When comparing it with the Accuforce Pro V2 it falls, unfortunately, a bit short, not having the same level of feedback and precision. This, however, is mitigated by the fact that it costs slightly over half of the Accuforce, making it an excellent alternative. 
We'd recommend this product for those who wish to enter the beautiful twilight zone which falls in-between OSW and pre-made direct-drive wheels. It's not the best wheelbase on the market, but it remains excellent, especially as a first purchase. Again, this does not mean it's suitable for beginners. This is a product for more expert sim racers, who are taking their first step in the world of wheelbases.
Features & Benefits
Here are the most important features and benefits of the ClubSport V2.5:
Fantastic Force Feedback
The V2.5 utilized an entirely metal-made belt-driven mechanism that uses high-quality ball bearings and European belts to deliver the smoothest, most precise force feedback possible. This is paired with the incredibly powerful brushless servo motor. Moreover, if you couple this with some of the customization options (more on these later) as well as a wheel that supports vibration motors, you'll truly feel at the helm of your favorite race car.
Customisation Galore
As mentioned above, the customization is fantastic. You can adjust vibration intensity in the steering wheel, simulate ABS vibration, customize force feedback sensations by changing the spring, force effects and dampening forces, change steering wheels while playing (the quick release system is a joy to use) and adjust sensitivity independent from the game among other things. The V2.5 will allow you to tailor how the game feels specifically to your tastes. Few wheelbases can say they do that, and more should!
Highly Accurate
The V2.5 does a good job of translating your inputs quickly and precisely to the game, with a laudable 1000 Hz USB. Although this isn't close to the 50,000 updates per second of the Accuforce, the V2.5 utilizes DirectSensor technology and DUAL HALL technology so that the sensors mounted on the motor and axis translate all your movements as faithfully as possible. If you're upgrading from a non direct drive wheel the two experiences are incomparable. Well done V2.5!
Build Quality
The build quality is also excellent. Unsurprisingly for an object of this importance, it's entirely made of metal. It's quite hefty too, weighing over 4kg. The quality of the materials is mirrored on the inside, with each part specifically chosen to not only be long-lasting but top quality too.
Price
The V2.5 is not cheap. That being said, in comparison to other wheelbases on the market, it's a relatively economical price. It's less than half the cost of the most economical Simucube and around one-fifth of the price of the Simucube Ultimate. For what it does, the V2.5 has a pretty great price-quality ratio.
Alternatives
Before you decide on the ClubSport V2.5, there are a couple of alternatives you should definitely look into:
Simucube 2 Sport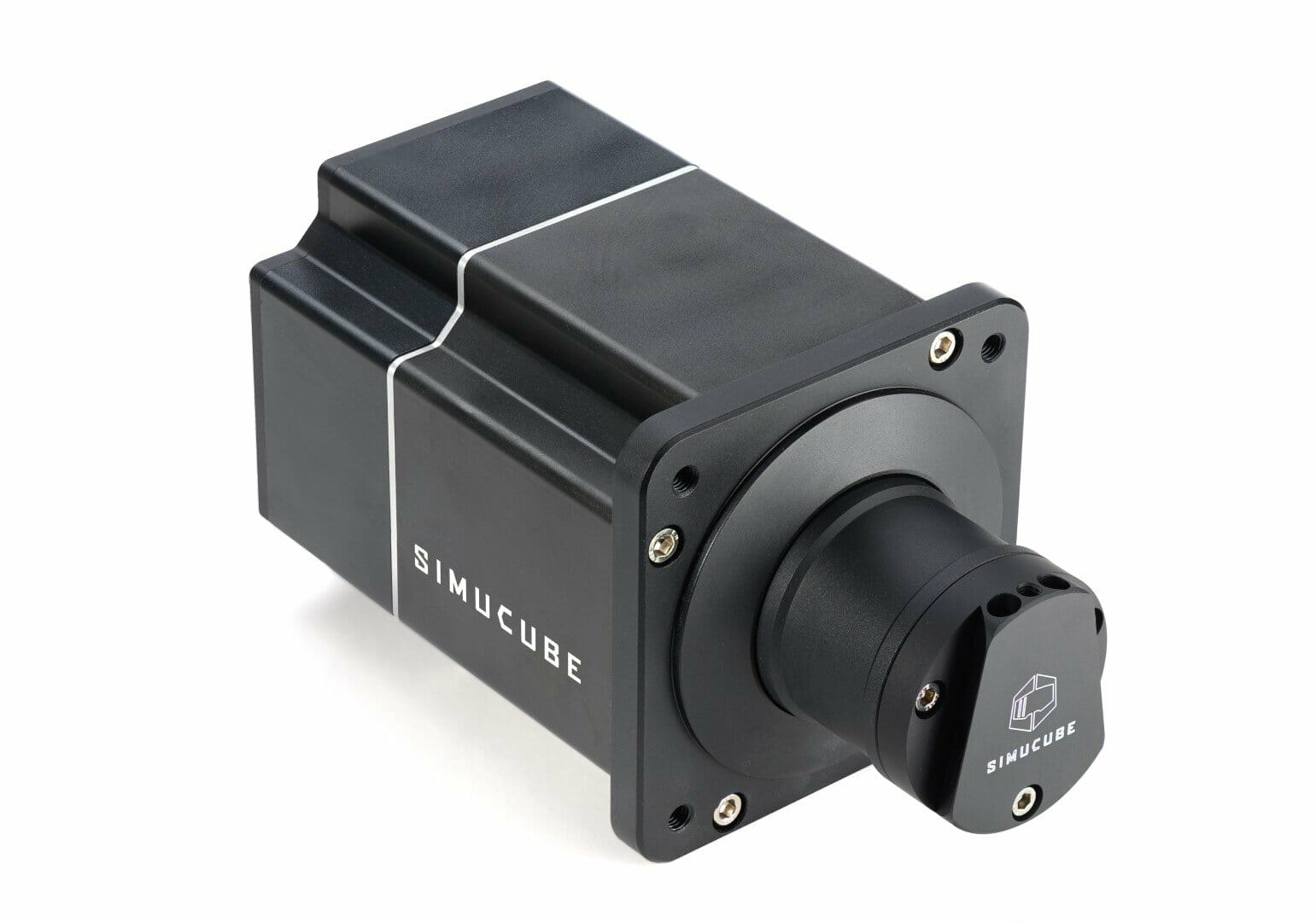 Simucube 2 Sport
Another impressive addition to the direct drive market, the Simucube 2 Sport is one of the top alternatives to Fanatec's Podium direct drive line
The natural signal processing of the Simucube 2 makes it deal with physics exactly as your game intended. This means that the force feedback you feel will be precisely that of your car in the game. Every damp spot of the track, every time you graze the gravel when you understeer, every little physical phenomenon will be faithfully translated and reproduced at your fingertips. A slightly more expensive pick compared to the Accuforce Pro V2 (see below), the Simucube remains a wonderful wheelbase.
Accuforce Pro V2
AccuForce Pro V2
Despite its comparatively low price, the AccuForce Pro V2 from SimXperience shows mastery in the craft of sim racing like few other products on the market
We mentioned this wheelbase numerous times during this review, and there's a good reason for it. It balances torque and torque resolution perfectly, resulting in an unparalleled realistic feel. Perhaps the most impressive addition is the auto-optimization feature which causes the wheelbase to change its settings to best fit your driving style, your driving line, what track you're on, what car you're using, how all these interact. It's more expensive, but you'd expect as much from the top pick out there
Open Sim Wheel
Okay, we know this isn't exactly a wheelbase, but we have to examine OSW for a second. It's a laborious task to create precisely what you're looking for, but the only way for you to get that is by building your setup. Before making any direct-drive wheel or wheelbase purchase, we recommend you look at our OSW guide.
Conclusion
The ability to have a direct drive feel, but choose your preferred wheel, is a privilege. It's an expensive one, but the ClubSport V2.5 wheel base does its best to make it accessible to more people while retaining the highest level of quality. If you're looking to upgrade your racing experience then give this Fanatec product a look! 
Last Updated on February 18, 2021 by Thomas Bush