If you're looking for an affordable, but high-quality wheel base for your sim racing setup, Fanatec has the product just for you. Their ClubSport V2.5 wheel base offers extensive compatibility and customizability, without the four-figure pricetag of most direct drive wheels.
Fanatec ClubSport V2.5
If you want the best wheel base you can get without having to pay direct drive price tags, this is probably it
What to Consider Before You Buy
Before I review any product, I always like to look at the most important factors to consider before buying a product in that category. So, what should you be looking for in a wheel base?
The first and most obvious thing is price. Thankfully this is a pretty easy variable to work out: just ask yourself how much you're willing to spend on a wheel base. Once you know this, you can start choosing between top-tier direct drive wheel bases and cheap wheel and pedal bundles, as well as everything in between.
The next most important factor to take into account when choosing a wheel base is force feedback, which is how the steering wheel pushes against your movements like it would in a real car. There are a load of things to consider here. How strong is the force feedback? How smooth is it? Is it consistent throughout the entire rotation range of the wheel? And so on and so forth.
Aside from price and force feedback, customization is the other big variable you want to think about. If you stick with a steering wheel for some time, you may well want to switch out the wheel rim or add shifter paddles. If you buy a new sim racing cockpit, you may need to change how the wheel is mounted. If you find the force feedback too weak or strong for you, you may want to be able to adjust it. All of these are important aspects to customization that you should bear in mind.
Last but not least, there's obviously the overall quality of the product you're purchasing. Do the materials feel luxurious? Does the wheel continue to work after a few years of heavy use?
Basic Information about the Fanatec ClubSport V2.5
The Fanatec ClubSport Wheel Base V2.5 is a premium sim racing wheel base from Fanatec. It's not a direct drive wheel, which means the motor is connected to the wheel shaft via a system of gears and belts. In this case, Fanatec has used a combination of two belts to ensure the wheel rotates smoothly (this can sometimes be a problem with gear-driven wheels) and that the force feedback is consistent through the entire rotation range.
In terms of compatibility, the ClubSport V2.5 works with PC straight out of the box. It can also work with all versions of the Xbox, but you have to buy an Xbox-compatible Fanatec wheel rim or hub. Unfortunately, it doesn't work on PlayStation, no matter what extras you buy!
As far as compatibility with other Fanatec products, it's compatible with all ClubSport steering wheels as well as pedals, shifters, and the Fanatec handbrake.
My Thoughts on the ClubSport V2.5
The ClubSport Wheel Base V2.5 finds itself in an interesting place in the market. If we come back to the crucial consideration of price that I discussed earlier, the Fanatec ClubSport has neither the price tag of a direct drive wheel nor of a cheap bundle. It's in the "somewhere in between" range, but definitely towards the luxurious end of things.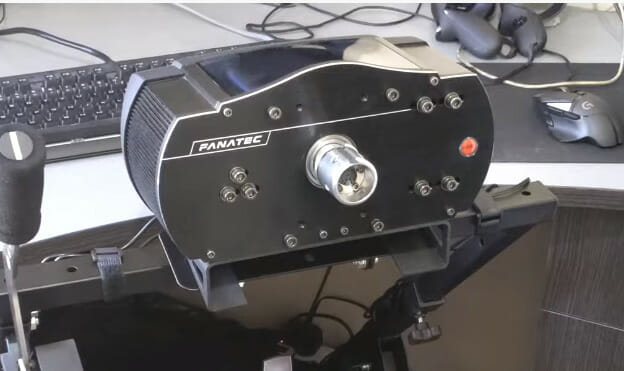 In terms of performance, the ClubSport delivers a very respectable 8 Nm of torque. This isn't as much as a direct drive wheel, which is typically in the 14-25 Nm range, but it's still quite a bit. It's definitely a step up from the 6 Nm offered by Fanatec's other affordable wheel base, the CSL Elite, as well as almost all wheels produced by Thrustmaster or Logitech.
What's interesting is that the ClubSport actually uses the same internals as the CSL Elite. The reason it delivers more torque is that Fanatec allows the motor to use its full potential in the ClubSport, which is presumably because the internal build (in terms of the belts used, for example) is built to a much higher level.
As for what this base actually looks and feels like, there are no gripes whatsoever. It's primarily made of CNC machined aluminium parts, which gives it a premium feel. And the product also has some decent weight to it, which feels luxurious but also makes it less likely to rattle around.
Features & Benefits
Here are what I consider the most important features and benefits of the ClubSport V2.5:
Fantastic Force Feedback
The CSW V2.5 utilizes an entirely metal-made belt-driven mechanism that uses high-quality ball bearings and European belts to deliver the smoothest, most precise force feedback possible. This is paired with the incredibly powerful brushless servo motor. Moreover, if you couple this with some of the customization options (more on these later) as well as a wheel that supports vibration motors, you'll truly feel at the helm of your favorite race car.
Customisation Galore
As mentioned above, the customization is fantastic. You can adjust vibration intensity in the steering wheel, simulate ABS vibration, customize force feedback sensations by changing the spring, force effects and dampening forces, change steering wheels while playing (the quick release system is a joy to use) and adjust sensitivity independent from the game among other things. Additionally, there's a drift mode, which reduces mechanical resistance. This allows the wheel to spin more freely like in a rally car.
Highly Accurate
The V2.5 does a good job of translating your inputs quickly and precisely to the game, with a laudable 1000 Hz USB. Although this isn't close to the 50,000 updates per second of some direct drive wheels, the V2.5 utilizes DirectSensor technology and DUAL HALL technology so that the sensors mounted on the motor and axis translate all your movements as faithfully as possible. If you're upgrading from a non-direct drive wheel the two experiences are incomparable. Well done V2.5!
Build Quality
The build quality is also excellent. Unsurprisingly for an object of this importance, it's entirely made of metal. It's quite hefty too, weighing over 4kg. The quality of the materials is mirrored on the inside, with each part specifically chosen to not only be long-lasting but top quality too.
Price
The V2.5 is not cheap. That being said, in comparison to other wheel bases on the market, it's a relatively economical price. It's less than half the cost of the most economical Simucube and around one-fifth of the price of the Simucube Ultimate. For what it does, the V2.5 has a pretty great price-quality ratio.
Alternatives to the ClubSport V2.5
If you're still open to considering other wheels and wheel bases, there are a few other options in a similar segment of the market. This includes both direct drive wheels and Fanatec's CSL Elite.
Direct Drive Wheels
If you're able to stretch your budget, then you may be able to get yourself a direct drive wheel. There are plenty of great options out there, including the Podium DD1 and DD2 from Fanatec, as well as offerings from other great manufacturers like Simucube and SimXperience.
Direct drive wheel bases don't have to be ridiculously expensive though. In fact, Fanatec just launched their CSL DD, for less than the cost of the ClubSport V2.5. This compact direct drive system is the cheapest the market has ever seen, and offers the same 6-8 Nm of torque that Fanatec's cheaper bases have been offering for a while. However, we can expect more smoothness and realism from a direct drive offering.
CSL Elite
The other Fanatec wheel to be considering is the CSL Elite. It has less torque (as mentioned earlier) but still uses the same great internals. The external build quality is definitely less impressive, but the driving experience is still great for most users.
Conclusion
The ability to have a direct drive feel, but choose your preferred wheel, is a privilege. It's an expensive one, but the ClubSport V2.5 wheel base does its best to make it accessible to more people while retaining the highest level of quality. If you're looking to upgrade your racing experience then give this Fanatec product a look!
Last Updated on June 9, 2021