The beauty of sim games is the immersion they offer. Few things feel as satisfying as a last corner overtake after a hard fought battle on that one Gran Prix you always have trouble with. This guide will look at the best sim racing wheels on the market right now, what their main pros are, and what you should consider buying.
Best Sim Racing Wheels in 2023
Breakdown of the Best Racing Wheels
Here's what you need to know about each of these quality wheels:
Top Pick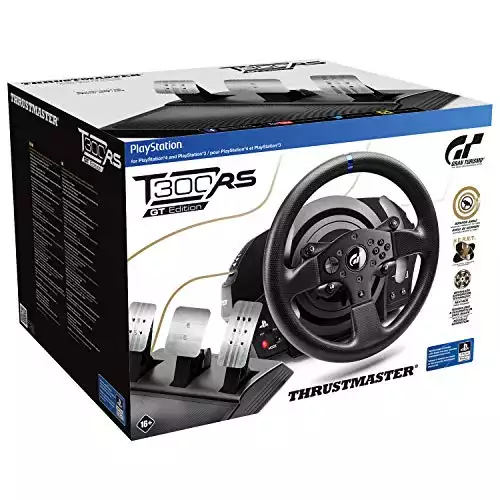 Thrustmaster T300 RS GT Racing Wheel
Our favorite sim racing wheel offers an immersive driving experience at an accessible price, and comes with a set of three great pedals
The Thrustmaster T300 RS GT is widely considered the best value for money if you want a sim racing wheel and pedals compatible with both PC and PlayStation. The T300 wheel base is driven by a tried-and-tested brushless servo motor with the help of a dual belt drive, which amplifies force feedback while maintaining smoothness. Not to mention, the rotation range is a perfect 1080°.
With the GT variant, which is a must-have addition in our eyes, you get a very attractive brushed metal wheel rim. And more importantly, you get a set of three fantastic metal pedals, which will allow you to enjoy a manual racing experience from the get-go. If you do opt for the base model, you can expect a slightly more plasticky wheel rim and just two pedals (the throttle and brake).
There's also the Ferrari Integral RW Alcantara Edition, which gives you an official 8:10 replica of the steering felt when driving a Ferrari 599xx EVO. Official as in officially licensed from Maranello. And thankfully, it comes with the same great pedals as the GT model.
Runner up
Fanatec ClubSport Steering Wheel F1 Esports V2
This wheel will put you in the drivers seat. It is officially licensed by Formula 1, so it is built for competition!
If you're an avid SIM racer, then you know the importance of having the right steering wheel. The Fanatec ClubSport Steering Wheel F1 Esports V2 is designed to be your perfect companion while you're on the track. It allows you to drive Formula 1 cars with precision like never before. The strength and durability of metal, combined with the Alcantara ® Grips gives the feeling of superior quality.
On the drive tuning can be configured using the 7-way FunkySwitch™. The possibility to configure the steering, force feedback, and even some pedals makes this a plus. If you choose to upgrade to the Podium Advanced Paddle Module, you will add a dual clutch paddle system, having magnetic paddles with carbon fiber plates. Plus, the version 2 of this model now includes a convenient quick release system for taking it out of position quickly after every race.
ClubSport Steering Wheel F1 Esports V2 With the RGB's as a major advantage, and the exchangeable quick release that will pair with the release of QR2, will ensure that no detail gets left behind and allow you to become an immediate threat on any track.
Best for XBox
Logitech G923
Experience unprecedented realism like never before.
The Logitech G923 True Force Sim Racing Wheel is compatible with PC, PS4, and PS5 gaming systems. It features a dual launch assist control system that allows you to get off the line quickly and accurately. The wheel also pairs with a progressive brake pedal that provides realistic braking power. Additionally, it comes with an RPM indicator so you can keep track of your speed while racing.
The wheel is made from premium materials for maximum durability and comfort. The hand stitched leather wheel cover gives the added grip comfort for better control and responsiveness when turning or drifting. The controls are on the wheel itself, allowing you to adjust settings without having to take your hands off the wheel.
Overall, the Logitech G923 True Force Sim Racing Wheel is an excellent choice for gamers who want an immersive racing experience. With its advanced technology and high-definition force feedback, this wheel will provide gamers with an incredibly realistic driving experience. Plus, it's available at a great price point!
Luxury Pick
GPX Steering Wheel
This wheel is used by professional racing drivers and sim racers all over the world.
The Precision SIM Engineering GPX Steering Wheel is designed for serious sim racers who want a realistic driving experience and precise control over their car.
The GPX is an innovative steering wheel that has been designed with professional grade components. It features a 27 cm diameter steering wheel, made from high-quality materials, which gives you precise control over your car. And with so many dials and buttons, this wheel puts you in complete control of your set up. If that is not enough for you, it offers optional dual-clutch paddles with adjustable bite point, to give you even more control.
The polyurethane grips and full color LCD display not only make it feel comfortable in your hands, but also on the eyes. Depending on your price point, it may not feel comfortable on your wallet. This wheel is designed with professional SIM racers in mind. The premium price shows within its exceptional quality.
Budget Pick
Logitech G29/920
If you're brand new to sim racing, you probably want a starter set which includes both pedals and a wheel, like this value-for-money combo from Logitech
Before reviewing it a quick note: the difference between the G29 and the G920 is solely the console they work on. The G29 works on PlayStation and the G920 on Xbox, although both versions do work on PC.
If you're looking for a decently priced wheel which sacrifices little, then this is a safe bet. The force feedback is powerful here, and it'll definitely give you a good kick. The gear-driven G29
will definitely make you feel a lot more like a pilot than a controller. The stainless steel paddle shifters and hand stitched leather add to your driving experience. 
That being said, the G29 does look and feel like a real steering wheel. The decent pedals are a nice plus. If you're new to steering-wheel and want something you can enjoy this is a safe bet. Another good reason to opt for this as a beginner wheel is the price.
What to Look for in a Steering Wheel for Sim Racing
Trying to find the best sim racing wheel to meet your personal needs and expectations can be a surprisingly complicated affair, but it doesn't have to be! With so many variables in play, the best way to narrow your search is to really focus on the following factors and make them the foremost considerations when shopping for your new racing wheel:
Build Quality
While it may go without saying, it's probably reasonable to reiterate this point and but an exclamation mark on it: you're going to want a racing wheel that's built to stand up to time as well as the punishment you'll be doling-out! Not all racing wheels are built with longevity in mind, but the best racing wheels – such as those on this list – absolutely are.
From the wrap on the wheel to the motor in the base to the springs in the pedals (if included), there are so many individual components to consider that it can be overwhelming to research each product individually to ascertain the overall build quality – which is why we've done it for you!
Components/Features
There are a variety of potential components with which to build your racing rig setup, and the basic kit consists of a wheel base (with wheel) and a pedal set. Two-pedal sets consist of brake and accelerator, and many kits will include a third pedal for clutch; if you don't want to shift manually, most games allow for automatic transmission options. If you want a more realistic experience, you can opt for wheel-mounted paddle shifters or a gearbox/shifter add-on; if you're aiming to build for the latter experience, make sure you're buying a kit that's compatible with shifter add-ons!
While this all may sound overly complicated and contrived, bear in mind that manufacturers are competing with each other to provide the best experiences possible, usually at the best price points possible – this competition leads to kits that offer different configurations at different price points and it's ultimately up to the consumer to determine what driving experience they are aiming to achieve!
Compatibility
No matter what angle you're coming at this from, it's probably immediately apparent to you that sim racing is not the cheapest of hobbies – but it can be immensely rewarding and it is a fantastic investment if you go into it with the right aims and mindset. One thing that many gamers don't consider until it's too late is: cross-compatibility.
The first component of this consideration is to take into account what system(s) you're currently playing on, as well as those you may want to play on in the future – then make sure you're getting a wheel that's compatible with all of them or at the very least can be upgraded to add compatibility. As a general rule, USB is virtually ubiquitous across all basic racing wheel hardware and you can take for granted that even entry level console wheels with work with PC as well as their intended platform.
However, most console hardware is not cross-platform compatible but usually is backwards-compatible – meaning that an Xbox One wheel is very unlikely to work with PS4, but is virtually always going to work on Xbox Series X or S. As you might expect, PS4 wheel is going to work on PS5 as well, but usually won't register on an Xbox One. Always look at the spec sheet to ensure you're getting the best racing wheel to meet your needs!
Price
We've been tiptoeing around this for a while now, but it's time to face it head-on: some of these wheels are really expensive! Obviously, even the most high end wheel is a good value for some some – but not everyone needs a high end wheel. To get the best bang for your buck, consider how much you play racing games, how much you can comfortably spend in order to improve that experience and go from there.
The difference in features/quality between a budget wheel and the best wheel on the market won't make much of an impact on how you enjoy your racing game if you're only playing for a few minutes here and there – but it makes an enormous difference to those who play at a professional level! Whether you play on PS4, Xbox One, a new console or PC, get a wheel that meets your level of enthusiasm!
Space
Seasoned racing sim pros and novices alike often find themselves contending with space limitations; wheels, pedals and all the additional accessories take up a ton of space! Make sure you take into consideration the size and weight of everything and make sure you have a place for all of it. Furthermore, consider the space you will need for your own body while steering – 900 degrees of rotation means you need a lot of elbow room!
Frequently Asked Questions
What is force feedback?
Force feedback is when the wheel behaves like a real steering wheel. This is not the same as vibrating. Force feedback tracks and opposes the user's movements by applying force. To give a simple example, if you take a sharp corner at high speeds, the wheel will push back against you, making it harder to turn.
What technologies do steering wheels use?
Usually steering wheels are connected to their motors by means of a belt or a set of gears. These are referred to as belt- and gear-driven wheels. Typically, belt-driven wheels are the smoother, more realistic of the two, while gear-driven wheels are cheaper and choppier. Last but not least, there are direct-drive wheels, which are the most realistic.
Other Sim Racing Wheels We Reviewed
Even though the five wheels listed above are our favorites, there are plenty more sim racing wheels on the market!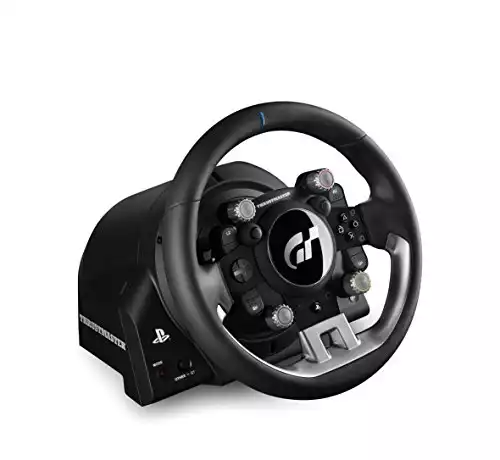 One of Thrustmaster's most advanced steering wheels to date, the T-GT feels, looks, and performs fantastic!
The Thrustmaster T-GT, perhaps the best Thrustmaster wheel on the market, is an incredible piece of technology. Let's start off with the fact that it looks beautiful. It's incredibly elegant and made of real leather for a truly immersive feel. Its T-DFB technology is definitely one of its biggest selling points. When playing Grand Turismo you will feel like you're driving the car. T-DFB creates a realistic 3D perception of the environment around you, and when this is coupled with the Motor-Cooling-Embedded system which gives you 50% more dynamics, 4 times greater stall force you will be dialled in like never before. The force you will feel when driving on the T-GT is a 1:1 replica to the force the sim determines your car would feel. It's rotation range is from 270-1080°, well above the 900° needed to abandon the arcadey feel.
Of course, as with any wheel, there are drawbacks. Its price is not very approachable. While it's cross compatible with PlayStation and PCs, it will not work on Xbox. Lastly, as a minor qualm, the pedals (which are made of metal) feel a bit cheap compared to the rest of the wheel due to their plastic frame.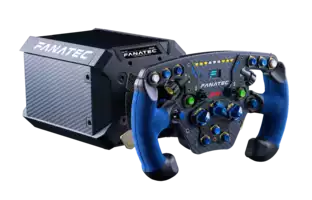 Welcome to the super luxury category, where wheels feel like they belong in real racing cars
Okay, first thing we need to say is the following: The Fanatec Podium is real expensive. If you're not a die-hard sim racing fan don't bother reading another line. If you also aren't full of spare money, I'd recommend stopping here. Okay, now off to the races.
This wheel is absolutely insane. Let me start off my saying that the fact that it's been endorsed by the F1, and the fact that some of the pilots from the top racing league utilize this to train at home, should let you in on its sheer importance. The force feedback is nigh identical to that of a real racing car, and the 12 programmable buttons will have you tinkering with your personalized best set-up for hours. The paddle-shifters never lose potency and will feedback with a satisfying clacking sound. To make a probably very long story short, having the Fanatec Podium is akin to having Vettel's "Lucilla" waiting for you when you turn on your console. It is compatible with Playstation, PC and Xbox, though reviewers have found the Xbox version to work less well.
Time to rip off the band-aid. It costs a ton. It doesn't include pedals, so you'll also have to purchase those as an added cost.
That being said, what it does for simulation games is incomparable.
Perhaps the best belt-driven steering wheel on the market, this mid-range Fanatec offering is a definite crowd pleaser.
Fanatec ClubSport V2.5 (Discontinued)
We've talked a lot about F1 in this review, but some of us aren't into Formula 1 races. Some revel in the simulation of other race-cars. Well (if you have a PC or Xbox and money to spare) look no further. The ClubSport V2.5 is an incredible buy. The level of accuracy that the force feedback of this specific product gives is unparalleled. Xbox users are often unfortunate as direct drive isn't available on their console, but the ClubSport will make you forget that. The brushless servo motors, belt drivers and ball bearings all work in perfect unison to give you the best experience available. Like a fine tuned orchestra, you'll forget where you are and just enjoy every moment of it.
Another great asset to the ClubSport is the sheer level of adjusting you can do. Want more force feedback? Less? What about rumble level? Range of rotation? Sensibility? This is a buffet of the highest class.
All this comes at a steep price. Considering that the Fanatec F1 is almost twice as expensive, the ClubSport is definitively something Xbox racing sim enthusiasts should at least window-shop.
Thrustmaster TS-PC Racer
For uncompromising sim racing enthusiasts who won't settle for less than one of the best
The Thrustmaster TS-PC Racer is chock full of high tech that's meant to take sim racing junkies' game to the next level – and pulls no punches in the process. Featuring a brushless force feedback servomotor with dynamic torque, the wheel base is so powerful that it requires internal cooling and an external 400 watt power supply! The 1080 degrees of rotation wheel is fitted with suede grips, metal paddle shifters, 6 programmable buttons and a dial knob.
Despite the high price tag, the Thrustmaster TS-PC Racer does not include a pedal set or other controls – but it is fully compatible with the Thrustmaster accessories ecosystem, allowing you to decide precisely which pedal set you want to pair with the wheel. In fact, this wheel is an ideal upgrade for those who are already invested in the Thrustmaster ecosystem and need a new wheel or base to go with their peddles, shifters or custom wheels!
Bear in mind that this wheel is not compatible with any of the Xbox or PlayStation consoles – it's strictly for use as a pc racing wheel!
Fanatec CSL Elite Racing Wheel (Discontinued)
The best luxury wheel for PlayStation sim racing enthusiasts
The Fanatec CSL Elite Racing Wheel is less pricey than the other Fanatec kits on this list, but that doesn't mean it is short on quality features that racing sim pros need to get the most out of their racing game. Especially designed for use with PS4 and PS5, this wheel is also fully compatible with PC – and needs only an alternate wheel rim in order to be fully compatible with Xbox One and Series.
This wheel is especially noteworthy for its direct drive design and powerful brushless force feedback servomotor, ultra light weight metal frame and 1080 degree wheel rotation. Do note that this wheel does not include a pedal set – but it is fully compatible with most of Fanatec's extensive catalog of pedals, shifters and other accoutrements.
Multi-Purpose: Logitech G Farm Simulator Heavy Equipment Bundle
The best wheel for those interested in simulating a decidedly different sort of driving experience
The Logitech G Farm Simulator Heavy Equipment Bundle won't appeal to many of the folks reading this list – please feel free to skip to the next entry if you fall into that camp! For the rest, this bundle of equipment specially designed for use with farming sims is a welcome piece of kit in a genre that has been begging for specialized, mainstream peripherals!
Developed as a collaborative project between Logitech and GIANTS Software (developers of the popular Farming Simulator series), this kit features a tractor-esque wheel with 900 degrees of rotation and a turn knob for one-handed steering – which you'll use quit a bit as your other hand is on the included side panel with 25 programmable buttons. Also included is a solid, if basic pedal set.
Aside from the aforementioned pedal set that doesn't include a clutch pedal – and the wheel's regrettable lack of a force feedback system – this wheel serves as a competent kit for racing sim usage as well. All in all, this is a great buy for those more interested in farming sims or other casual driving games on PC, PS4 and PS5.
Multi-Console: GAMEMON Racing Wheel
Extreme compatibility and great features at a reasonable price
The GAMEMON Racing Wheel has perhaps the widest range of console compatibility of any wheel on the market, and it has a great feature set that should satisfy all but the most hardcore of sim racers. Via clever input design (it connects to some consoles' standard controllers and uses that connection to send and receive data) this set features plug and play capability with an exhaustive list of current and recent consoles: PS3, PS4, PS5, Xbox 360, Xbox One, Xbox Series, Nintendo Switch, Android and PC!
Unlike most wheels in this budget price range, this one comes with not only a two-pedal set, but also has a stick shift built into the wheel base! With great features and budget pricing comes shortfalls though, and it's worth noting that this wheel features a lowest-in-class 90 degrees rotation angle, rendering it unsuitable for realistic sim racing. Users also mention subpar force feedback in reviews, as well minor input latency on the consoles that require controller passthrough for input (PS4, PS5, Xbox 360/One/Series – but these shouldn't be enough to deter you from grabbing this wheel if you're a casual racing fan who plays on a wide variety of consoles.
Best Budget Sim Racing Steering Wheels
We looked at other budget sim racing steering wheels. Even though they didn't make our top 5 list, they're still some of the market's best.
Cheap and Cheerful: Hori Racing Wheel Apex
If you want to spend less then the Hori Racing Wheel Apex is a great low budget wheel. It feels a lot more expensive than the price tag would suggest, with high quality materials. The customization of its various buttons is also a plus. Obviously there are drawbacks. There is no force feedback. The vibration is powerful and will definitely feel more like the real thing than a controller, but if you're used to force-feedback you'll have a hard time falling back to this product. The pedals aren't great either, but the fact that they're included for such an affordable price tag is a plus. Unfortunately for Xbox users, this is another wheel which is only compatible with PCs and PlayStations.
Super-Saver: Subsonic SA5156
Look, price-wise it's hard to beat the Subsonic Drive Pro. Quality-wise…. it isn't. Consider this a great gift for the younger future-races out there, not for serious sim players.
The wheel comes with two pedals, programmable buttons and a gearshift. Much like the Hori racing wheel, it has no force feedback, only rumble. Unlike the Hori, this is not as powerful. The rotation is only 240° which, needless to say, is not adequate for simulations. The main aspect I would like to praise the Subsonic for is being portable and accessible to younger audiences. It can sit on your lap or be placed on a desk thanks to suction cups.
If you're considering getting this for yourself as a sim wheel, your best option is to look at the first section of this article (if you don't want to spend a fortune the T150 is a bit more expensive, but it's worth it). If, instead, your kid has been begging you for a steering wheel for his driving game, this is for you.
Xbox Budget Pick: HORI Racing Wheel Overdrive
For Xbox One or Series X gamers on a tight budget, this one will work in a pinch
The HORI Racing Wheel Overdrive is a solid pick, but only for those with a certain set of needs. First and foremost, it must be said that this wheel is one of the very few exceptions to the rule of console wheels being compatible with PC – this one isn't! That major caveat aside, this wheel has a lot to offer Xbox One and Series gamers alike.
This wheel has a great force feedback system, wheel mounted paddle shifters a sturdy set of pedals that is ideal for casual gamers who don't spend a ton of time behind the wheel, yet want a competent force feedback wheel for immersion's sake. While the 270 degree wheel rotation range and lack of a clutch pedal may be major turnoffs to those who expect a full 900 degrees of rotation and three pedal set, this little kit isn't made with them in mind!
Best for Young Kids: Hori Mario Kart Racing Wheel Pro Mini
A cute, whimsical wheel for kids to cut their teeth on
The Hori Mario Kart Racing Wheel Pro Mini is an awesome pick for kids, collectors of Nintendo memorabilia or anyone who wants a casual wheel for Mario Kart or other similarly arcade-oriented racing games. This wheel is first and foremost, designed for use with Mario Kart games on the Nintendo Switch – and this is readily apparent due to the branding, control layout and dedicated item button for dropping bananas, shooting shells and other assorted mayhem.
Despite that branding however, the wheel is fully compatible with PC. Although it will be less than ideal for use in serious racing sims due to its low rotation angle (180 degrees) and lack of force feedback, it is perfectly suited to more casual fare and as such remains ideal for the little ones or even casual racing fans.
Last Updated on April 13, 2023