Best Sim Racing Pedals of 2021
Breakdown of the Best Sim Racing Pedals
Top Pick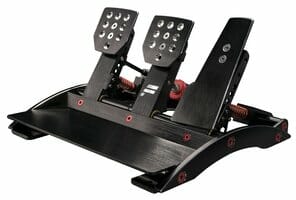 Fanatec ClubSport V3
The best overall sim racing pedals on the market, with responsive pedal sensors and an attractive machined aluminium build
The Fanatec ClubSport V3 pedals aren't merely Fanatec's best set to date, they're arguably the best bang for your buck of any set on the market. Fanatec checks all of the boxes with this set and its full metal (CNC machined aluminum) construction is sturdy and sleek. While the red-on-black finish will be the first thing about the ClubSport V3 to catch your eye, it's what's under the hood that really counts.
The V3 throttle and clutch use contactless Hall Effect sensors, and the brake uses a best in class 90kg load cell. Adjustability is through the roof on this set – position of pedal plates in all directions, angle, spring spring force, brake pressure sensitivity, and brake travel are all tweakable right out of the box. There are also a pair of optional kits available for purchase if you want to customize the set further -a hydraulic damper kit for the throttle pedal and a brake performance kit to perfect the resistance of your load cell pedal.
Fanatec takes things to another level with vibration feedback on the throttle and brake as well, which simulate advanced effects such as oversteer and ABS when in supported sims. The ClubSport V3 pedals are ready to go on PC right out of the box, even with non-Fanatec wheel bases thanks to the included USB adapter; this set is also compatible with Xbox and PlayStation consoles, but only when connected to a console-specific Fanatec wheel base.
One final note – Fanatec also offers the ClubSport V3 in an inverted "GT style" configuration at a higher price. Top it all off with a two-year warranty, and you have the a pedal set that can suit the needs of all but the most hardcore of sim racing enthusiasts.
Runner-Up
Fanatec CSL Elite LC
Yet another great pedal set from Fanatec, with fantastic customizability, load cell technology, and an approachable price point
The Fanatec CSL Elite LC pedals come in right on the heels of the ClubSport V3; as you've probably learned by now, Fanatec knows how to make amazing race car pedals. The biggest difference you'll likely notice between the CSL Elite LC and the top model is that the price is dramatically lower; the good news is that no corners were cut in pursuit of those savings.
The CSL Elite LC also has a full aluminum constructing with a handsome black finish, a great 90kg load cell brake pedal and fantastic adjustability features. Also present is the same set of compatibility with PC and consoles, and an additional thoughtful consideration is here in the form of a dedicated USB controller and port for a Fanatec sim racing handbrake so that you can pass it through the heel rest instead of plugging directly into your sim machine of choice.
Speaking of that heel rest, it can be fully removed from the pedals so that they can be independently installed in your cockpit of choice or custom floor mount assembly. The only pieces of negative information here are the decreased adjustability and lack of Hall Effect sensors in the clutch and throttle – but that is to be expected considering the much-lower price tag.
If the ClubSport V3 sounded like a great deal until you got a glimpse of the price tag, the Fanatec CSL Elite LC is a fantastic alternative that won't leave you wanting for much.
Budget Pick
Thrustmaster T-LCM
Truly a bargain, these Thrustmaster pedals offer the performance and features you need for an immersive sim racing experience without the Fanatec pricetag
The Thrustmaster T-LCM is a great pedal set whose price belies a solid construction and great feature set. The most surprising fact about this set is that "LCM" stands for Load Cell and Magnetics (Hall Effect sensors) which we don't expect to see in this price range.
Also surprising given the price tag is that this set is constructed of all metal. So where have Thrustmaster cut costs? The only real downside of this set versus the top picks is the dramatically decreased adjustability options.
Not that we intend to downplay the decreased versatility of this set of pedals; it's bound to turn a lot of people off. Thrustmaster does offer options where it really counts though – a set of six springs are included for the brake pedal to adjust travel and resistance, each pedal's spacing is independently adjustable, and an optional mount can be purchased for inverted "GT style" racing – but we'd love to see more than three positions for each arm and more adjustability of the throttle and clutch.
All said, there really is a lot to love about the Thrustmaster T-LCM pedal set, and it's especially easy to recommend to anyone who already has a Thrustmaster wheel base. Note that this set is fully compatible with PC, and works with Xbox and PlayStation consoles when paired with a handful of compatible Thrustmaster wheel bases.
Budget Runner-Up
Logitech G29/920
If you're brand new to sim racing, you probably want a starter set which includes both pedals and a wheel, like this value-for-money combo from Logitech
The Logitech G29/G920 are a pair of racing wheel bundles (for PlayStation and Xbox respectively, but each are fully compatible with PC as well) that include a full sim racing wheel and three-pedal set. Why did we include a racing wheel here? Simply put, the pedal set Logitech includes with these wheels is as good a set as can be found at this price point and you could effectively consider the wheel to be a nice bonus.
Let's get the big caveats out of the way first. While the pedal covers, arms and most of the internals are made of metal, the base plate of the Logitech G29/G920 pedal sets is made of plastic – it doesn't feel especially heavy but it is rather durable. Also, as you may have expected given the bargain=basement pricing of this kit, all three pedals feature rather basic potentiometer sensors.
Still considering the Logitech G29/G920? You should, because what you do get here is a really decent set of pedals that's perfect for any sim racing beginner to run some qualifying laps! Logitech has been making great gaming peripherals for decades and they stand behind this product with a two-year warranty.
If you're looking for the cheapest racing pedal set that's actually worthwhile, the Logitech G29/G920 steering wheel is the best choice for you.
Pro's Choice: Heusinkveld Sim Pedals Ultimate
For the uncompromising sim racers out there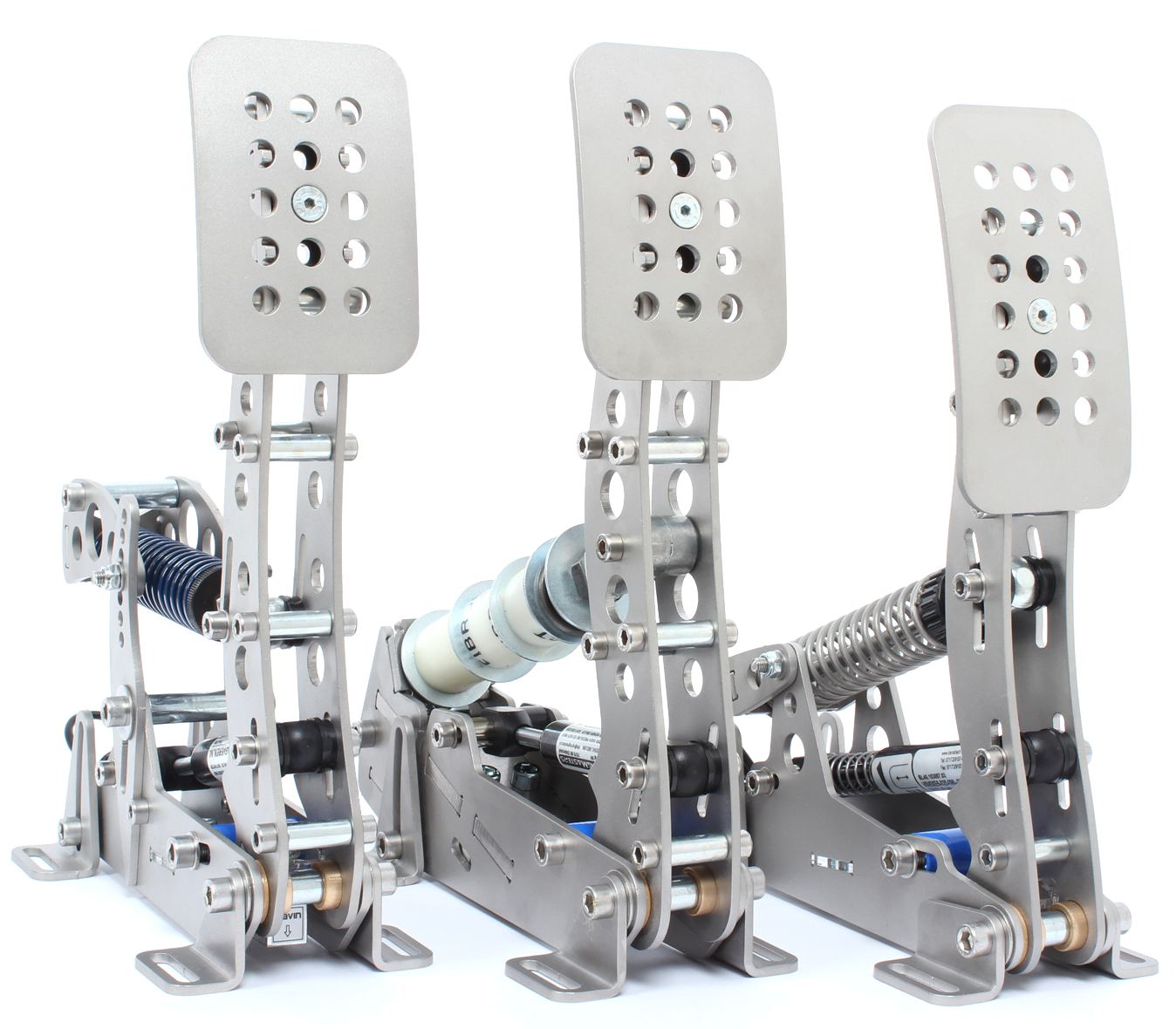 The Heusinkveld Sim Pedals Ultimate are every bit as epic as their name suggests, having been designed specifically to be used in the most demanding environments in order to simulate the pedal forces as experienced in F1 and LMP cars.
Heusinkveld Engineering have made this pedal set from CNC precision laser-cut stainless steel in order to ensure flawless performance for decades to come, then blasted the raw steel with glass beads to give the set a high quality semi-gloss metallic look with a minimum of sharp edges. Aesthetic details are just the beginning though; this pedal set is built to be the workhorse of your racing rig.
Each of the three pedals has its very own load cell for unrivaled tactility, and each arm has an adjustable hydraulic pedal damper so that you can adjust resistance to suit your needs. Each of the pedals can be independently adjusted in a positively exhaustive number of ways to ensure that no fractions of seconds will be lost because of anything other than user error.
With an MSRP of over $1,000 you might expect that this kit would include every potential accessory you could possibly want for racing simulators, but you'd be wrong! The missing piece in this puzzle (in our view) is a base plate; but then again, you're more than likely going to be installing these pedals in your own racing cockpit anyway.
Each pedal set comes with a USB controller box that serves as a load cell amplifier and allows for the connection of additional peripherals and accessories. Sadly, the Heusinkveld Sim Pedals Ultimate is that it is only compatible with PC – sorry, console racers!
Pro's Runner-Up: Heusinkveld Sim Pedals Sprint
More reasonably-priced, but no less performative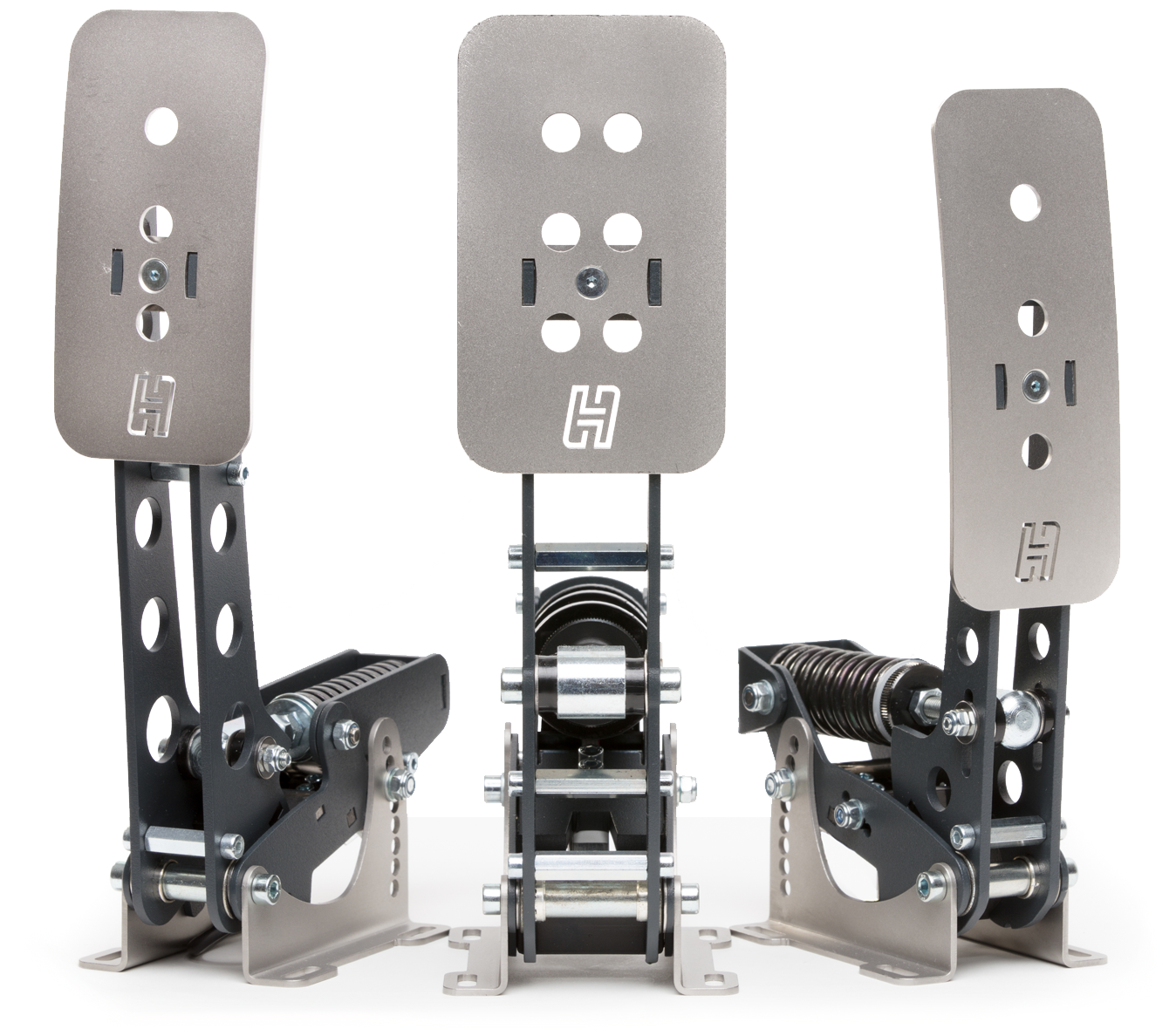 The Heusinkveld Sim Pedals Sprint is the next-best thing for sim racers who can't stand the thought of dropping upwards of $1,000 on a pedal set; at roughly half that price, this is still an extremely expensive set of pedals though! Many will find it worth the investment though, as this kit is built to last.
The Heusinkveld Sim Pedals Sprint are CNC precision laser cut steel like their more expensive counterpart, and similarly, each pedal has its own load cell sensor. Unlike the Ultimate pedals, the Sprint set doesn't come with an independent controller box; instead, each pedal houses its own electronics.
While this model is also devoid of a base plate, the pedals are similarly adjustable and made to be installed in just about any rig or configuration you can dream up. This set looks like it belongs in a real life race car, but it is exclusively designed for use with PC sim racers.
Honorable Mention: Simtag Hydraulic Pedal
For those who will spare no expense
The Simtag Hydraulic Pedal (Ultimate Black Edition) is considered by some to be the ultimate aspirational pedal set, a fact that is easy to understand when you have a look at the spec sheet… and the price tag. These racing simulator pedals feature components used by real life race car engineers combined with the highest quality sim gear in a design all its own, and are all but guaranteed to improve your lap times.
With a stated goal to offer "unrivaled feel and performance to accurately reproduce the same experience of a hydraulic motorsport braking system", Simtag started with a Tilton 600 Series pedal box and added throttle position sensors and pressure sensor from Bosch, Plug & Play electronics by Leo Bodnar and Cosworth dust and moisture proof connectors – amongst other premium components.
Currently retailing for nearly $2500 when they are actually in stock (we were unable to locate official MSRP information at time of writing) this product is well above what most would consider a reasonable price to pay, and we should state plainly that these pedals are not going to improve your lap times by a proportional amount. However if you're a PC gamer with an appetite for the finer things, the Simtag Hydraulic Pedal (Ultimate Black Edition) pedals should be at the top of your menu.
Buyer's Guide for Sim Racing Pedals
Sim racers of all experience and skill levels can benefit from a pedal upgrade, but it can be hard to parse some of the finer details when there are so many factors to consider. Let's take a closer look at all of the key features and technologies that differentiate the various pedal sets from one another.
Types of Sim Racing Pedal
Sim racing pedals come in three distinct varieties – potentiometer, Hall Effect and load cell – and each design has inherent advantages and drawbacks.
Potentiometer
The most common sim racing pedal type is potentiometer-based. From entry-level pedals that come packed-in with sim racing steering wheels to many of the high end sets, potentiometers form the basis of many a pedal set. What is a potentiometer, and how does it work?
Without getting too technical about how potentiometers work, it's important to understand that they are used in sim racing brake pedals to accept and relay input from the device based on the amount of force applied by the user; resistance is supplied by a spring and/or rubber, and the potentiometer is then able to measure the distance the pedal has been pushed relative to its default and fully-depressed states.
Translation: potentiometers are a basic form of analog-to-digital input device. Potentiometers are found in all sorts of electronic devices, perhaps most notably in video game controller analog joysticks.
Due to being so common in cheaper sim pedals, many associate potentiometers exclusively with low quality but that simply isn't accurate. The input method is only one aspect of the pedal, and plenty of great products implement potentiometers.
Hall Effect
Though far less common in a set of sim pedals than in wheel bases, Hall Effect sensors are a huge part of sim racing that produces a similar result as potentiometer-based pedals while benefiting from a few additional advantages.
Just like potentiometers, Hall Effect sensors measure the travel a user's input produces and converts it to a digital signal. Where Hall Effect sensors diverge is in the way that input is interpreted – via magnets. Whereas the traditional input is received via friction, Hall Effect sensors' input is contactless and produced purely via electromagnetism.
The Hall Effect approach reduces friction and results in improvements in heat and noise production as well as wear and tear to internal components. As you might expect, these sensors are harder to engineer with and costlier to produce – which translates to more expensive pedals.
So, are Hall Effect sensors worth the additional cost? We tend to think so, but it is probably best to consider these sensors to be a nice bonus in a great pedal set rather than a make-or-break feature.
Load Cell
Finally, we come to the hottest and most-hyped of the three input sensor types used in sim racing pedals: the load cell. Load cells work in a way that is fundamentally different from the previous two types in that they are able to read user input exponentially rather than linearly, resulting in a much smoother and more realistic experience. Load cell sensors are most commonly found in brake pedals, as they are the most impactful application; some high-end pedal sets integrate them into throttle and clutch pedals as well.
Load cells measure the actual force with which they are depressed rather than the travel distance that results from force. This distinction gives load cells the advantage of being able to receive and convert a much broader spectrum of force to input, allowing for a dramatically higher definition braking experience that more closely mimics real-life race cars.
When a potentiometer or Hall Effect-based brake is fully depressed, that's it – the input has traveled from point A to point B. With a load cell sensor, the user can press past the point of full depression and games (that implement the ability to do so) can represent this in the sim.
The elephant in the room here is that load cell sensors are considerably more expensive and challenging for manufacturers to implement than are potentiometers, which translates to massive price jumps in products that include this tech. We wholeheartedly recommend that sim racing enthusiasts and/or those who can fit load cell pedals in their budget go ahead and do so – but it isn't something that should make or break a pedal set otherwise.
What to Look for in Sim Racing Pedals
Type
As established in the previous section, there's a lot of nuance between the three basic pedal types, and load cells are a clear winner in terms of overall quality and potential for immersion. While the bulk of the high-end pedals out there have some sort of load cell implementation, that doesn't necessarily mean that there aren't great pedals based around the other types.
To put it as bluntly as possible: if you want the ultimate in realism, you absolutely need to go with a load cell brake pedal; the experience is unmatched by anything else out there. However, a there are some great pedals out there that use standard potentiometers that, through clever engineering, are able to produce an extremely realistic travel and resistance despite the inherent limitations of the tech.
While we do believe load cell is the best and that you should opt for it if at all possible, we'd be crazy not to acknowledge that many gamers out there won't be able to justify the associated expense and would be better served putting their hard-earned money into a more reasonably-priced pedal set.
Pedal Size and Spacing
The pedals in real life race cars come in various sizes, shapes and configurations – and sim pedals are no different in that regard. While there is a great deal of variance at the high end of the spectrum, cheaper pedal sets all tend to be relatively small and tightly spaced in order to save on materials.
High end pedal sets, generally speaking, tend to have slim throttle and clutch pedal covers whereas the brake pedal cover has a much larger surface area just like real vehicles. Many sets allow for the covers to be replaced or modified by the user.
Many set also allow for the three pedals to be spaced by the user on a horizontal axis, and some even allow enthusiast tinkerers to mount pedals farther forward or backwards for comfort or control. It is also worth considering that many pedals can be removed from their base plate entirely and mounted independently, so that users can install them as they please in their cockpit of choice.
More flexibility is always better, and we recommend going with a pedal set with customizable spacing. Pretty much every set aside from pack-ins with wheel bases allow for some measure of control in this regard, but there is no one-size-fits-all approach to pedal spacing.
Adjustability
Another massive consideration that you must give to your prospective pedal set(s) is adjustability. In addition to putting your pedals where you want them, after all, you're going to need to fine-tune various other aspects.
Many adjustable pedal sets' covers can be removed and repositioned – which is great for users with especially large or small feet – but many can also be mounted at different angles in order to provide better contact and throughput.
Many pedal arms are also adjustable, and some even feature additional points of articulation for more granular adjustments. Some are even so flexible as to be able to be mounted in both GT or F1 configurations.
Last but not least, most pedals allow for adjustment of springs or hydraulics in order to adjust resistance. This is especially important for brake pedals, as every user will have different preferences in this regard.
Frequently Asked Questions
Do you need pedals for sim racing?
Absolutely. While we won't go so far as to say everyone needs a high-end racing rig in order to play the latest racing games such as Need for Speed, sim racing is a different beast altogether and necessitates dedicated hardware if gamers want to compete with others or have an immersive experience.
Do sim racing pedals make you drive faster?
Yes, they absolutely do. We could go into great detail regarding the various ways in which better brake pedals can make you drive faster, we can summarize it thusly: the sooner you're finished with the brake, the sooner you can get back on the throttle.
What are the best sim racing pedals?
There is no definitive "best" set of sim racing pedals as different products meet the needs of different sims and users. That being said, this guide was designed to help you make sure you're getting the best set for you!
Last Updated on March 21, 2021 by Thomas Bush