After a steering wheel, I'd say that pedals are the single most important peripheral for an immersive sim racing experience. That's why I'd advise you to spend a fair bit of time researching the different options on the market and find the very best set of pedals you can.
Although my opinion has not changed much when it comes to pedals, the new Simucube forced feedback pedals might do just that.
Simucube forced feedback pedals are the perfect choice for professional sim racers looking to take their game to the next level. With advanced motors and an intuitive interface, these pedals provide realistic force feedback with each and every input, allowing racers to get a true feel for what their vehicle is doing. From subtle understeer to hard lock-ups, Simucube forced feedback pedals deliver true-to-life experience every time. Not only do they offer a great experience on the track, they also enable sim racers to practice in a much more realistic way than ever before.
These are the first fully active pedal. Each pedal is configurable for either position, and with your preferred response setting. With the option of purchasing one, two, or all three pedals, you can feel the road. Albeit this feeling comes with a hefty price tag.
In this guide, I'll go over everything you need to know about sim pedals. We'll talk about how they work and what that means for you in the sim, but before we do, here's an overview of what I consider the best pedals at every level:
A Brief Guide to Sim Racing Pedals
Before I walk you through the individual pedal sets that I reccomend at each price point, let's start with a quick overview of how pedals work and the different types.
So obviously, the main job of a sim racing pedal is to convert the physical input you apply to the pedal into a digital signal which your computer or console (and as a result the sim itself) can understand.
Now there are three main technologies used to do this: potentiometers, Hall effect sensors, and load cells. There's also a fourth category which we'll discuss – hydraulic – althought it's only really used in professional-grade racing pedals.
Potentiometer Pedals
Potentiometers are simple electrical devices that convert physical inputs into digital signals. There are different types of potentiometer but most sim racing pedals use rotary potentiometers, which product a stronger signal the further they are rotated.
Here's a photo of the throttle pedal in a Logitech set: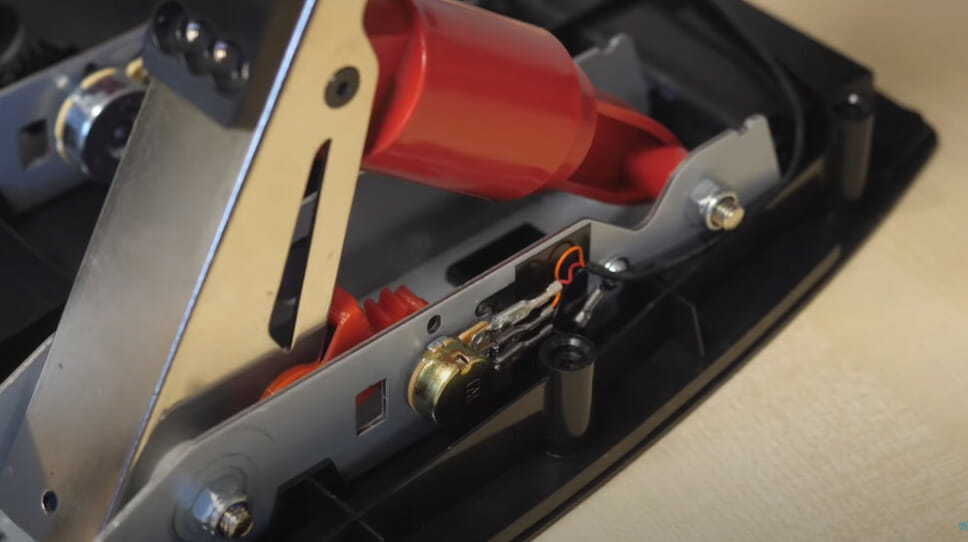 The circular, gold piece in the bottom center of the photo is the potentiometer. As you push down on the pedal, the red cog behind the potentiometer rotates and the potentiometer detects by how much.
Potentiometers are usually found in beginner sim racing pedals. There's nothing wrong with them – after all, they're used in all sorts of peripherals (including most PC joysticks) – but they're not as reliable or realistic as other sensors.
One reason for this is that potentiometers can only measure distance. They measure how far you push the pedal, but not how hard you push. This is fine for the throttle and clutch, but feels unrealistic for the brake pedal, where force matters in a real car.
Hall Effect Pedals
Hall effect sensors produce a similar result to potentiometers while benefiting from a few additional advantages. Just like potentiometers, they measure the travel in a pedal and convert it to a digital signal.
Where Hall effect sensors diverge is in the way that pedal travel is measured – via magnets. Whereas potentiometers rely on friction, Hall effect sensors measure distance using electromagnetism.
Here's a photo of what's underneath the throttle of Thrustmaster's T-LCM pedal set: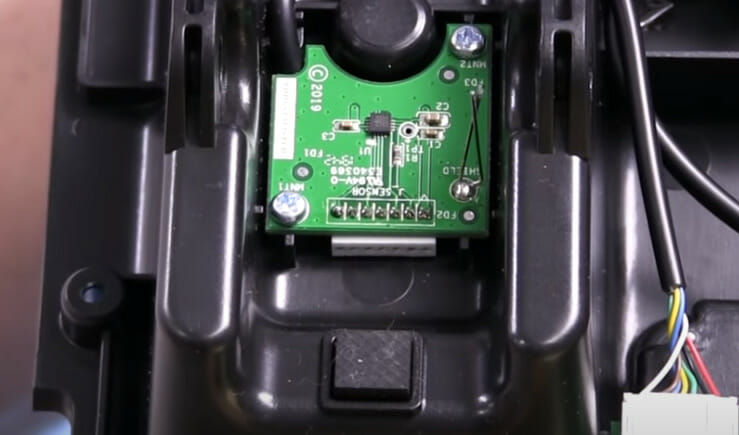 That green chip is the Hall effect sensor. The throttle pedal itself (not pictured) has a magnet on it which activates the sensor as you push down.
Again, there's no friction involved, so compared to potentiometers, the Hall effect approach is more reliable and more durable. However, as you might expect, these sensors are harder to engineer, which translates to more expensive pedals.
Nevertheless, they share the same issue as potentiometers: they only measure distance. As a result, they're still not quite good enough for realistic brake pedals.
Load Cell Pedals
Load cells are the final type of input sensor used in sim racing pedals. They're different from potentiometers and Hall effect sensors in that they measure force instead of distance. In other words, they measure how hard you push, and not how far you push.
Here's what the load cell looks like behind the brake pedal of the Fanatec CSL Elite LC: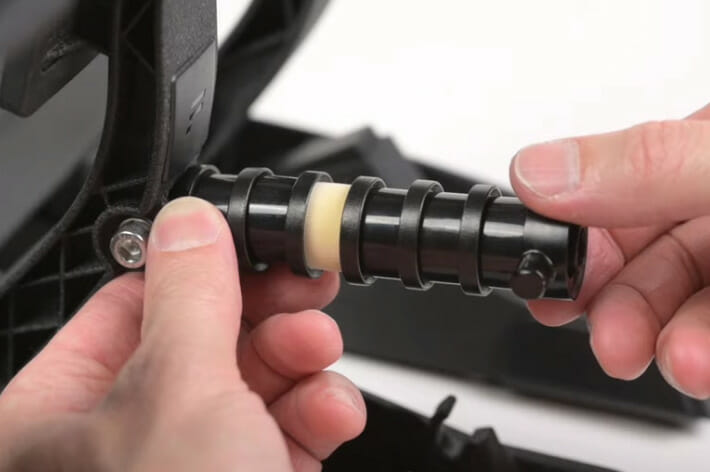 Without a doubt, load cells are the hottest and most-hyped of the three input sensor types used in sim racing pedals. They're primarily used for brake pedals, but they're just so much more realistic, because force is all that counts when breaking in a real-life car.
The elephant in the room here is that load cell sensors are considerably more expensive, which translates to massive price jumps in products that include them. With that said, I definitely recommend that sim racers who can fit load cell pedals in their budget do so.
Hydraulic Pedals
There's one other technology that you might see used in professional-grade sim racing pedals, and that's hydraulics.
I'm not an engineer, but to my understanding, the basic idea of hydraulic systems is that you store fluid inside pressurized cylinders. When you apply force to one of them, fluid flows into the others causing them to exert force elsewhere.
This is how the braking systems in most real-life cars work. You push down on the brake pedal from inside the car, which causes fluid to flow towards the brake calipers, and squeeze against the rotors.
In hydraulic sim racing pedals, it works a little differently. When you push down on the pedal, pressure inside the system increases. A pressure sensor measures the increase in pressure and converts it into a digital signal.
You know you're dealing with hydraulic pedals when you see little chambers of fluid mounted to the back of the assembly: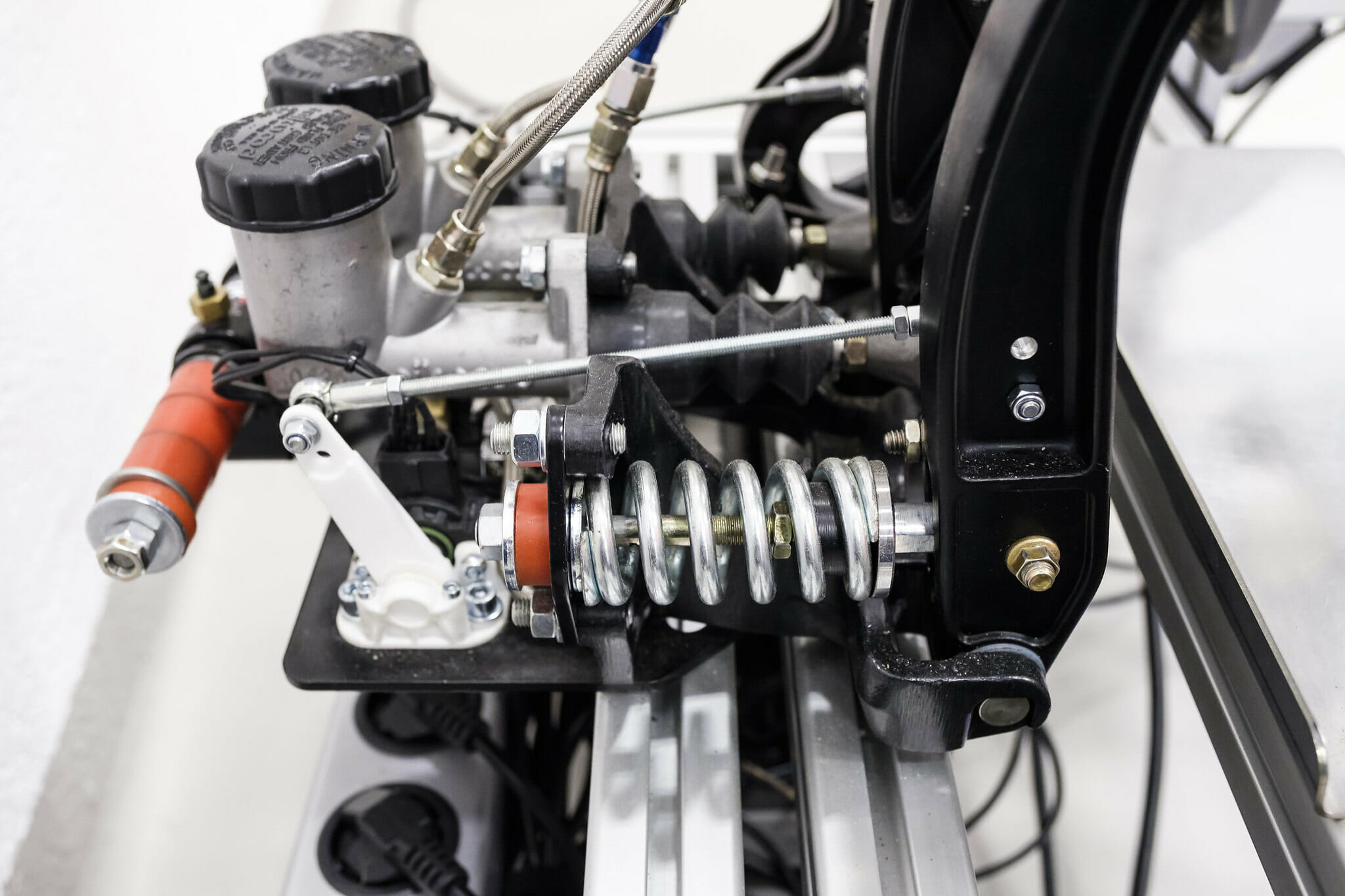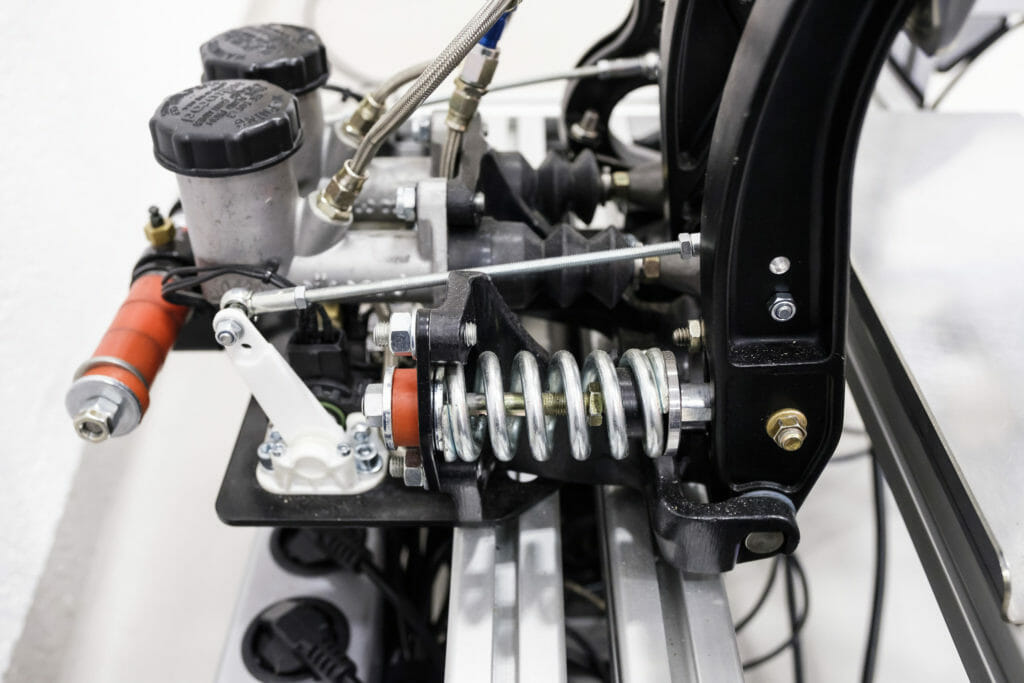 Best Sim Racing Pedals by Budget
Now that we've got that out of the way, let's walk through what I consider the best sim racing pedals for every budget.
Beginner Sim Pedals
You can't expect too much from beginner sim racing pedals. Most of the time they rely exclusively on potentiometers (even for the brake pedal) and are often bundled together with entry-level racing wheels.
What you can and should expect from beginner pedals is a clutch pedal. The very cheapest pedal sets only have a throttle and brake, and I suggest you stay away from these so that you can enjoy a manual driving experience without having to upgrade them.
The Logitech G29/G920 are a pair of racing wheel bundles (for PlayStation and Xbox respectively, but each are fully compatible with PC as well) that include a full sim racing wheel and three-pedal set. Why did I include them here? Simply put, the pedal set Logitech includes with these wheels is as good a set as can be found at this price point and you could effectively consider the wheel to be a nice bonus.
Now for the cons. While the pedal covers, arms and most of the internals are made of metal, the base plate of the Logitech G29/G920 pedal sets is made of plastic – it doesn't feel especially heavy but it is rather durable. Also, as you may have expected given the affordable pricing of this kit, all three pedals feature rather basic potentiometer sensors.
If the stock pedals that came with your first wheel are not up to the quality you were looking for, and you're hoping to get an inexpensive upgrade, then the T3PA are the right choice.
This set will add a clutch to your racing setup, and it comes with a conical rubber brake mod to simulate progressive braking resistance. The pedals are pretty tough, able to withstand hours of racing with no real problem. The only issue that might come up is an occasional squeak after hours of use, but applying a lubricant such as the WD40 will get rid of it no problem.
Of course, being an older set of pedals, it lacks some of the technological advances that have been made since 2015. Another small issue is that, unlike the rest of the list, the pedal set is not entirely made out of metal. The plastic doesn't feel cheap, as it's high quality industrial plastic, but after becoming accustomed to metal sets you will feel the difference. Once again, all three pedals use potentiometers.
Intermediate Sim Pedals
In my opinion, the intermediate range is where things really start to get interesting. Sure, a set of intermediate pedals alone will set you back more than an entire beginner racing bundle, but the difference in quality is night-and-day.
In terms of technology, you'll find that almost all pedals at this price point feature a load cell in the brake. For the throttle and clutch, you might even find Hall effect sensors being used in place of potentiometers!
The CSL Elite LC has a full aluminum construction with a handsome black finish, a great 90kg load cell brake pedal, and fantastic adjustability features. It's compatible with PC and console, and an additional thoughtful consideration is here in the form of a dedicated USB controller and port for a Fanatec sim racing handbrake so that you can pass it through the heel rest instead of plugging directly into your sim machine of choice.
Speaking of that heel rest, it can be fully removed from the pedals so that they can be independently installed in your cockpit of choice or custom floor mount assembly. The only pieces of negative information here are the decreased adjustability and lack of Hall effect sensors in the clutch and throttle.
The Thrustmaster T-LCM is a great pedal set whose price belies a solid construction and great feature set. The most surprising fact about this set is that "LCM" stands for Load Cell and Magnetics (Hall effect sensors) which you wouldn't typically expect to see in this price range.
Also surprising given the price tag is that this set is constructed of all metal. So where have Thrustmaster cut costs? The only real downside of this set is the dramatically decreased adjustability options.
Thrustmaster does offer adjustability where it really counts – a set of six springs are included for the brake pedal to adjust travel and resistance, each pedal's spacing is independently adjustable, and an optional mount can be purchased for inverted "GT style" racing – but I'd love to see more than three positions for each arm and more adjustability of the throttle and clutch.
All said, there really is a lot to love about the Thrustmaster T-LCM pedal set, and it's especially easy to recommend to anyone who already has a Thrustmaster wheel base. Note that this set is fully compatible with PC, and works with Xbox and PlayStation consoles when paired with a handful of compatible Thrustmaster wheel bases.
Advanced Sim Pedals
Whereas intermediate pedals usually make a few sacrifices in order to keep prices low, it feels like advanced pedals have everything you could possibly ask for.
At this price point, all the good stuff – load cells, Hall effect sensors, metal constructions, extensive customizability – is standard.
The Fanatec ClubSport V3 pedals aren't merely Fanatec's best set to date, they're arguably the best bang for your buck of any set on the market. Fanatec checks all of the boxes with this set and its full metal (CNC machined aluminum) construction is sturdy and sleek. While the red-on-black finish will be the first thing about the ClubSport V3 to catch your eye, it's what's under the hood that really counts.
The V3 throttle and clutch use contactless Hall Effect sensors, and the brake uses a best in class 90kg load cell. Adjustability is through the roof on this set – the position of pedal plates in all directions, their angles, spring force, brake pressure sensitivity, and brake travel are all tweakable right out of the box. There are also a pair of optional kits available for purchase if you want to customize the set further – a hydraulic damper kit for the throttle pedal and a brake performance kit to perfect the resistance of your load cell pedal.
Fanatec takes things to another level with vibration feedback on the throttle and brake as well, which simulate advanced effects such as oversteer and ABS when in supported sims. The ClubSport V3 pedals are ready to go on PC right out of the box, even with non-Fanatec wheel bases thanks to the included USB adapter; this set is also compatible with Xbox and PlayStation consoles, but only when connected to a console-specific Fanatec wheel base.
One final note: Fanatec also offers the ClubSport V3 in an inverted "GT style" configuration at a higher price. Top it all off with a two-year warranty, and you have the a pedal set that can suit the needs of all but the most hardcore of sim racing enthusiasts.
The Heusinkveld Sim Pedals Sprint are the next step up within the advanced category. They're more than one and a half times more expensive than the ClubSport, but with that comes unmatched refinement.
The Heusinkveld Sim Pedals Sprint are CNC precision laser cut steel. Unlike Fanatec's set, these pedals don't bother with Hall effect sensors. Instead, each pedal has its own load cell sensor, providing even more realism.
While this model is devoid of a base plate, the pedals are similarly adjustable and made to be installed in just about any rig or configuration you can dream up. This set looks like it belongs in a real-life race car, but it is exclusively designed for use with PC sim racers.
Professional Sim Pedals
If you thought sim racing pedals couldn't get any better, you're wrong. Within the professional segment, pedals are designed to feel exactly like the real thing, with no expense spared whatsoever.
Expect everything we saw in advanced pedals, with the addition of hydraulic dampers and even bona fide hydraulic sensor systems for ultimate immersion.
The Heusinkveld Sim Pedals Ultimate are every bit as epic as their name suggests, having been designed specifically to be used in the most demanding environments in order to simulate the pedal forces as experienced in F1 and LMP cars.
Heusinkveld Engineering have made this pedal set from CNC precision laser-cut stainless steel in order to ensure flawless performance for decades to come, then blasted the raw steel with glass beads to give the set a high quality semi-gloss metallic look with a minimum of sharp edges. Aesthetic details are just the beginning though; this pedal set is built to be the workhorse of your racing rig.
Each of the three pedals has its very own load cell for unrivaled tactility, and each arm has an adjustable hydraulic pedal damper so that you can adjust resistance to suit your needs. Each of the pedals can be independently adjusted in a positively exhaustive number of ways to ensure that no fractions of seconds will be lost because of anything other than user error.
Each pedal set comes with a USB controller box that serves as a load cell amplifier and allows for the connection of additional peripherals and accessories. Sadly, the Heusinkveld Sim Pedals Ultimate is that it is only compatible with PC.
The Simtag Hydraulic Pedal System is considered by some to be the ultimate aspirational pedal set, a fact that is easy to understand when you have a look at the spec sheet… and the price tag. These racing simulator pedals feature components used by real life race car engineers combined with the highest quality sim gear in a design all its own, and are all but guaranteed to improve your lap times.
With a stated goal to offer "unrivaled feel and performance to accurately reproduce the same experience of a hydraulic motorsport braking system", Simtag started with a Tilton 600 Series pedal box and added throttle position sensors and pressure sensor from Bosch, Plug & Play electronics by Leo Bodnar and Cosworth dust and moisture proof connectors – amongst other premium components.
Currently retailing for nearly $2500 when they are actually in stock, this product is well above what most would consider a reasonable price to pay, and I should state plainly that these pedals are not going to improve your lap times by a proportional amount. However if you're a PC gamer with an appetite for the finer things, or a sim racing professional, the Simtag Hydraulic Pedal (Ultimate Black Edition) pedals should be at the top of your menu.
Last but not least, most pedals allow for adjustment of springs or hydraulics in order to adjust resistance. This is especially important for brake pedals, as every user will have different preferences in this regard.
Simucube FFB pedal is shown to be a software adjustable pedal. It can be customized for up to 150kg of brake pressure. It is stated to offer zero maintenance; with no rubbers, oil, springs, hydraulic cylinders, or degrading parts that may need to be serviced. The expected arrival is Q1 2023.
Currently, you can Pre Order at Digital Motor Sports or any of the other authorized resellers for Simucube.
I look forward to the new experiences this will bring to the sport.
Last Updated on January 12, 2023