We are reader-supported. If you buy through links on our site, we may earn a small commission.
If you want to really test your sim racing skills, you need a good set of pedals. Small changes to the pressure you put on these will make the world of a difference to how your car behaves on (or off) the track. And if you plan to complete your sim racing setup with an H-shifter, you will need a clutch. In this guide, we review the top five pedal sets currently available for driving sims.
The Best Pedals for Sim Racing
Top Pick: Thrustmaster T-LCM Pedals
Thrustmaster is used to putting out top of the range products, and the T-LCM Pedals are no exception. These load-cell pedals will be able to distinguish 65,536 different pedal positions, the closest approximation to a real world car currently possible. The contactless H.E.A.R.T. system will thus not only guarantee precision, but thanks to their contactless nature, an almost unending lifespan.
Customisation options are plentiful on the T-LCM pedals, allowing you to adjust the individual height, angle of incline, and even the spacing of each pedal. You'll also be able to adjust the sensitivity of the pedals, allowing you to apply as much force as you find most natural. The USB connection will allow users to pair this pedal set with third party wheels (such as the Logitech G29/920), meaning that you won't have to scrap your set-up and start from scratch.
All in all this is an impressive pedal set, sure to rival even more expensive products such as those by Fanatec (even if the T-LCM is not cheap itself). If the rest of 2020 yields products such as this, it'll be a great year for racing sims.
Runner-Up: Fanatec Clubsport Pedals V3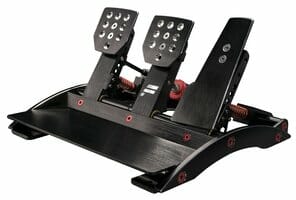 For those seeking greater immersion, these are an excellent choice thanks to their responsive brake pedal
Buy on Fanatec
The ClubSport V3 pedals are not only beautiful, but the magnetic and contactless sensors on gas and clutch will guarantee life-long accuracy. These pedals will further increase your immersion in the game, with a pressure-sensitive brake pedal which vibrates to simulate ABS and locking tires.
The build quality and the immersion are also coupled with unparalleled adjustability. Being able to change the position of pedals, their angles, the throttle spring strength, brake sensitivity, brake travel and inclusion of the alternative D-shape race plates in curved design which are ideal as standing pedals all means that you will be able to tailor the Clubsport V3 to exactly what you're looking for.
An added bonus is that they work on all current platforms. Their price is a bit steep, but given the sheer quality of the product there's little we can complain about.
Read our full review of the ClubSport V3 pedals here.
Luxury Choice: Fanatec Clubsport Pedals V3 Inverted
The ClubSport V3 Inverted pedals are a step up from the normal V3. The main selling point is without a doubt the clutch and brake pivots being moved to the upper side of the pedals. This allows for longer pedal travels, replicating more accurately than any other pedal set the distance you would find in a real car.
The pedals also come equipped with an adjustable damper which, coupled with the same adjustments available on the "normal" V3, will grant a feeling of pure realism when performing complex manoeuvres.
The rest of the technology is the same as the excellent V3, thus improving from an already excellent design with a few notable additions.
The reason why this pedal set is not at the top of the list is the restrictive price tag. Though its excellence in unquestionable, other sets (such as the T-LCM) will not only scratch your racing itch, but come at less than half of the price of this model.
Also Great: Fanatec CSL Elite LC Pedals
Fantatec's mid-range pedals are still a marvel to use. The CSL Elite Load Cell pedals are entirely made of metal and will grant you enough adjustability options to leave you tinkering to find your ideal set-up after each lap.
Each pedal has a "free layout" meaning that its position on the heelrest can be adjusted separately at whichever distance you wish. Better yet, if you already have your own cockpit, you can completely detach them and their electronics from the heelrest and easily reattach them in your own cockpit.
As with the rest of Fanatec's products, you can adjust the brake stiffness; unlike many sets you can do this without the use of any tools, making for easy customisation. A small but welcome plus is the large heelrest surface. Although this is unlikely going to be the determining factor as to whether you can beat your personal best time, it does allow for your feet to rest more comfortably, making those long racing sessions a lot less physically taxing.
The price is still quite expensive, which is the reason why this isn't higher on the list. For almost the same price you can buy the superior T-LCM pedals.
Budget Pick: Thrustmaster T3PA
If the stock pedals that come with multiple racing wheels are not up to the quality you are looking for, and you're hoping to get an inexpensive upgrade, then the T3PA Pedals are what your heart desires. This was the first three pedal set made for next generation consoles, and it has aged wonderfully.
This set will add a clutch to your racing setup, and it comes with a conical rubber brake mod to simulate progressive braking resistance. The pedals are pretty tough, able to withstand hours of racing with no real problem. The only issue that might come up is an occasional squeak after hours of use, but applying a lubricant such as the WD40 will get rid of it no problem.
Of course, being the "grandfather" of the other pedals on the list it lacks some of the technological advances that have been made since 2015. Another small issue is that, unlike the rest of the list, the pedal set is not entirely made out of metal. The plastic doesn't feel cheap, as it's high quality industrial plastic, but after becoming accustomed to metal sets you will feel the difference.
Frequently Asked Questions
What are load cell pedals?

Load cell pedals utilize a special sensor which can measure how hard you are pushing. This creates a much more realistic driving experience, since the car will brake or accelerate faster depending on how hard you press down on the pedals.

Can you use any pedals with any wheel/shifter?

You can combine almost any pedals, wheels, and shifters on PC. However, you cannot use any pedals with any wheel or shifter if you are using a console. A good rule of thumb is to always check on the manufacturer's website to see what wheels and shifters are compatible.

Do good sim racing pedals make you drive faster?

Once you get used to a set of pedals, there's a good chance you'll be able to drive faster with them. This is because many racing sims penalize players who rely on automatic shifting. Other than that, pedals are mainly used to create a more realistic driving experience.