Sony has finally dropped their PlayStation 5 console after what feels like eons of wild anticipation, and it seems to be living up to the hype so far. Perhaps the most-praised aspect of the new PS5 system is the dramatically-improved DualShock 5 controller, but one thing the new pad doesn't excel at is providing an authentic sim racing experience – for that, you'll need one of the best PS5 racing wheels!
Best PS5 Racing Wheels of 2022
Breakdown of the Best PlayStation 5 Wheels
Based on our extensive research, here are the best PS5 steering wheels for sim racing:
Top Pick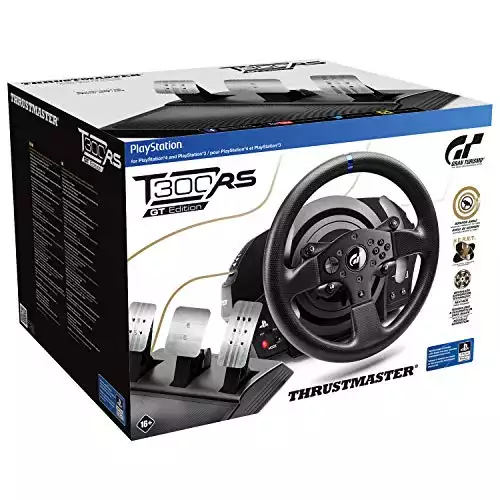 The T300RS GT was a favorite among PlayStation 4 racers, and we predict it will continue to thrive in the PlayStation 5 community
The Thrustmaster T300 RS (in particular the GT variant) is our favorite PS5 racing wheel thanks to its excellent feature set, price, build quality, and versatility. The wheel boasts 1080 degrees of rotation range to ensure authenticity when handling just about any car in any game, and the brushless dual-belt mechanism delivers ultra-smooth force feedback.
The wheel is also fully integrated with Thrustmaster's Quick Release system, which provides compatibility with their ecosystem of optional upgrades and additions such as detachable wheels, gear shifters and pedals. Speaking of which, both the regular and GT versions feature a set of pedals!
This steering wheel is officially licensed by Sony for use with PS4 and PS3, and as such you're assured to have full compatibility with all racing games on the PS5 as well. Also note that this wheel is also compatible with PC.
We particularly reccomend the Gran Turismo edition of the T300 RS, since the pedals are far superior. Whereas the basic version comes with two measly plastic pedals, the GT features three high-resolution metallic pedals (clutch included for realistic shifting!).
There's also the Ferrari Integral Alcantara Edition, which features equally great pedals, Ferrari branding and a wheel wrapped in genuine Italian Alacantra like that used in their cars.
Runner-Up
This wheel will put you in the drivers seat. It is officially licensed by Formula 1, so it is built for competition!
The Logitech G29, also known as the Logitech G29 Driving Force in some regions, deserves a mention as one of the best PS5 wheels out there for its great feature-to-cost ratio and awesome force feedback. That force feedback comes from powerful dual motors that realistically create more tactile effects than other force feedback systems, and many users cite it as their favorite thing about this great PS5 wheel.
Other users note other things about the wheel that makes it the best for them – balanced weight, sturdy wheel with hand-stitched leather, automotive grade pedals (with clutch), responsive console controls and 900 degrees steering range. Not that this wheel is PS4 and PS3 certified, but is fully compatible with PS5 and ready to tear up the track in Gran Turismo 7 or any other racer of your choosing.
All said, the Logitech G29 Driving Force is a great piece of gear for next gen consoles that doesn't cost as much as most of the other great wheels, has great force feedback and is one of the best wheels other there!
Budget Pick
This wheel was a great budget choice for the PlayStation 4, and it works just as well on Sony
The Thrustmaster T150 is a yet another solid performer from the longtime wheel maker, and it's more than capable of providing a great experience in any racing game of your choosing at a great price. Thrustmaster deserves special praise for managing to produce a budget steering wheel that performs on-par with high end wheels without compromising too much on quality.
Notable features of this budget racing wheel include a powerful, adjustable force feedback motor, 270 to 1080 degree adjustable range, and full compatibility with PS3, PS4 and PC in addition to PS5. This realistic wheel also has great touches like reinforced rubber-coated grips and rear-mounted metal shift paddles.
Thrustmaster has also ensured full compatibility with their upgrade ecosystem, should you choose to add upgraded pedals or shifters at a later date, but it's fair to say that you're getting all of the essential features at a great price right out of the box. If you want a solid wheel for your new PS5 console that doesn't break the bank, this one is a great pick!
Luxury Pick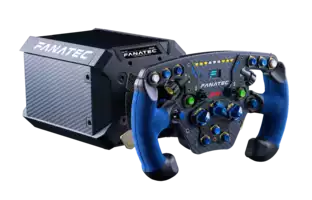 Direct drive? Check. Attractive wheel rim? Check. Great value for money? Check.
The Fanatec Podium F1 takes authenticity and luxury to an entirely different level than the other products listed to this point, and it is without question one of the most breathtaking wheels available for the PS5 or any other console for that matter.
High end racing is the name of the game for Fanatec, and they spared no expense in creating the first ever direct drive system for PS4 and PS5 with the Podium. Direct drive wheels eschew the belts and gears of standard wheels for a literally direct connection between the wheel and the drive motor – allowing for more precise and authentic control than was previously possible.
Officially licensed by F1 as well as Sony, the Fanatec Podium F1 offers plug and play functionality and low-latency wireless connectivity, revLEDs for heads-up RPM tracking, multi-position switches and a list of other features that is frankly too long to get into here. As one might expect, this wheel also as stellar force feedback, pedals and paddles.
All of this luxury and authenticity does come at a premium that will be hard to swallow for all but the most well-funded and hardcore PlayStation 5 racing game enthusiasts, but those who can afford it will be blown away by one of the best experiences out there.
Runner-Up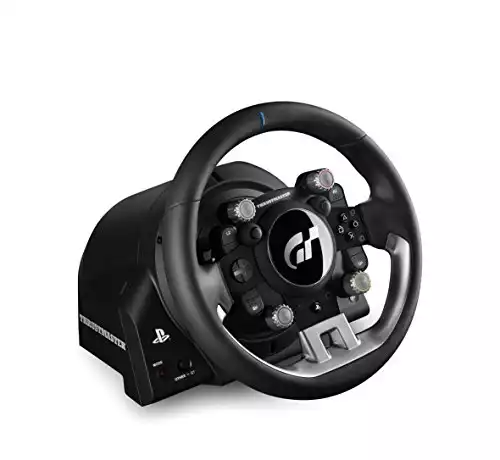 One of Thrustmaster's most advanced steering wheels to date, the T-GT feels, looks, and performs fantastic!
The Thrustmaster T-GT is another awesome wheel for sim racing on PS5 that hits all the right notes. This semi-luxury wheel has some high end features such as a brushless force feedback motor, metal pedals (including clutch) with metal internals, removal leather steering wheel cover and more. Thrustmaster even worked directly with Polyphony Digital to ensure the wheel has perfect integration with their Gran Turismo titles, and the GT styling lends especially well to adding an extra layer of authenticity to the whole experience here.
The powerful wheel base, with the aforementioned force feedback system, is Thrustmasters most advanced console peripheral to date has an embedded cooling system to keep things running smoothly. The list of innovations for internal components and mechanisms is a daunting read for the uninitiated, but gear heads will surely appreciate the care and thought invested into ensuring that this is one of the best racing wheels for PS5 and beyond.
It should be reiterated that the Thrustmaster T-GT is a fairly expensive PS5 racing wheel and due to limited production, can be relatively difficult to track down at times. If that isn't enough to dissuade you from wanting this racing wheel, nothing should – it's definitely worth your consideration!
What to Look for in a PS5 Racing Wheel
Here are a few factors to keep in mind when choosing a PS5 wheel:
Immersion
The primary reason one would buy a PS5 racing wheel instead of sticking with a stock controller for racing games is the sense of immersion offered by a great wheel. Different manufacturers have different ways of helping you immerse yourself in authentic racing experiences, but one factor that is universally considered to be essential is force feedback. Using motors similar to those that provide controller rumble, force feedback reproduces the feeling of bumps, scrapes and other tactile feedback in order to make it feel like you're actually in the game.
Other important considerations for ensuring immersion are RPM gauges or LEDs, realistic metal pedals, authentic wheel wraps, mechanical gearboxes, metal paddle shifters and variable rotation range (see below for more on this essential consideration.
You're probably starting to realized (if you haven't already been initiated into the world of sim racing wheels) how much really does go into making and using these PS5 steering wheels!
PlayStation Compatibility
Great PS5 racing wheels are far from cheap, but they can certainly be a great investment for those who love driving games and want to have high end racing experiences. Sony released a statement months back stating that all Officially Licensed steering wheel peripherals compatible with PS4 would be compatible with the PS5, and they have followed through on that promise by all accounts.
If you're a cross-platform gamer, consider that you'll probably want to get a wheel that works on Xbox One and/or Series X/S as well – fortunately, last gen (PS4, Xbox One) was the best to date in terms of multiplatform peripherals and that trend is showing no signs of slowing. Having multiple steering wheels to satisfy your racing hunger is obviously an expensive proposition, but also necessitates having a ton of space to use or store all of them!
It's also worth noting that some of these PS5 wheels have the ability to be added-to or upgraded with accessories such as gearboxes – bear that in mind if it's something you think you'll want to do at some point.
Rotation Range
Steering wheels in real life vary dramatically in rotation range, and every good driving simulator takes this into account. While some cars in some games will have a low rotation range of 270 degrees, most cars in most racing games will have a much higher range. While racing games will compensate for low-range wheels, the finer level of control offered by the best racing wheels is impossible to dismiss as anything less than an essential feature. Aim for a wheel that has at least 900 degrees of rotation in order to ensure a great sim racing experience.
Force Feedback System
The last thing to take into account when choosing a PS5 steering wheel is what kind of force feedback system is uses. The main technologies are gear drive, belt drive, and direct drive. We'll discuss all of these in depth shortly.
Types of Steering Wheel
Steering wheels use one of three technologies to connect the motor to the wheel shaft. Here's what you need to know about each of them:
Gear Drive
Gear driven steering wheels use a system of gears to connect the motor to the wheel shaft. This allows manufacturers to use slightly less powerful motors, as they are able to amplify motor torque using the gears. Ultimately, this leads to more affordable steering wheels.
The downsides of gear driven wheels are noise and notchiness, which is caused by the gears locking into eachother and creating friction.
Belt Drive
Belt driven steering wheels use belts to connect the motor and wheel shaft. Like gear driven wheel, this also enables the use of cheaper motors. The big benefit of belts over gears is that they do not suffer from noise or notchiness, since the belts are smooth.
Still, belt driven wheels have their downsides. For one, there may be deadzones in the belts, and they may not provide the same tension throughout the entire rotation range of the wheel.
Direct Drive
The best racing wheels use direct drive technology, where the motor is connected directly to the wheel shaft. This means maximum resolution and ultimate smoothness, although it requires the use of stronger, torquier motors.
What's Included with a PS5 Racing Wheel?
When you purchase a steering wheel, you can usually expect to find a few things in the box. Sometimes you'll get pedals, but you'll always get some kind of wheel base, and usually a wheel rim:
Wheel Base
The wheel base is the most important part of any steering wheel. It's the box that your wheel rim connects to, and is responsible not only for measuring your movements and relaying them to the PlayStation (and subsequently the racing game), but also for providing the force feedback that makes you feel like you're in a real car.
Wheel Rim
Most wheel bases come with some kind of wheel rim. This is what you think of as a steering wheel: it's the circular part that attaches to the wheel base.
Not all wheel rims are made equally. Depending on the rim that comes with your chosen racing wheel, you may have different switches and buttons, and in some cases even paddle shifters!
Pedals
Most beginner to intermediate steering wheels for PS5 also come with racing pedals. Cheaper bundles usually come with just two pedals (the throttle and brake), although we reccomend you look for bundles with three pedals. This will allow you to drive stick right from the get-go!
Extras
Occasionally, wheels come with some extras, like shifters or handbrakes. If your bundle does not include these accessories, don't fret, as they can all be purchased separately.
PS5 Steering Wheel Compatibility Guide
In case you want to check whether a specific steering wheel is compatible with PlayStation 5, we've compiled this up-to-date list:
| | |
| --- | --- |
| Racing Wheel | PS5 Compatible? |
| Logitech G923 | Yes |
| Logitech G29 | Yes |
| Thrustmaster T80 | Yes |
| Thrustmaster T150 | Yes |
| Thrustmaster T300 | Yes |
| Thrustmaster T-GT | Yes |
| Thrustmaster TMX | No |
| Thrustmaster TX | No |
| Thrustmaster TS-XW Racer | No |
| Thrustmaster TS-PC Racer | No |
| Fanatec CSL Elite | Yes |
| Fanatec ClubSport V2.5 | No |
| Fanatec Podium DD1 | No |
| Fanatec Podium DD2 | No |
| Fanatec Podium F1 | Yes |
| Fanatec CSL DD | No |
Are All PS4 Wheels Compatible with PS5?
A question that many sim racers have been asking is whether their existing PS4 racing wheels will be compatible with PS5. Well, we've searched far and wide for any exceptions, but as the table above would have you think, all PS4 wheels are indeed compatible with PS5!
Other Steering Wheels We Reviewed
When creating this buyer's guide, we looked at over a dozen different steering wheels. Although the five wheels we looked at earlier in this guide are our favourites, there are still plenty of great alternatives out there!
The latest and greatest steering wheel from Logitech, the G923 is a solid purchase, especially for those playing Trueforce-enabled titles
The Logitech G923 is an updated version of Logitech's hit product, the G29. While it's certainly not our top pick, it really isn't a bad wheel.
One point of differentiation from most of the other top wheels is that the Logitech G923 is officially licensed by Sony for use with PS5 and PS4, and it is also compatible with racers on other consoles and PC. Automotive style leather stitching on the wheel and premium brushed metal on the wheel and accents give the Logitech G923 a decidedly classic, high quality look and feel. There are plenty of thoughtful and functional features as well, including a 24-point selection dial for adjustments to traction, torque and brake force – progressive brake pedals with springs that mimic pressure-sensitive brake systems for finer control – and a built-in rev indicator to show RPMs in supported games, such as Gran Turismo 7.
The Logitech G923 also comes with G-Hub and onboard memory so you can customize and fine-tune a number of aspects of your wheel from PC and take those settings to your PS5 for even finer control in racing games. The list of features goes-on for a while – but it's probably sufficient to say that this is a great steering wheel.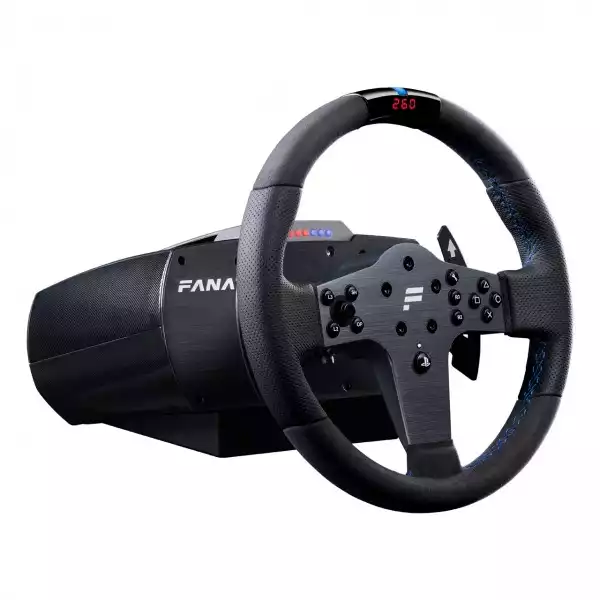 One of Fanatec's most affordable racing wheel bundles, the CSL Elite offers immersive force feedback and excellent build quality at a bargain!
The Fanatec CSL Elite WRC was everything you wanted from a sim racing wheel. It combined Fanatec's legendary CSL Elite wheel base with a realistic, interactive rally rim, providing a super immersive racing experience at an accessible price.
And if you can find one on the used market, it still does those things. Unfortunately, Fanatec is no longer producing the CSL Elite in favor of the new CSL DD, which is not compatible with PlayStation.
If you can find a used CSL Elite, here's what you can expect: the wheel base offers force feedback that is both authentic and powerful, in addition to other top-notch features such as adjustable 1080 degree steering, an integrated rev light bar, highly adjustable mounting clamps, upgradable firmware and most importantly, a wide range of ports for all of the additional controls and inputs you'll need for your sim rig.
This wheel doesn't have force feedback, but it executes everything else wonderfully and for a very cheap price. If you simply can't afford any of the other wheels, then give this one a look.
If you're looking for a dirt-cheap racing wheel to get you started on the PS5, then consider Hori's Racing Wheel Apex. The biggest downfall of this wheel is that it doesn't offer any force feedback, which means you won't feel the wheel pushing back against you in tight turns or when you crash.
Other than that, the Apex is a pretty likeable little wheel. It looks fairly nice and even comes with two pedals to get you going. Adults might get bored of this wheel pretty quickly, but it's a perfect choice for younger kids.
Last Updated on May 4, 2022