The Fanatec Podium Racing Wheel F1 is a high-end sim racing wheel that is loaded with advanced tech such as a direct drive force feedback system and meant to take gamers' performance to the highest levels possible. Officially licensed for PlayStation 4 (and by extension, PlayStation 5) as well as PC, the Fanatec Podium Racing Wheel F1 has ever-increasing competition for track supremacy and wallet dominance.
Is the Fanatec Podium Racing Wheel F1 deserving of your hard-earned cash? Is there a better direct drive wheel to fit my needs? Do I really even need a direct drive racing wheel? These are all questions we intend to answer today as we dive deep into the Podium F1's feature set and compare it against other leaders in its category.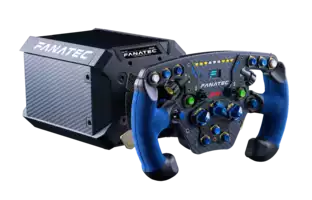 Fanatec Podium F1
Direct drive? Check. Attractive wheel rim? Check. Great value for money? Check.
What to Consider Before Buying an F1 Direct Drive Sim Racing Wheel
The biggest differentiating factors between the Fanatec Podium Racing Wheel F1 and most of the other sim racing wheels on the market are its Formula One leanings and direct drive motor. The F1 design will create problems for some yet allows others to have a more realistic and immersive experience, whereas the direct drive tech is a direct upgrade to other force feedback motor types in every way except cost.
F1 vs GT
F1 wheel rims, also known as open steering wheels, were originally designed to provide better grip and control for vehicles that have a need for tight control, yet prevent the need for hand over hand rotation. Formula One racing is the most common sight for such steering wheels, hence the nomenclature; in this use-case, the wheels feature one-turn rotation locks and typically have rotation angles that do not exceed 320 degrees.
This is in stark contrast to the common round steering wheel rims seen in most of the motor vehicles you see in day to day life, in addition to other forms of racing such as GT; as such, we typically refer to these standard steering wheels as "GT" in the context on sim racing and associated peripherals.
Most sim racing wheel bases feature adjustable rotation angles that allow for range to be locked from 270 degrees or lower, to 900 degrees or even higher; facilitating customization in this regard means that the racing fan can easily emulate the feel of driving a wide range of cars, and the ability to swap wheel rims means that your racing wheel setup can closely emulate the F1 driving experience by adding an F1 wheel rim.
Considering all of the above, as well as the fact that the vast majority of wheel bases ship with standard GT rims, it's easy to see why Formula One enthusiast would want to purchase an F1 rim for use with their existing wheel base.
Direct Drive
A direct drive wheel is a sim racing wheel that is powered by a direct drive mechanism – a system in which the output device is directly driven by an electric motor. In a direct drive system, the steering wheel rim is directly driven by the force feedback motor in the wheel base – as opposed to the belt-driven or gear-driven mechanisms found in common sim racing wheels.
One of the first things one notices when shopping for a direct drive wheel is the considerable price tag attached to all of the DD wheels on the market. While consumers could certainly be forgiven for assuming that the dramatic increase in price over traditional sim racing wheels is attributable to the fact that new tech is simply more expensive (and that factor certainly plays some part in the price, to be certain), the reality is that the primary reason for these hefty machines' big wallet hit is the increased cost of production – which is in turn attributable to the more expensive materials necessary to ensure that the devices don't destroy themselves under their own power!
The Fanatec Podium Racing Wheel F1
The Fanatec Podium F1 wheel combines the manufacturer's first-ever direct drive wheel base with a F1 style steering wheel designed for use with PlayStation to create (unsurprisingly, perhaps) the first PS4-compatible direct drive system.
Who is the Fanatec Podium Racing Wheel F1 aimed at?
As you're likely realizing by this point, direct drive is a massive leap forward and Fanatec has a track record of creating some of the best direct drive wheel bases on the market. The increased power and fidelity afforded by these systems is especially conducive to a realistic and exciting Formula One simulation, so the Fanatec Podium Racing Wheel F1 is a product that was probably an obvious thing for the company to produce.
Many gamers and sim racers are glad they did; the Fanatec Podium Racing Wheel F1 released to broad critical acclaim and it's hard to find forum users who have anything other than high praise for this product.
On the flip side of that praise, we must acknowledge that this is a highly specialized product at a relatively high price; there a not a lot of people who are willing to spend thousands of dollars on their racing setup, and only relatively small fraction of those would choose to go the Formula One route instead of opting for the more versatile GT configurations of other sim racing wheels.
Regardless of why, precisely, someone would want to consider a product such as the Fanatec Podium Racing Wheel F1 – the fact remains that there is quite a bit of demand for such racing wheels, as is evidenced by the fact that this particular wheel is regularly on back-order. There are of course other products that hold similar mindshare and market share (more on those in a bit), so let's take a deep dive into what the Fanatec Podium Racing Wheel F1 in particular has to offer.
What's in the Box?
This product is essentially a bundle of three individual Fanatec products at a reduced price:
Podium Wheel Base DD1 – Fanatec's first ever direct drive wheel base.
CSL Elite Racing Wheel – Designed for use with PS4 and PC, this F1-style wheel rim is officially licensed by Formula One.
Podium Advanced Paddle Module – Shifter paddles constructed of carbon fiber and automotive-grade aluminum.
Features & Benefits
Fanatec is known for creating enthusiast-grade sim racing gear that at or near pole position in most categories in which they compete. It almost goes without saying that Fantec spares little expense in engineering beautiful, immensely functional products that exceed expectations and offer performance that's at the bleeding edge of the industry.
Direct Drive
It cannot be overstated how impactful the upgrade from tradition drive systems to direct drive really is, and the Fanatec direct drive implementations thus far have been especially noteworthy. The Podium Racing Wheel F1 has force feedback to the tune of 15Nm holding torque, and peaks at 20Nm under certain conditions. This equivalent to the force created by real world race cars, which means you can't really buy a sim racing wheel that does a better job of emulating the intensity of driving a multi-million dollar automobile.
The power is so intense in fact, that the wheel base must be literally unlocked with the included Torque Key in order to harness its full power. This isn't a kitschy gimmick or anything of the sort – it's more akin to signing a waiver, as 20Nm is more than enough to dislocate a shoulder, toss a child across a room or create any other number of problematic scenarios for anyone who doesn't go into this experience prepared for what it is capable of. There are plenty of forum posts and even videos showing what can happen to someone who approaches a direct drive steering wheel as if it were a toy!
Power alone is awesome, but sim racing also requires force feedback that is nuanced and responsive; Fanatec direct drive does of course deliver in this regard as well with the Podium Racing Wheel F1. Ultra-low torque ripple ensures minimal mechanical distractions and the same smooth experience as in a belt driven wheel (translation: you feel whatever the game or simulation is telling the wheel to wheel to do, rather than feeling the wheel itself doing it.)
Bells & Whistles
The product design is striking, and the wide array of thumb encoders, rocker switches, and LEDs may be an overwhelming sight for some. Every single one of these features has a purpose though; Fanatec's product page has an exhaustive listing of each component, but here are a few of the highlights:
12-way multi-position switches with rotary encoder functionality.
LED bar with nine multi-color LEDs to show motor RPM and optimal shifting point.
Two flag LED bars with three multi-color LEDs each, to indicate tire slip, fuel level, etc.
1″ 128×64 OLED display to show telemetry data like speed or gears.
The aforementioned Podium Advanced Paddle Module – F1-style dual clutch paddles and dual magnetic shifters. An additional, alternate pair of paddle shifters are included as well.
Wireless Data and Power
This one might not be what you think; the Podium Wheel Base DD1 is quite power hungry after all, and it does of course need to be connected to to your PC or PlayStation in order to function properly. What's wireless here is the power and data transmitted between the wheel base and the CSL Elite Racing Wheel rim.
The two parts are coupled via a quick release system, but data is transmitted via metal connectors, which allows for endless rotation and removes the potential for wires to get kinked, tangled or torn. Another big benefit of removing the wires here is that latency if further decreased, resulting in a faster transmission of your inputs to your racing game or sim.
Build Quality
One look at this product is enough to tell you that Fanatec spared no expense in ensuring it was crafted from the best materials for the job, and a hands-on will only reinforce that notion. The 27cm (full-sized) F1 style steering wheel is made of metal and carbon fiber, and the grips are made from genuine Italian Alcantara.
The base itself features all-aluminium housing and carbon fiber panels, and supports the Fanatec three-hole mounting pattern. Speaking of mounting, this 36+ pound wheel can utilize bottom or side mounting solutions; the key here is that you do in fact mount it securely as the aforementioned torque can really do a number on a flimsy or insecure installation.
The wheel base comes with a three-year warranty, whereas the wheel rim and shifter paddles carry a two-year warranty. We done extensive research into Fanatec's customer service and warranty fulfillment practices in the past, and discovered that the manufacturer does a great job of fulfilling their commitment to customers while also holding themselves to account when they don't hold up their end of the bargain. We have a high degree of confidence in Fanatec products, as goes the sentiment of the sim racing community at large.
Upgrades/Add-Ons
The Fanatec Podium Racing Wheel F1 is a fully-featured racing wheel, but that doesn't mean you don't need a few other pieces of kit to round out your sim racing rig; thankfully, this set is fully compatible with the Fanatec accessories ecosystem as well as many other products from other manufacturers. There are also a couple of optional add-ons specially made for the Podium racing wheel:
Podium Kill Switch – an easy to mount module featuring a big red "Emergency Stop" button immediately cuts all power to the wheel base. This is a great add-on for increased safety.
Podium Mounting Brackets – Constructed using a double layer of 12mm-thick, CNC-machined, solid aluminium with an anodized gold finish, there is no stronger or more attractive mounting solution out there.
Having reviewed a great number of other Fanatec products in recent times, we can confidently state that the following are great compliments to the Podium Racing Wheel F1:
ClubSport Pedals V3 – the quintessential sim racing pedal experiences, these hefty, durable pedals are highly adjustable and feature Fanatec's unparalleled load cell brake technology.
ClubSport Shifter SQ V 1.5 – for an authentic, performance enhancing shifting experience that can be swapped from H-pattern to sequential shifting on the fly.
ClubSport Handbrake V1.5 – there is no quicker way to bring your virtual ride to a screeching halt than this sturdy handbrake.
Alternatives
There is of course some noteworthy competition for the Fanatec Podium Racing Wheel F1, and we think you should also consider these before making a final buying decision:
Fanatec Podium Racing Wheel Formula
Not to be confused with the Podium Racing Wheel F1, the Podium Racing Wheel Formula is the Xbox One equivalent of our featured racing wheel. The difference essentially boils down to the wheel rim; which has been swapped out in favor of the ClubSport Steering Wheel Formula V2. Those who prefer Xbox over PlayStation are wise to go this route, and PC gamers may want to opt for this package instead as it is lower-priced in some markets.
SimXperience AccuForce Pro V2
For about half the price of Fanatec's offerings the Accuforce Pro V2 offers a less powerful and feature-rich direct drive sim racing experience that nonetheless does an amazing job of replicating the intensity racing games set out to convey. The GT-style wheel keeps it out of direct competition with the Podium F1, but you can add pretty much any F1 rim to the Pro V2 wheelbase and still save some cash in the process.
Conclusion
The Fanatec Podium Racing Wheel F1 is the best way to bring Formula One racing into your home, and we can't recommend it enough to anyone pining for such an experience.
With it's exhaustive feature set, powerful direct drive motor and and amazing manufacturer's track record, we whole-heartedly recommend the Fanatec Podium Racing Wheel F1 to our readers.
Go check out the Fanatec Podium Racing Wheel F1!
Last Updated on April 16, 2021