Fanatec can't but be considered as one of the best racing sim wheel producers out there but, within the Fanatec product-line itself, what are the best available wheels? Here's our guide to 2021's best Fanatec wheels:
Best Fanatec Wheels of 2021
Breakdown of the Best Fanatec Wheels
Based on our extensive research, here are the best Fanatec wheels:
Top Pick
Fanatec CSL Elite
The CSL Elite offers an incredible driving experience at an accessible price, making it our favorite all-round Fanatec wheel
Our favourite overall Fanatec wheel is the CSL Elite WRC. It doesn't reach the same levels as some of the other members of our list, but hear us out. The wheel base itself allows for a rotation of up to 1080°, and is coupled with notable force feedback. The CSL Elite makes use of the servo motor, electronics and power supply of its higher-end siblings. This allows for the single belt drive to deliver strong and incredibly detailed force-feedback. When you also couple this with Fanatec's Directsensor technology, the effects are double those which you would normally expect. As a little cherry on top, the tuning menu allows you to fine-tune the behaviour of a myriad of functions (including force-feedback) to your liking.
The steering wheel itself is officially licensed by the World Rally Championship (WRC), and it's just as cool as you would hope. It's incredibly lightweight (less than one kilo!), it's a respectable 30cm in diameter, and feels just like a real rally wheel.
Perhaps one of the most important reasons this wheel comes first is compatibility. No matter whether you're on PC, Xbox, or PlayStation, you can enjoy the same great rally experience with this wheel. In fact, it's our favourite wheel for PS5.
Runner-Up
Fanatec CSL Elite BMW GT2
The awesome and affordable Fanatec CSL Elite wheel base, combined with an officially licensed BMW wheel rim pulled straight from a touring car
Our runner-up pick is the Fanatec CSL Elite BMW GT2, which combines the same great CSL Elite wheel base we discussed a second ago, with the officially licensed ClubSport BMW GT2 wheel rim. It comes in at the exact same price as our Top Pick, making it an equally great choice for PC, Xbox, and PlayStation users alike.
Like the WRC rim, the BMW GT2 is wrapped in real alcantara. Perhaps the biggest difference between the two rims is their size: this wheel's diameter comes in at 32 centimeters to match that of real BMW touring cars.
Best for Xbox
ClubSport V2.5 GT Forza
An Xbox exclusive, this incredible Fanatec wheel combines the fantastic ClubSport V2.5 wheel base with a unique and customizable Forza rim
Next up is the ClubSport V2.5 Forza Motorsport. We've looked in depth at the ClubSport V2.5 wheel base and we simply can't but love it. This isn't a direct drive wheel base, but it will get you as close to a direct drive feeling as you possibly can while spending around half the money. In case you're wondering, we do think this a better wheel base than the CSL Elite, Fanatec's other non-direct drive wheel base.
The ClubSport V2.5 also makes use of Directsensor technology, it has a super-detailed tuning menu you can access in order to perfect every little aspect of your drive it has an incredibly smooth, brushless servo motor that delivers instant acceleration without any dead zones. Better still, the incredibly strong belt drive makes use of a dual belt system with multiple ball bearings and v-ribs. In turn, this signifies that there's no belt slippage and no drag in the slightest. To summarise in a few simple words: you'll fall in love with the ClubSport V2.5.
There were two variations we had to consider when picking this bundle as our top Xbox choice. One had the exact replica of a BMW GT2 steering wheel, the other had the Forza Motorsport rim. Counterintuitively we went with the second one, and here's why. While the BMW GT2 wheel is great, the FM rim scratches more itches, and it scratches them better. The BMW wheel is coated in Alcantara, the FM wheel in real leather and made from anodized aluminium. The BMW wheel is 32cm wide, the FM 33cm. Both wheels have the same amount of buttons, but the FM model allows you freedom in where you want the buttons to be (it's customisable!). All in all, this is a spectacular wheel on a spectacular wheel base.
We love the Fanatec Podium F1. Let's start with the wheel base: the DD1 is easily one of the best direct drive wheels on the market. It's made of high-quality materials but most importantly offers a fantastic driving sensation. With high peak torque and the smoothness of the direct drive motor, it feels incredibly immersive. Not to mention, the wheel base itself is highly customizable using Fanatec's proprietary tuning software, where you can adjust everything from force feedback strenth to steering lock. There's no latency whatsoever.
The F1 wheel this bundle offers is just as brilliant. It has a myriad of customisable and easy to access features from the 11 buttons and 12-way multi-position switches to the various thumb encoders and rocker switches. It's ergonomic and it's armed with the most authentic paddle shifter system ever made (Dual analogue clutch paddles allow F1-style launch control by pre-defining the clutch bite point). Finally, as the cherry on top of an already incredible wheel, multicoloured lights show you the RPMs of your engine and the optimal point at which to change gear, as well as signalling ire slip, fuel level, or incoming radio.
All in all, this is the ultimate experience for those wishing to simulate F1 races with their setup. If you're a PS4 user, you'll be glad to know this is also our undisputed best wheel for PS4. Unfortunately, the wheel is not compatible with Xbox, but there is a great sister prodct we'll discuss in just a second.
Xbox Luxury Pick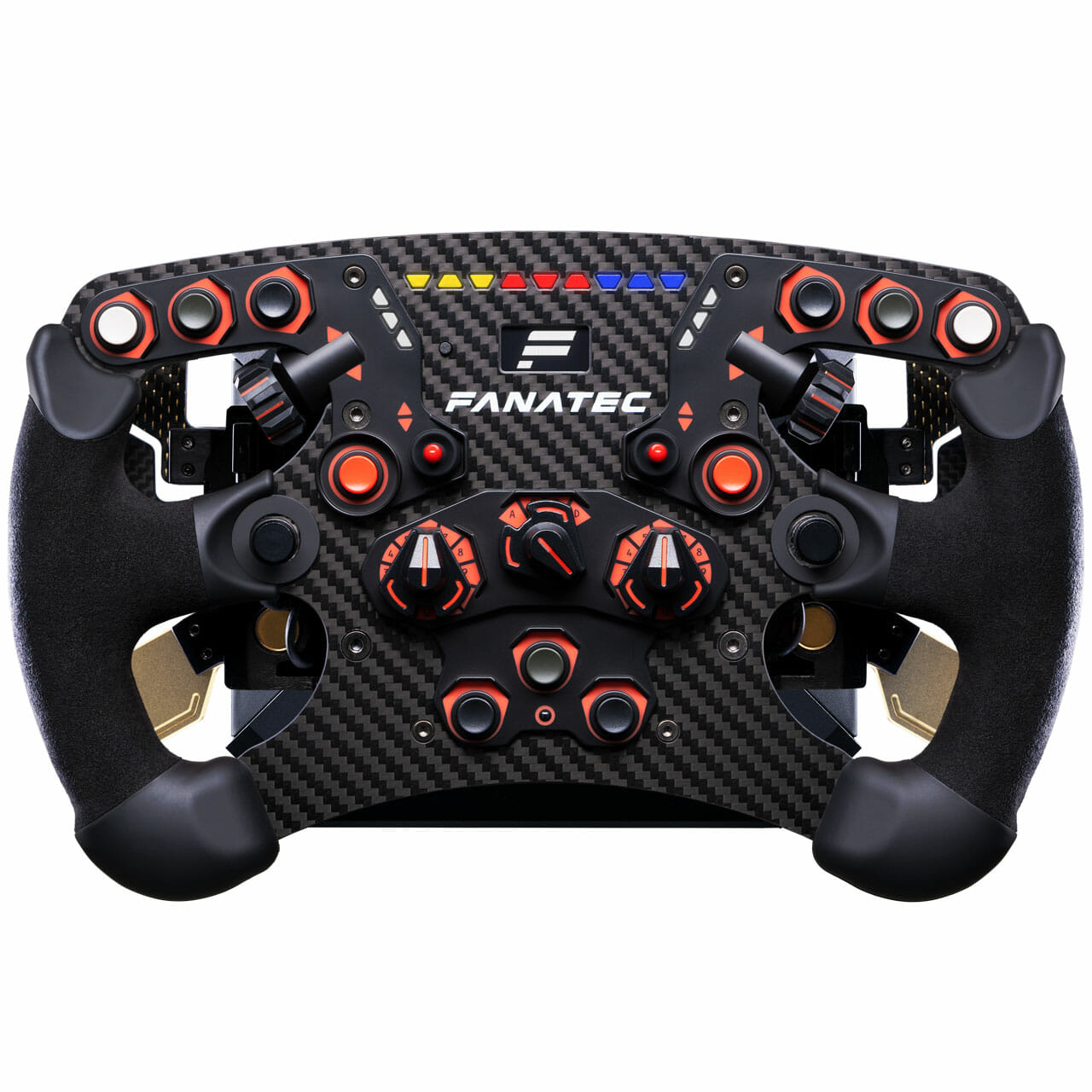 Podium Racing Wheel Formula
Combining the legendary DD1 wheel base with the ClubSport Formula V2 wheel rim, this is Fanatec's incredible Xbox equivalent to the Podium F1
Like the previous pick, the Podium Racing Wheel Formula is a bundle built upon an extremely powerful foundation: the Fanatec Podium DD1. As stated before, this is an extremely powerful direct drive wheel base that takes sim racers to new heights of realism and immersion; there simply isn't a better way to improve your racing experience than to add a direct drive wheel base to your sim racing rig. There are certainly great arguments to be made in favor of other direct drive wheel bases such as Fanatec's updated model – the Podium Wheel Base DD2 – but it is dramatically more expensive while only offering a marginally-improved experience.
If you're sold on the concept of direct drive but don't have a PC and therefore cannot utilize most of the other DD wheel base out there, the DD1 is a Xbox One compatible wheel base that is very hard to disagree with. Do bear in mind that a table clamp won't be enough to contain this beast; a dedicated wheel stand or cockpit is all but mandatory in order to contend with this high end force feedback system – a force feedback system that can literally output more torque to a sim racer's arms than a real car!
From Project Cars 2 to Assetto Corsa and beyond, racing games never feel more realistic than they do with racing wheels of this caliber. Speaking of feels, this particular bundle is especially great to hold in your hands by virtue of the ClubSport Steering Wheel Formula V2. This wheel rim is constructed of carbon fiber and metal wrapped in Alcantara. Key features of this epic wheel rim include multi-color RevLEDs, 11 buttons and and 12-way multi-position switches. Also included is the brilliant Podium Advanced Paddle Module, which brings high-end Hall Effect sensor-equipped magnetic paddle shifters to the table.
If you're an Xbox One sim racer and you're in the market for an amazingly powerful sim racing wheel, Fanatec has what you're looking for right here. (By the way, this bundle is also fully compatible with PC!)
What to look for in a Fanatec Wheel
With so many choices, it can be tough to determine which Fanatec racing wheel is best for you; keep these factors at the top of mind when shopping:
Compatibility
The first thing to consider when shopping for your best Fanatec racing wheel is what platforms you intend to race on. Each and every Fanatec wheel base is compatible with PC; if you're a PC gamer, take your pick! Things are slightly more complicated for the console crowd, but we'll break it down as simply as possible for you.
Console compatibility is determined by your Fanatec wheel rim – each and every wheel rim will tell you whether it is compatible with Xbox One, PS4, etc. Furthermore, if the rim you have your heart set on isn't compatible with your console of choice, Fanatec has product that will solve this problem for you: The Fanatec Universal Hub.
The Universal Hub is a modular adapter than connects to your Fanatec Wheel Base via the quick release system, between the base and the wheel rim. It's a considerable added cost, but if you really want or need to use a specific wheel rim that isn't compatible with your console, it's great that the Universal Hub exists to fill in that gap.
Direct Drive vs. Belt Drive Force Feedback
As we've alluded to a few times in this guide, direct drive force feedback is the latest and greatest major technology to hit the sim racing peripheral scene in some time, and it's the best way to get the feel of a race car in your living room. That being said, direct drive force feedback wheels are quite expensive and we must say that they aren't quite necessary in order to get a solid sim racing fix.
Belt drive force feedback systems are still extremely common, and Fanatec makes what are arguably the best belt drive force feedback wheels on the market with their ClubSport steering wheel models. If the price of DD feels prohibitive or if you simply don't desire the massive torque output associated with that tech, the Fanatec ClubSport steering wheel bundles on this list will serve you very well for many years to come.
Cost and Value
You've surely noticed by now that Fanatec steering wheels are not what most folks would consider to be an impulse purchase; each of these racing wheel bundles is a enthusiast-grade product that is designed to withstand the rigors of regular use by hardcore sim racing fans. That said, not everyone will find value in a racing wheel that costs more than their Xbox One or PS4 – not to mention their gaming PC.
Fanatec fans all agree on one thing though: you get what you pay for with these racing wheels. In order to ensure you're getting not only a great deal – but also the best deal possible – make sure you navigate to the "Racing Wheels / Wheel Bases" section of the Fanatec Website; it is here that you will find all of the bundles available in your region. Bundling is especially important if you want to save as much money as possible as Fanatec famously only runs one sale per year – on Black Friday – and the savings offered during that sale are rather modest.
Mounting
If you've owned an entry-level racing wheel in the past, you may be accustomed to a sim racing rig that consists of a table clamp and a computer desk; that isn't going to fly your powerful new Fanatec product. While you can certainly get away with such an arrangement with some of the less-powerful Fanatec racing wheels, you won't be getting the full experience or have good control of your racing games. Good ergonomics are also essential, especially if you intend to spend a considerable amount of time in sim racing games.
Sim racers need dedicated rigs for their steering wheels and pedal sets, so make sure you have a good place to play. The best solution for most is to grab a purpose built sim racing cockpit – of which there are many available. Make sure you get a cockpit that is compatible with your chosen Fanatec racing wheel!
Frequently Asked Questions
There are a few questions that tend to pop up time and time again by those shopping for a Fanatec racing wheel product; here are some of those queries as well as our responses to them:
Which Fanatec wheel is the best?
That really depends on a number of things such as whether you're playing on PC or console, which racing games you play, and your budget. This guide was made with all of these factors – and more – in mind, with the intent of helping you figure out which Fanatec racing wheel is best for you.
Why are Fanatec wheels so expensive? Is the Fanatec wheel worth it?
These are questions that you can only really answer for yourself, but the answer you're most likely to get from a Fanatec steering wheel owner is a resounding "yes". While these Fanatec steering wheels are far from cheap, they're made of premium components and feature some of the most thoughtful design and quality engineering you'll find in any racing wheels.
Is Fanatec better than Thrustmaster?
While this is also very hard to answer directly, we will say that the average Fanatec product is of considerably higher quality than that of the average Thrustmaster product. That said, Thrustmaster products are generally more affordable and are aimed at a somewhat different segment of the sim racing scene.
Other Fanatec Wheels We Reviewed
Even though they didn't make our top 5 list, here are some other great Fanatec wheels we looked at:
CSL Elite Porsche 918
It's a shame we couldn't put this wheel higher up on our list, because it's just as good as the CSL Elite WRC or BMW GT2. Once again, it's Fanatec's awesome and affordable CSL Elite wheel base, but this time with an incredibly attractive Porsche wheel rim. If that's what you're into, this is the bundle to choose.
ClubSport BMW GT2
The ClubSport BMW GT2 is Fanatec's Xbox-exclusive ClubSport V2.5 wheel base with the ClubSport BMW GT2. Earlier, we chose the Forza Motorsport version over this wheel, but let's try to make you change your mind now. First and foremost, this is a licensed, exact 1:1 replica, of the wheel you'd find in an actual sports car. When we mean exact we mean the same size, the same weight and made from the same materials. The LED lights at the top of the wheel function similarly to the ones you'd find in the F1 bundle we talked about in our number one spot. With the addition of a great LED speedometer to let you know how fast you're going without having to look at a distracting hub. As a final note, the paddle shifters feel great too. All in all what more could you want than a real-life replica of a racing wheel if you truly wanted to test your racing acumen?
Design Your Own Fanatec Wheel
Okay, technically speaking this is cheating, but so many people don't know this exists we simply had to add it to the list.
There's a decent chance that, in reading through this list, you've wished you could mix some parts of the bundles with other parts. Well, lucky you! Most people ignore this option, but Fanatec allows you to add and subtract different parts so that you can create your own specific dream setup. Better yet, there are options under the bundle creator that you otherwise wouldn't find on the website. Want to feel as though you're driving an antique car in an old F1 circuit? Why not add the "Podium Steering Wheel Classic" to your DD1 bundle, couple it with a more traditional shifter like the ClubSport Shifter SQ V 1.5, add a handbrake, and there you go! Want to feel like you're driving a Porsche 911 GT3? There are options for that too!
Of course, making your own bundle doesn't mean that you're going to get a discount, but Fanatec does a fantastic job at helping you figure out what pairs with what, giving you plenty of options, and you can truly finally create exactly what you've been looking for. If the change is minute then maybe consider just modifying a bundle a tiny bit to try and get the discounted price. What's key in all this is the wheel base. Once you have that you can always switch out compatible wheels for one another.
Oftentimes it's hard to make a choice because aspects of one bundle attract you, whilst others you don't like. Well, whether you're just slightly adjusting a pre-existing set-up, or creating your own from scratch, give the bundle configurator a look.
Last Updated on May 2, 2021