The closest thing you can get to driving an F1 car is purchasing a full-motion rig for racing simulators instead of a stationary cockpit. These will pair with direct drive wheels and other peripherals and replicate not only the feelings but also the movements of the rig, as though you were truly inside the car. With that said, here is a list of the best rigs on the market today!
The Top-Rated Motion Simulators for Racing
| Motion Sim | Rig | Score |
| --- | --- | --- |
| Top Pick | DOF Reality P3 | 92% |
| Runner Up | Next Level Racing v3 | 90% |
| Also Great | AXON GT-Formula | 90% |
| Budget Pick | Roto VR Chair | 84% |
| Honorable Mention | T1000 3M | 92% |
| Best For Professionals | Motion Sim 4DOF Extreme 4x4 | 99% |
| Runner-Up For Professionals | CXC MOTION PRO II | 97% |
| F1 For Professionals | Vesaro Formula Home Use | 98% |
Top Pick: DOF Reality P3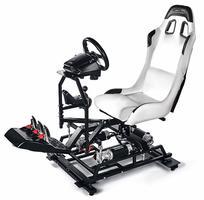 The DOF Reality P3 is an affordable (relatively speaking!) motion simulator that does everything you could possibly ask for. The P3 is designed to move all simulator controls, from the seat to the steering wheel, pedals, and other peripherals in three dimensions (pitch + roll + yaw). It's also one of the more quiet models on this list, allowing you to immerse yourself in the sound of the roaring car engines. It's also built to be used, with industrial-grade motors that will last for hours each session. The P3 can simulate road texture, gear changes, and collisions via vibrations quite well.
One of the best features about it is how easily it can be upgraded. If you ever decide you want to go for something a bit more powerful and precise, you don't have to throw the old model away. Upgrade kits will allow you to boost your rig to more powerful versions for half the price of a new model.
The main negative with this setup is that DOF will only sell you the platform, so you need to purchase your other accessories separately.
Runner Up: Next Level Racing v3
Don't be fooled by the small size of the Motion Platform v3, because there's an incredible amount to love! Only the seat will move, but once it's properly set-up you'll feel the power. It's tested to make you feel the same g-forces you would if you were actually in the vehicle. The same goes for engine revs, road feel, cobbles, and more. The intensity can be such that, for the first couple of races, you should probably turn it down!
It's also incredibly easy to program. The proprietary software (which is included with every purchase) will simply ask you what sim you want to run and it does the rest. No further adjustments or connections. The fact that it's used by professional drivers from Red Bull's Mike Whiddett to Rally Driver Ricardo Costa should give you an idea of just how great this incredibly small yet potent rig is.
There are only two (and a half) negatives we can say about this entire system. The first is that it isn't the easiest to assemble. You'll also be required to input the serial number of your Motion Platform in the software, but if you don't have it written down you'll have to flip over the rig to find it again (hence the half). The other let down is that it doesn't deliver as great a sense of traction loss in the rear as some other rigs. The fact that it does however give you the lift sensation slightly offsets this.
Also Great: AXON GT-Formula
The newest member in our list, the AXON GT, reaches the pinnacle of class, fidelity, and customisation
The AXON GT is a fantastic racing rig. Let's start with some specs: it has over 60 different customization options that can quickly be adjusted without counting the interchangeable seat. Speaking of the seat, it beautiful and comfortable, no matter whether you're over 6ft tall, or under 5! The build quality is as incredible as the elegant design. The chassis is made from aircraft-grade T-6 aluminum and is reinforced with carbon-fiber for strength. This means that the sleek rig suffers from very low shaking and close to no vibrations. What you feel is what you're meant to feel, not any mechanical mistake. As a note, this setup is compatible with Fanatec and Thrustmaster products only, but that shouldn't be an issue if you buy the complete set (as you'll soon see!).
Every aspect of it has been meticulously tested for hundreds of hours, going through over 200 rounds of quality assurance, to make sure that the rig not only performs but lasts. The full set comes with the AXON brand adjustable pedal plate, Axon GT-formula racing seat, a 49″ ultrawide gaming monitor, a powerful pre-configured PC, the Fanatec Clubsport Pedals V3, the Clubsport Wheel Base V2.5, ClubSport Shifter SQ V1.5, and the ClubSport Steering Wheel Formula Carbon or ClubSport Steering Wheel BMW GT2 and the motion package. Basically, a complete set-up not only for sim racers but any video game aficionado out there!
Budget Pick: Roto VR Chair
Admittedly it's not specifically built for racing sims, but this chair does what it does laudably and for a third of the price of the next cheapest entry on our list.
Before we say anything else, the Roto chair is built specifically for VR, so if you don't plan on racing in VR you can just stop reading. If, on the other hand, this sounds like a dream come true… you're not entirely wrong. The Roto Chair has the incredibly cool functionality of rotating where you look, meaning that you won't ever have to hassle with wires or anything of the sort (it can be turned off and put in cockpit mode, so don't worry). The double ruble feature makes it so that every engine throttle, gear shift, and crash will feel like you're inside the car. Of course, it won't deliver as great an experience as the more expensive models, but it's quite engaging and much more versatile. You can also add a racing pack, which slots at the base of the Roto chair, and has supports for most racing wheels and pedals, though it's specifically designed for the T150 Asia Thrustmaster wheel.
Again, this isn't made specifically for racing sims, but it will have you very much in the game. This is a double-edged sword. Clearly, it can't replicate the intensity of the Motion Sim 4DOF Extreme 4×4, but it can do a wider variety of things that the DOF can't. Whether it's watching movies, playing other, non-racing sim VR games, or just relaxing a virtual space, the Roto has you covered in flying colors. Consider this choice not only if you don't want to spend a fortune, but if you want a wider birth of options with your purchase.
Honorable Mention: T1000 3M
This beautiful setup doesn't have all the inclusions of other rigs, but what it does have is pinpoint perfect.
The T1000 asked a question: how precise can motion rigs get. The answer: very! The traction loss system it employs makes it so that you'll feel everything, even the rear of your vehicle, granting close to unparalleled realism. It's peculiar to have to talk about all the things you can "lose" but that's exactly the type of thinking that distinguishes 3M from many other producers. After not long on it, you'll be able to tell the difference between the loss of grip and loss of yaw for example. Practice will never have been so important as you carefully modify your race-setup like a real Niki Lauda.
The build quality is similarly excellent, made from robust metal. It's pendulum system will you're your chassis moving on multiple axes, and the Double Dyadic SCN6 helps with its dynamic inclination. In terms of adjustability, the tiltable pedal plate really helps in finding the optimal position for every specific person.
This system does not, however, come with other peripherals such as TVs, PCs, VR sets, or anything of the sort. The rig and the rig alone is what you get.
Best For Professionals: Motion Sim 4DOF Extreme 4×4
If you're willing to delve in a less than optimally designed website, you'll find one of (if not the) best motion rig on the market
The 4DOF Extreme 4×4 doesn't look as cool as some of its competitors. It doesn't have the sleek aesthetic that accompanies so many expensive sims. What it does have is incredible stats. The Czech company behind this incredible piece of machinery has designed the closest thing to driving a car there is. Let's start by saying that it comes with a seatbelt, and you're going to want to strap in. It has a roll of 30° on each side, capable of accelerating over 500°/s2, which is about the same stats as the yaw and the pitch (slightly over 31° up and down). If these mean nothing to you, then perhaps this will: when you're inside this four-legged machine, you'll be capable of being subjected to 2Gs of force.
Aside from all these insane stats, it's also bundled with 3×27″ 2D LED displays with panoramic view, a 5.1 sound system, and their own proprietary wheel, pedals, and shifter. Whether you want to drive an F1 car on the Monaco asphalt, drift off in dirt inside your favorite rally car, or perhaps calmly drive through Europe in a truck, the 4DOF Extreme 4×4 hits near perfection in all cases. Oh, and did we mention it's also VR compatible?
Runner-Up For Professionals: CXC MOTION PRO II
You get to pick what to add in this expensive but high-quality motion rig for a truly customized experience.
The motto of the Motion Pro 2 is "Simulation based in science". This alone should give you the idea that this luxury motion rig will deliver with flying colors! Before even utilizing it, the CXC comes with a myriad of data in it to best mirror what's going on. Cars have been laser scanned, weighed, specific parts tested and official information received directly from manufacturers. An incredibly powerful physics engine then processes this to bring everything alive, making you feel every loose pebble on the track.
In terms of video experience, the situation is similarly great. If you go for the more expensive option, the CXC will come with three HD screens delivering 6,220,800 pixels and a 180-degree field of view. You'll have to actually turn your head to see the approaching corners!
Finally, the CXC is insanely customizable. Cars from Formula 1, NASCAR, IndyCar, WRC, FIA GT, ALMS, and dozens of others are programmed to feel unique and different. Millimeter accurate laser-scanning technology was used to map hundreds of racetracks from around the world. In terms of add-ons: you can elect to have multiple wheels depending on what you drive, different shifters, and even a VR addon!
F1 For Professionals: Vesaro Formula Home Use
If you like some show alongside your pinpoint precision, Vesaro will have you driving in style
If you can afford the price the Vesaro is an incredibly cool simulator to have in your home. It's an almost perfect replica of an F1 car on a 1:1 scale with a wraparound display (read three massive screens). Even the wheel and tires are perfect replicas. In the purely aesthetic aspect of it, you can keep the Vesaro yellow and black livery, but you can also choose to customize it with custom paint jobs or full vinyl wraps.
On the more gritty side of things: the Vesaro's largest pull is its Dynamic Suspension system. This makes it so that the wheel stays static on the ground while your body is moved by the D-BOX motion system. This means that, from when you step into the car (like a real driver), to every turn, until you get out, the car looks and behaves identically to an F1 vehicle. Much like the AXON, the Versaro comes with electric adjustable pedals, a custom-built Vesaro PC, an F1 replica wheel, and is powered by a Bose Audio System.
It's very expensive, but if you have a lot of money to spend and are solely interested in F1 sims, why not give it a look.
What to Look for In a Motion Sim
It's inherently harder to point to any specific factor(s) when considering motion rigs. For this reason here are the three main "ideas" you should keep in mind before making any purchase
Immersion
The biggest factor that will likely have you buying a motion rig for simulator games is feeling as though you're truly inside the cockpit of your vehicle. That's why immersion should be at the forefront of your mind. It's hard to give a specific technical spec for this, as we could choose between G force, pitch/yaw/roll angles, speed, or acceleration. The best way to go about it is to simply look at the product itself and see what it offers.
Price

This is not an unimportant factor. Motion rigs often cost multiple thousands, and can easily surpass the costs of actual cars. Some of the most expensive versions will be very expensive. Before you make any decision or purchase make sure to look at whether this product is in your budget.
Build Quality
Purchasing a motion rig is an investment, and as such, it should last. That's why looking for something that has a solid build is very important. Most companies offer warranties of either one or two years included with the purchase, but still, better safe than sorry.
Last Updated on May 2, 2021