The Thrustmaster TSSH is both a sequential shifter and handbrake, making it an excellent accessory for any sim racing rig. This article will closely examine the TSSH to see whether it falls short, meets, or goes beyond the expectations for both a shifter and handbrake.
What to Consider Before Buying a Shifter
Because F1 cars utilize paddle shifters, this accessory is not ideal for you if that is the only kind of racing you intend to do. If, however, you plan racing with any other type of sports car, whether it be on track or off track, then consider shifters an important addition.
Before you make any purchase, there are certain key factors to keep in mind when getting a shifter. The first and most important is shifter type. There is no right answer, but they broadly fall into two categories: sequential shifters (which you push forwards and back to change gear) and h-shifters (which are the ones you find in most cars). The second key consideration is resistance. A shifter that has no resistance to it will feel like an arcade game, and as such will not be immersive. Finally, customization. Being able to change specs around, from throw distance to resistance, will allow you to tailor your racing experience to what suits you best.
What to Consider Before Buying a Handbrake
Handbrakes are peripherals that will either give you one of the largest increases to immersion or do very little for you. There tend to be two different types of racing sim aficionados: those who wish to race F1 cars and those who wish to race sports-cars. If you find yourself to be in the first category then handbrakes are almost completely useless to you. We recommend you look for a higher quality wheel and some great pedals (you can find our guides here and here). If you're a sports-car sim racer then the question becomes more granular. Certain games benefit from a handbrake like few others. Rally games (like the excellent Dirt 4) make the use of a handbrake an almost integral experience.
A few things to keep in mind when purchasing a handbrake are resistance and build quality. The first is simply due to their nature. Good resistance translates to a genuine and responsive feel.
Build quality is also key. Handbrakes will require you to use them aggressively, and as such, they need to be able to withstand stress.
The Thrustmaster TSSH
Thrustmaster TSSH Sequential Shifter & Handbrake
The TSS HANDBRAKE Sparco Mod is a 2-in-1 device that offers two modes: Progressive handbrake and sequential shifter
The knob is the exact replica (1:1 scale, 3.4''/8.5 centimeter in height) of the genuine knob equipping products in Sparco's rally and drift range, ensuring maximum realism.
The TSS HANDBRAKE Sparco Mod features Thrustmaster's H.E.A.R.T: HallEffect AccuRate Technology, delivering unrivaled precision and an unlimited life cycle.
The TSS HANDBRAKE Sparco Mod boasts 90% high-quality metal components (steel and aluminum), ensuring optimum solidity.
English, French (Subtitles)
The TSSH Sequential Shifter & Handbrake is a Thrustmaster-Sparco collaboration. It aims to deliver a 1:1 replica of the Sparco equipment you would find in actual cars. The entirety of the handbrake is made in metal, except for the handle, which is made from durable plastic to help with grip. This handbrake very easily becomes a sequential shifter with a simple flick of a switch.
The TSSH is compatible with PCs, as well as Thrustmaster wheels and bases. As far as handbrakes go the TSSH is the market leader. Few can compare to the quality it delivers (the only exception is the Fanatec ClubSport Handbrake, which battles it out head to head).
All in all, we'd recommend the TSSH especially for those who intend to play rally games. There the use of the handbrake is a necessity, and Thrustmaster delivers with flying colors. Of course, we recommend getting both a handbrake and a shifter, but the flip switch makes it possible (albeit very difficult) to use solely the TSSH.
If you are planning on racing with F1 cars alone, avoid this purchase. It's expensive and you'll have no use for it.
Features & Benefits
Here are some of the many reason's to pick up this shifter.
Shifter Switch
The TSSH doubles as not only the best handbrake but also an excellent sequential shifter. Much like the Fanatec ClubSport Shifter SQ, all you need to do to trigger a change between these two modes is throw a switch. Though the sequential shifter is perhaps not the best one on the market, it still delivers incredibly detailed feedback and is a pleasure to use.
Sparco Build Quality
As mentioned before this is a collaboration that Thrustmaster has gone through with Sparco. Sparco is an Italian auto part and accessory company with plenty of practice manufacturing equipment that is placed in real-life cars. This translates to excellent build quality and a peripheral that feels ripped out of a professional car. It's an absolute joy to have, and it both looks and feels the part.
Cost
Unfortunately, due to the aforementioned features, the TSSH comes at a steep price point. It's often double the cost of a lot of other shifters/handbrakes available. Indeed, this peripheral is essentially two things in one, but for those looking for an affordable break, this one is not for you.
Alternatives
In this section, we review two handbrake alternatives and one shifter alternative.
Fanatec ClubSport Handbrake V1.5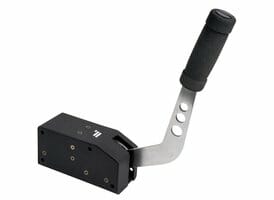 Fanatec ClubSport V1.5
This popular Fanatec handbrake is fitted with an analog sensor, so the more you pull, the harder you'll brake.
If you are solely looking for a handbrake, then the Fanatec ClubSport Handbrake V1.5 is an excellent choice. It's also entirely metal built, except for the foam grip. An analog sensor allows players to drifts while the wheels are still rotating rapidly, allowing for more expert drivers to perform complicated maneuvers. It's cross-platform compatible, can be adjusted to be vertical or horizontal, comes at around half the price of the TSSH. If you already have a shifter, then consider this product. 
Thrustmaster TH8A Add-On Gearbox Shifter
Thrustmaster TH8A Add-On Gearbox Shifter
Solidly-built and precise, the TH8A is crafted of 100% metal
Featuring H.E.A.R.T HallEffect AccuRate Technology technology (patent pending), the TH8A's precision won't decrease over time, thanks to its contactless magnetic sensors: no tact switches or potentiometers, for an unlimited product lifespan
Unique design allowing for two different driving styles: "H"-pattern (7+1) and sequential (+/-)
Multiplatform: on PC (Windows 7/8/10), the TH8A Add-On Shifter is compatible with all racing wheels available in the video game accessories market. On PS4 the TH8A is compatible with the T150 Series, the T300 Series, and the T-GT (USB and/or DIN connections), while on Xbox One it is compatible with the TMX Series, the TX Series and the TS-XW Series (DIN connection)
The TH8A can be attached to any support surface: tables or shelves
Perhaps the closest comparison to the TSSH, the TH8A Add-On Gearbox Shifter couples as H-shifter, sequential shifter, and handbrake. It has a stunning and resistant aluminum build which is coupled with Thrustmaster's H.E.A.R.T. technology. This means that, no matter how much or how hard you plan on utilizing the TH8A, it will not lose accuracy as time goes on. It's also quite affordable, making it an alluring choice for many. As a final note, however, is the currently limited game compatibility. We recommend you check on the Thustmaster website to make sure that it will work for you. Read our full review here.
Heusinkveld Sim Shifter Sequential
We previously mentioned the Heusinkveld shifter in this guide, and that's because it's perhaps the best sequential shifter on the market today. Though it's small, the Heusinkveld is built to simulate every gear to perfection. The ball spring resistance system gives the user powerful feedback and resistance which can be regulated by the user by switching between three levers. The main drawbacks are that it works only on PC and that purchasing it is more complicated than with other shifters, as you have to go on the Heusinkveld website and order it from there.
Conclusion
The Thrustmaster TSSH Sequential Shifter & Handbrake an incredibly built and incredibly responsive handbrake which allows for unmatched precision. Despite the expensive price tag, it's an absolute joy to use. If you are on the fence as to whether you will race on dirt but have money to spare, purchase it. The TSSH also functions as a top-class shifter, meaning that you could always just use it for that purpose. All in all, it's hard to not recommend that you at least give this excellent product a look.
Last Updated on February 3, 2021 by Thomas Bush