Any sim racing enthusiast will have a great rig full of top-notch gear including a wheel base and rim, pedals and a shifter. The most enthusiastic among this group will take things to the next level by adding a racing handbrake. As with most other racing sim peripherals, Fanatec is a leader in this regard – and their most current and top of the line handbrake is the ClubSport Handbrake V1.5.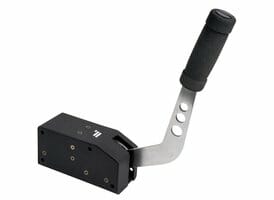 Fanatec ClubSport V1.5
This guide covers Fanatec's one and only ClubSport V1.5 handbrake
While the handbrake is considerably less complicated and easier to install than most of the other aforementioned peripherals, there is nonetheless nuance in the mix – and we felt it might be helpful to put together this guide for anyone who could use a bit of guidance.
1. Connect Your Handbrake
There are a few different ways to connect your ClubSport Handbrake V1.5 depending on whether you have other Fanatec hardware to piggyback on.
– If you have a set of Fanatec pedals, they house a dedicated port just for use with the handbrake, and this is the ideal way to connect your handbrake to your system.
– If you have a Fanatec wheel base and don't have Fanatec pedals (or if you simply can't/don't want to connect to them) the ClubSport Handbrake V1.5 includes an adapter to allow the device to be plugged into your wheel base.
– If you do not have other Fanatec racing hardware and want to use ClubSport Handbrake V1.5 with another manufacturer's kit, you can purchase the ClubSport USB adapter separately. Note that not all racing sims will allow for this configuration, so it's best to do a search of your target game(s) forums to check if other users are able to get their system up and running with your hardware mix – This may sound like an unreliable and archaic solution, but you may be surprised by the number of users who find themselves in a similar situation to yours!
2. Install Fanatec Drivers
Believe it or not, the simple design and limited functionality of the ClubSport Handbrake V1.5 means that there is no need for associated software or firmware! That being said, it's very important to make sure that your other Fanatec hardware (if applicable) is up to date in order to ensure full compatibility with the handbrake:
1) Ensure that your wheel base is plugged into an AC outlet (if applicable), and the USB is plugged-into a compatible USB port on your PC.
2) Open a web browser (Chrome, Safari, Firefox etc.) and go to www.fanatec.com/downloads
3) Click the "select products" drop-down menu, find your product and click it. You should now be on your product's dedicated page and navigated to the "downloads" tab.
4) Click on the latest (first) driver and download/save it to your PC.
5) Once the download is complete, open the driver and follow the onscreen instructions to install the driver.
6) After installation is complete, restart your PC.
Now that you've got the drivers on your PC, it's time to use the software to update the firmware on your products. The associated software may have created a desktop shortcut – if not, click on your Window's start menu and type Fanatec to find it. Once you find it, open the software and follow the instructions below:
Updating firmware
1) Click on the "select product" dropdown, find your product and click on it.
2) Click "properties".
3) A window will pop-up that asks you to update your firmware – click "yes", then "start firmware updater" when it appears.
4) Follow along with the software until the update process is completed.
3. Calibrate Your Handbrake
As you might expect, calibration of the ClubSport Handbrake V1.5 is quite streamlined as well.
1) Ensure that the handbrake is properly plugged into its respective device (pedals, wheel base or PC).
2) Power on the wheel base and/or other racing hardware.
3) From default/resting position, pull the level all the way up.
4) Return the lever to its resting position.
That's it! If you run into any issues, unplug/replug the handbrake and give calibration another go.
4. Adjust Fanatec Settings
There are no software/firmware related settings for the ClubSport Handbrake V1.5, but you do have one noteworthy option with regards to physical configuration: lever position. By default, the ClubSport Handbrake V1.5 rests in a horizontal position, but you can follow these steps to change the lever to rest in a vertical position:
1) Loosen the top and back screws and remove the cover
2) Remove the lever, turn it upwards and reseat it.
3) Replace the cover and tighten the screws.
Easy as can be!
Frequently Asked Questions
Can you use the ClubSport Handbrake V1.5 on consoles?
Yes, you can use the Fanatec ClubSport Handbrake V1.5 on consoles like PlayStation or Xbox, but only when connected to a Fanatec wheel base or pedal set.
How do you mount the ClubSport Handbrake V1.5?
The handbrake's casing allows for mounting on either side or on the bottom of the device. Where you place it is entirely up to you, and as such mounting hardware is not included in the package. A simple solution is available from Fanatec: the ClubSport Table Clamp and ClubSport Handbrake Clamp Adapter.
How often should the ClubSport Handbrake V1.5 be calibrated?
A You should recalibrate your handbrake any time firmware is updated for your other racing hardware, or if the device isn't functioning as expected.
Last Updated on April 16, 2021