While there is a place in the market for 'out of the box' steering wheel and pedal sets, if you spend any appreciable amount of time bombing around a virtual race track, a time will come when you want something 'more'.
It's true that starter sets like the Logitech G923 are way more affordable than more premium products from Fanatec and Thrustmaster. However, what you get out of the box, is what you're stuck with.
Once you start getting that itch, it's time to upgrade.
If you've got the disposable incoming, high-end sim racing peripherals don't just give you a better racing experience; they're almost endlessly customizable so you can set up your rig precisely the way you want to.
In October 2021, Fanatec releases their second iteration of ClubSport Universal Hub, which has been imaginatively named "The ClubSport Universal Hub V2":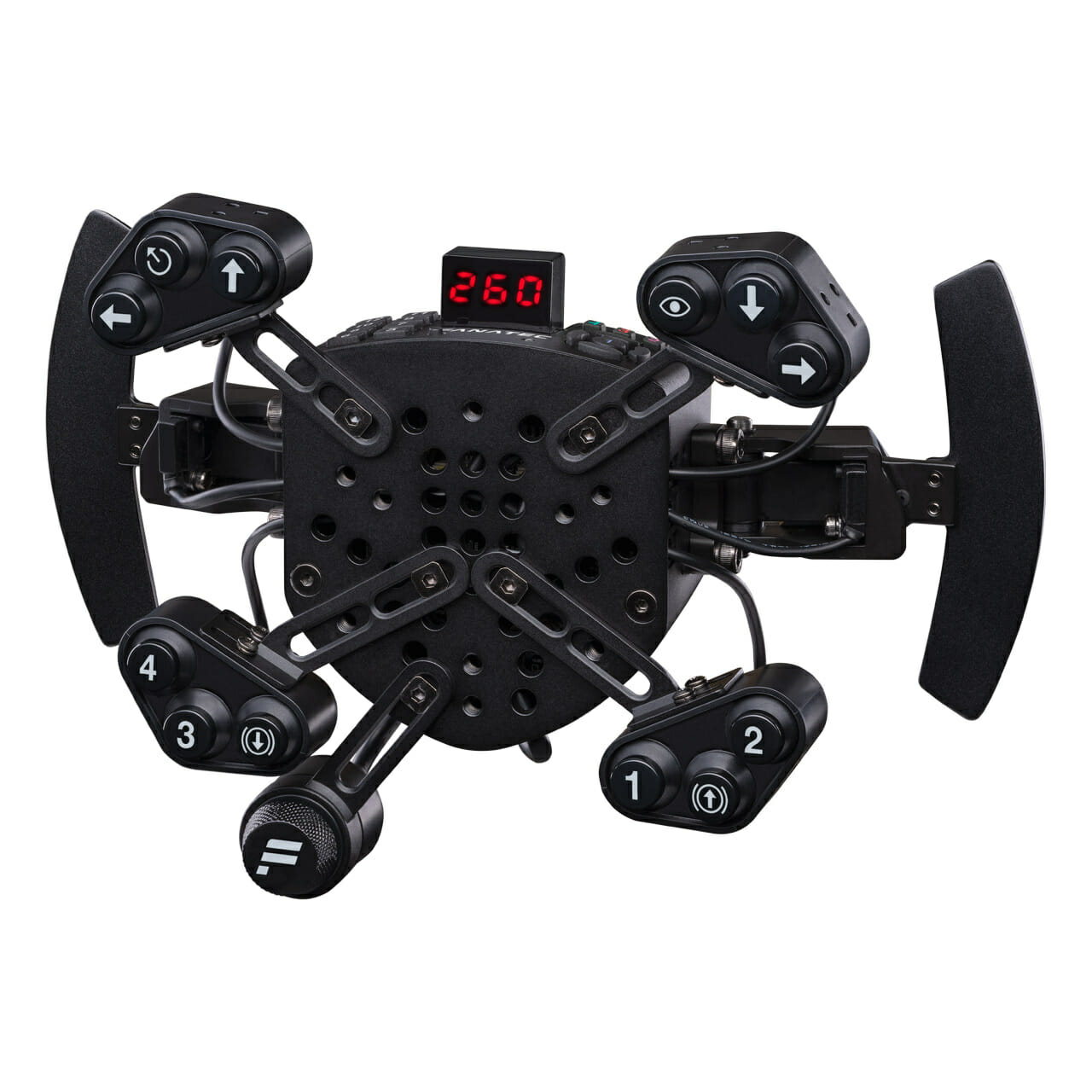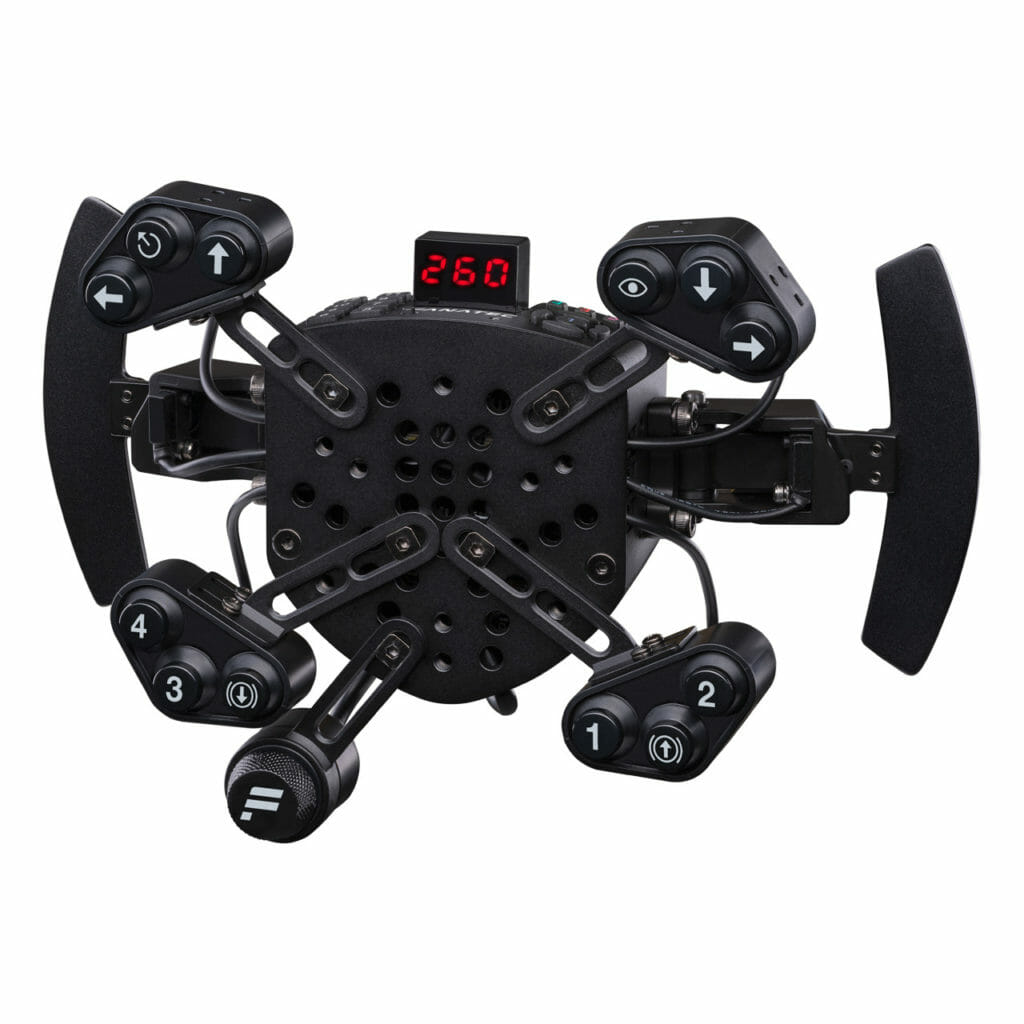 Though we haven't had hands-on with the hub yet, let's take a look at what we know so far.
What Is the ClubSport Universal Hub V2?
If you're new to sim racing or are upgrading from an all-in-one style wheel and pedal set, you might not be familiar with a wheel hub.
The ClubSport Universal Hub V2 bridges the gap between the mechanical wheel base that rotates and the physical wheel rim that you hold in your hands.
All the buttons that you need during a race are found on the hub. A well-designed hub is all that stands between fluid and dynamic racing and a frustrating experience.
Pros
Compatible With Any Fanatec Wheel Rim
Works With Certain Third Party Wheel Rims
Position Button Clusters Wherever You Want
Magnetic Paddle Shifters
Improved Electronics
Upgradable For QR2 System
Cons
Limited PS4 & Xbox One Compatibility
Full Functionality on PC Only
$200 More Expensive Than CSL Hub
Price
$349.95 – The second version of the Universal Hub from Fanatec is a little bit spendy compared to its predecessor. The original hub clocked in at $150.
There is a cheaper version for $329.95 with no Xbox compatibility, which we'll talk about later.
Release Date
Fanatec will release the ClubSport Universal Hub V2 on October 6th, 2021. However, you can pre-order it right now (though you should probably finish reading our article first).
The version without Xbox compatibility will be released slightly later, on the 27th of the same month.
Compatibility
As we've already mentioned, there are two iterations of the ClubSport Universal Hub V2.
The more expensive model, officially titled 'ClubSport Universal Hub V2 For Xbox' (which doesn't exactly roll off the tongue), is compatible with PC, Xbox Series X, Xbox Box Series S, and Xbox One.
Fanatec clarifies that the functionality may be limited on Playstation and Xbox by the console's capabilities. The standard Universal Hub V2 is compatible with the PC and limited functionality with the Xbox.
Having a cheaper option is pretty cool if you only intend on using the Hub on PC.
Fanatec listed the following wheel bases as being compatible with the ClubSport Universal Hub V2.
CSL Elite Wheel Base V1.1
CSL Elite Wheel Base +
CSL Elite Racing Wheel 
ClubSport Wheel Base V2
ClubSport Wheel Base V2.5
You can attach any Fanatec wheel rim to the Universal Hub V2 and even some third-party brands like Sparco, OMP, and MOMO, which is hugely beneficial for people who already own those wheel rims.
What's In The Box?
Even though the hub you're buying is technically one piece, there are tons of components in the box because it's so customizable, and there's lots of assembly required.
The list is long, so strap into your safety harness and get your reading glasses on. Here's what's in the box.
ClubSport Universal Hub V2 for Xbox
4 x button clusters with three buttons each
2 x small levers and 2 x long levers
1 x FunkySwitch™
LED display unit
ClubSport Magnetic Paddle Module with aluminum paddle plates (pre-installed)
Large and small paddles, bolts, and spacers
QR1 Wheel-Side (ClubSport Quick Release Adapter), packaged separately
Safety pin for long-term storage
Safety screw for permanent mount on the wheel base
Set of bolts
Racing-style button caps
'F' FunkySwitch™ sticker
Quick Guide
Features
There's a ton of boring-sounding technical features that you can read on the official page, but we've cherry-picked the best ones and listed them below.
Pre-Installed Magnetic Shifter Paddles
Adjustable Button Clusters
Tuning Menu Access
7-Way "FunkySwitch"
Upgradable for the QR2 System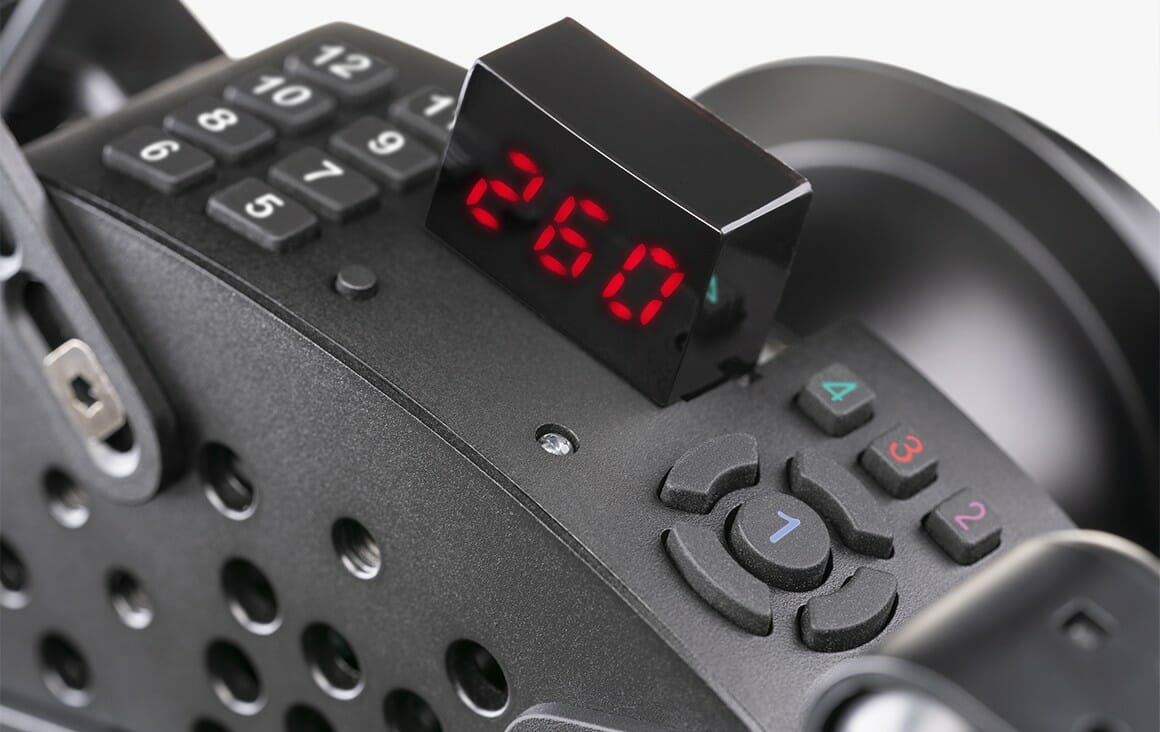 Alternatives
The CSL Universal Hub is the original wheel hub from Fanatec and has been available to sim racers for the last seven years.
With a severely reduced price point compared to the new Hub V2, it's an excellent option if you don't have the budget.
Sure, it doesn't have the improved electronics or magnetic paddles, but it's still a quality Fanatec product.
Should You Upgrade?
If you already have the CSL Universal Hub, is it worth upgrading to the V2? Of course, the deciding factor when choosing whether or not to upgrade is if it's financially viable.
It's a lot of money to spend on relatively minimal improvements, but that said, the magnetic paddles and upgradable hardware means the Universal V2 Hub is a system for the future, while the original unit won't be compatible with any future Fanatec products.
Final Thoughts
The announcement of the upcoming release of the Fanatec ClubSport Universal Hub V2 is the second piece of exciting news we've had recently from the brand.
Though the Universal Hub V2 didn't generate as much excitement as the CSL DD Wheel Base (primarily because of the price), it's still great to see updated dedicated sim racing hardware.
What's even more exciting is that because the CSL DD Wheel Base is so ridiculously affordable, you could feasibly buy these two Fanatec products together and still have a very reasonably priced high-end rig.
Of course, because neither the hub nor the wheel base is available in the wild, we don't really know how good they are just yet.
The proof will be in the pudding.
Last Updated on July 5, 2021