We are reader-supported. If you buy through links on our site, we may earn a small commission.
The first thing that comes to mind when talking about racing simulators has to be Formula 1. The emblematic motorsport that got a lot of people into racing sims in the first place has a lot of great wheels for your at-home enjoyment. Here are our top picks for the best F1 wheels for 2020.
The Top-Rated F1 Wheels for Sim Racing
Top Pick: Fanatec Podium Racing Wheel F1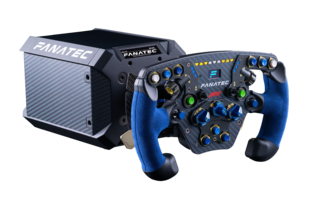 If you're looking for the best wheel especially made for F1 video games then you can't go wrong with the Fanatec Podium F1. This Fanatec bundle makes use of their fantastic DD1 podium wheelbase. While it's true that a more modern version exists (the DD2, check out our review here), in our opinion the DD1 delivers more than enough and is a lot more reasonably priced. That being said, reasonably priced does not mean cheap. This is still an expensive bundle, but it's simply a marvel of engineering. The force feedback is powerful, the wheel inputs are precise and suffer from no lag at all, and the DD1 is compatible with a massive amount of fantastic peripherals. As a last note regarding the bundle overall: it comes in two different versions, one of which is compatible with the PS4, the other is compatible with the Xbox (both are PC compatible). 
On the physical wheel itself, the fact that it's an officially licensed product from Formula 1 should be enough to let you know how incredible it is. It's mounted with multiple LED lights, it has buttons and switches in the double digits, it has a massive amount of customization options, it looks like a genuine product you could find inside a Ferrari or Mercedes, and it makes use of truly incredible paddle shifters.
How could we not choose the product that bears the official F1 brand as our number one pick?
Runner-Up: Clubsport V2.5
The Fanatec ClubSport V2.5 decided it wanted a challenge. It wanted to emulate what you would feel and experience when driving with a direct drive wheel, but avoid the same incredible price tag. Well, not only does it deliver, but we're impressed by just how well it does what it seeks out to do.
It makes use of a dual belt drive with multiple ball bearings and v-ribs which makes it have no slip or drag, exactly like you could expect to find in a direct drive wheel. Fanatec's Directsensor technology is employed to add both realism and accuracy, improving what is already an incredible performance to almost direct-drive levels. All in all, it's precise, powerful, and accurate. If you've never before used a direct drive wheel, you could be excused if you thought the ClubSport V2.5 was a direct drive wheel. If you have used a direct drive wheel… Well, you could still make the mistake, that's how good it is! Unfortunately, this marvel only works on Xbox or PC.
In terms of the wheels, we put two options. The latter we've already talked about above but should add that it does not work on Xboxes. If you're using a PC we think that the F1 Esports is the better of the two wheels and you should go ahead with that.
Nevertheless, the Xbox compatible Clubsport Formula V2 wheel is still a fantastic addition to anyone's collection. This wheel is not just a beautiful piece of eye candy, but a functional wheel with 67 adjustable options! It may lack the F1 trademark but that makes it no less functional or beautiful.
Also Great: Fanatec CSL Elite F1 Set
It may not reach the heights of the previously mentioned wheels, but this bundle will give you so much to play with at such a great price you simply can't but fall in love with it
The CSL Elite is a wheelbase that's been (unfairly in our opinion) been criticized in the past. It's true that it doesn't reach the same levels as the Clubsport V2.5, and obviously, it's not as great as a direct drive wheel, but the CSL Elite is a serious wheelbase at an affordable price point. It makes use of the same electronics, the same servo motor, and the same power supply as the Clubsport to offer up a very powerful and realistic force feedback experience. It unfortunately only makes use of one belt drive (hence the hate you may sometimes find online), but it couples it with the Directsensor tech to make it feel just as precise and powerful as you could possibly hope for. Moreover, the CSL Elite works on all platforms: PS4, Xbox and PC.
Onto the wheel, the CSL Elite F1 set makes use of the Clubsports F1 Esports wheel, and it feels just as great here as it does in any of the other wheelbases (with the added bonus that the CSL Elite has a larger rotation range than the Clubsport). Finally, in this already great bundle, you also get a pair of CSL Elite pedals. You can check out our pedal review list here, but needless to say, we love these. They're made from metal, they're resistant, they're powerful and they complete what you need for a great F1 setup.
All of this comes at a fraction of the Podium F1 set. So, if you're looking for something more complete for your F1 needs, without spending a fortune, this is what you're looking for.
Budget Pick: Thrustmaster T300 RS
Thrustmaster T300 RS
The first non-wheelbase wheel in our review is cheap, powerful and an absolute pleasure to use and own.
Let's start with the main drawback: if you plan on using this wheel only for the purposes of driving an F1 car, you'll be disappointed to know that the shape of the wheel is not that of an F1 wheel. It's annoying, but that's it. That's the end of the bad things we can say about this wheel.
First of all, it's absolutely beautiful, and for good reason too! The T300 RS is a replica of the wheel you'd find in a Ferrari 599xx EVO (in an 8:10 scale). And this is an official replica, as in a replica that the Prancing Horse signed off on and made sure was up to scruff. The force feedback is fed to you via a brushless motor which makes use of a belt system to make sure that you won't hear the wheel, and won't feel any notchiness when steering. It's powerful and realistic, making it so much easier to quickly get immersed in the racing. It has an excellent rotation range of 1080°, more than some wheels that cost over three times its cost. Speaking of cost, the T300 RS is an affordable wheel. It's less than half of the cost of the cheapest option we've written about thus far in this article. If you can get over the shape of the wheel (it being traditional rather than F1 shaped), and want an inexpensive but quality product, then this is an easy pick!
All Inclusive: F1GT Formula Package
Granted, this may be a bit overkill, but after all, why not? If money isn't a problem then consider yourself lucky!
For once, let's start with the wheel itself. This package makes use of Thrustmaster's full-scale replica of a Ferrari's F1 wheel. There's an incredible amount of buttons, switches, paddles and more that you're completely free to map however you wish, allowing you full control over your customization options. The motor behind all this magic will change depending on which operating system you want to make use of. The Playstation one will be powered by the T300 motor (which we've covered above) while the Xbox variant will make use of a Thrustmaster TX motor. Regardless of the one you choose, what you'll surely get is powerful force feedback, a hyper-realistic feel, and a rush of adrenaline when overtaking on the outside.
That's not where it ends, however. Imagine taking an incredible set of pedals like the T3PAs, and thinking "Nah, these need to be better". Well, the folks over at Rimotech added a load cell to the brake in order to make it pressure sensitive, much like what you'd find in a real-life F1 car. You'll quickly learn to make use of this added precision in order to shave a fair amount of time off of your best lap! Finally, the build and seat that are included in this bundle are as sturdy and comfortable (without feeling like you're sitting in a couch, it retains the realism of a real racing seat) as you could ever hope for!
Build Your Own F1 Wheel
2020 is a great year to be a sim driver because like never before you have the option to customize what you want in your driving set-up and wheel. This is especially true of direct drive wheels. Websites such as Fanatech and Rimotech allow you to mix and match various wheelbases, steering wheels, pedals and more to help you truly create your own best set-up (as a quick note: Rimotech has more varied products, but Fanatech makes it easy for you to understand what works with what). This means that you can essentially build your own "best F1 wheel of 2020".
This is especially true if you decide to take the hardest road out there and attempt to make your own OpenSimWheel. This is a difficult project which can, however, yield an incredibly powerful and satisfying drive. If you feel up to the challenge or are at all interested, why don't you give our article on it a look by following this link here?