Bass shakers are tactile transducers that work in concert with your sound card to provide bass that vibrates through your racing cockpit. The following are the best bass shakers for sim racing!
The Top-Rated Bass Shakers for Sim Racing
Top Pick: SRS ShakeKit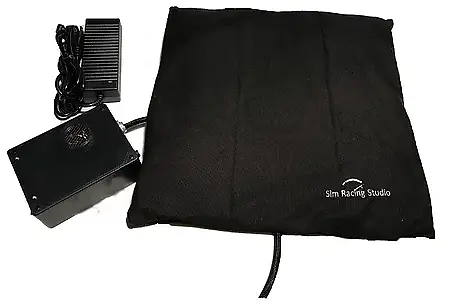 Realistic and affordable, the SRS ShakeKit is the market's best overall bass shaker for sim racing
Buy on SimRacingStudio
The SRS ShakeKit is as its name implies, a kit that includes everything needed to create an awesome experience. Sim Racing Studio (SRS) thought of just about everything when designing this kit – it includes a sound card, amplifiers, power supply, and four transducers (aka bass shakers) built into a ShakeSeat that makes you feel like you're in the seat of an actual four-wheeled vehicle. While all of these components do their job extremely well, the real star of the show is what lies on the other end of the USB – the SRS app.
Whereas other bass shakers take low frequency sound output from a game or other audio source, the SRS app pulls vehicle telemetry inputs from your racing game of choice and converts it into sound waves. This method ensures that every engine rumble, deceleration and cornering feels as authentic as possible, with no loss of nuance like you'd experience with speakers or rumble strips. As the ShakeSeat has 4 transducers, said rumble is translated into a feeling of 4 wheels, giving a sense of immersion that is absolutely surreal. Because the SRS Shake Kit includes this software and is designed to work with it, setup is extremely simple and your racing rig will be ready to go in minutes.
There truly is no easier way to add top-notch bass shakers to your pc rig, and the SRS ShakeKit's price and support round out a package that's impossible not to recommend as our top pick whether you're working with a high-end VR setup or if your rig is still fledgling. Grab an SRS ShakeKit today!
Runner Up: ButtKicker BK-SK Simulation Kit
The ButtKicker BK-SK Simulation Kit is another awesome kit full of hardware designed to give your rig good vibrations, and it does so in ways that are notably different from the methods employed by the top pick! Whereas the ShakeKit leans heavily on it's software component for realistic reproduction of effects, the ButtKicker BK-SK Simulation Kit goes with sheer brute force!
The centerpiece of this ensemble is the ButtKicker mini Concert – a super powerful transducer that pumps an absurd 250 watts of power directly into your seat; reacting to a bass range you'd expect to get from a speaker – 5Hz to 200Hz – this thing will do more than just massage your back! The kit does, of course, also include a powerful amplifier as well as all of the cables and adapters one might need in order to get everything plugged into their rig.
The biggest difference between this and the top pick would be placement. Whereas the ShakeKit is effectively a seat cover that can be placed anywhere, the ButtKicker BK-SK Simulation Kit requires a flat surface nearly one foot by one foot – which rules out the bottom of most gaming chairs, though some users report great effect when mounting to the back of their chariots. Those with elaborate racing chairs will likely have plenty of room on their undercarriage, but you might want to measure yours just to be sure!
Budget Pick: ButtKicker BK-GR Gamer 2
The ButtKicker BK-GR Gamer 2 is a great alternative for burgeoning sim enthusiasts who are looking to scratch the itch without breaking the bank. Whereas this kit's bigger brother (the runner-up pick) requires installation and a modicum of know-how in order to make good use of it, the ButtKicker BK-GR Gamer 2 is much easier to setup and can be used with virtually any type of chair.
The ButtKicker BK-GR Gamer 2 has a built-in mount that allows it to clamp onto any post up to 1.4″ in diameter – meaning just about any chair is in play. The included amplifier translates sound waves into rumble effects admirably, but there are certainly drawbacks associated with such a simple and adaptive package. In fact, pro users lament the Gamer 2's lack of oomph in feedback to the degree that they feel it isn't quite worth the semi-budget asking price.
That said, the asking price is considerably lower than the more higher-rated competition, and this kits ease of use adds a lot of value for racing sim enthusiasts who don't have high-end setups. If you want to feel engine rumble without breaking the bank, you can't do any better than this at this price point!
Also Great: Quake 300-Watt Shaker Kit
Massive power and high versatility combine for an expensive product that will be a good deal for some
The Quake 300-Watt Shaker Kit does precisely what it says on the tin: it injects 300 watts of bass-induced vibration into your seat! This kit is comprised of an amp, a clamp, and all of the bits and bobs needed to support the Shell ShoXX transducer in bringing feel from your PC to your posterior.
The Quake 300-Watt Shaker Kit could be thought of as a more expensive and more powerful variant of our budget pick, but it itself is far from a budget pick; in fact, it costs roughly as much as the top two picks combined! So why would we even mention this particular kit? It all comes down to the fact that each entry on this list meets a different set of needs – and this kit is absolutely ideal for some users with some setups.
The most common use case for this kit would be for someone who wants extremely powerful hardware for epic feel, but doesn't have a racing cockpit setup and wants to be able to use a gaming/office chair. If that sounds like you, this is an amazing alternative that is hard to beat!
What to Look for in a Bass Shaker
Here are some of the most important factors to consider when choosing a bass shaker for sim racing:
Audio vs Data
Virtually every bass shaker on the market operates by converting low frequency bass signals from your PC sound card into haptic effects you can feel. Some, such as SRS, also use proprietary software that intercepts telemetry data from racing games in order to more accurately translate deceleration and other subtler effects that don't have associated sound waves into something the shaker can output. To simplify – more telemetry means more realistic effects, and SRS took our top pick due to this consideration!
Installation
Bass shakers come in all shapes and sizes, and are designed to be installed in different places, in different ways – ultimately it's pretty easy to find yourself with a box full of shakers and amplifiers that you can't put anywhere! Before you look at any specs, look at the installation requirements. Some can be used by simply clamping them onto the bottom of your chair, while others require specific types of chairs to be mounted, and others still are meant to be installed directly into your floor or other places. Make certain you're getting a kit that's fit for your setup!
Price
As with all forms of audio and PC enthusiast hardware, bass shakers come in a crazy range of prices that can be hard to understand without first gaining an understanding of the underlying tech and associated hardware. Rest assured that each entry on this list is more than a simple bass shaker; we've taken into account that you need supporting hardware such as amplifiers and cabling, and we're only recommending kits that are ready to use right out of the box. This not only saves you from needing to spend a ton of time searching for the best combos, but also saves money!
Frequently Asked Questions
What is a bass shaker in sim racing?
In sim racing, a bass shaker is a type of speaker which sends low-frequency vibrations through your cockpit. This makes it possible to feel all aspects of the racing experience, such as the rumble of the engine.
How do you set up a bass shaker for sim racing?
To set up a bass shaker for sim racing, you will need to attach the shaker to your cockpit using the instructions provided. Then, plug the shaker into your computer (usually through the sound card) and install any necessary software.
Can you use a ButtKicker on PS4/Xbox One?
It is possible to use a ButtKicker on PS4 and Xbox One. In fact, ButtKicker hardware comes with full instructions (including illustrations) to guide you through the setup options. Said instructions are also available for download at their official website.
Last Updated on May 2, 2021