When serious sim racing fans go shopping for the best direct drive wheel bases, chances are high that their search will narrow to the following two products: the SimXperience AccuForce Pro V2 and the Fanatec Podium DD1.  Both of these high-end machines are designed for uncompromising performance over many years of regular use, and although you can't really go wrong with either, there are plenty of things one does better than the other.
While we think that the Fanatec Podium DD1 will be the the better buy for more users than will be the AccuForce Pro V2, there is a lot to consider before making a purchase of your own; to that end, we've done the research and created this handy comparison shopping guide for you.
Our Pick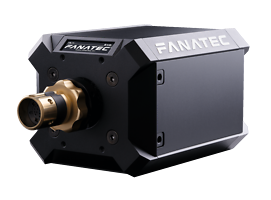 Fanatec Podium DD1
This wheel base may not be a lot better than the AccuForce Pro V2, but it's the huge Fanatec ecosystem that encourages a lot of buyers
AccuForce Pro V2 vs Fanatec Podium DD1: Technical Specs
| | | |
| --- | --- | --- |
| | AccuForce V2 | Fanatec Podium DD1 |
| Peak Torque | 13Nm | 20Nm |
| Rotation Range | 1080° | Unlimited |
| Rim included? | Yes | No |
| Materials | Machined aluminium | Brushed aluminum |
AccuForce Pro V2 vs Fanatec Podium DD1: Force Feedback
The AccuForce Pro V2 features a direct drive force feedback motor system that provides 13Nm of peak torque, and has been custom engineered to provide high-resolution feedback with virtually no latency. The included software includes various preset modes to dial-down the force in various ways, including a mode just for kids that features severely dial-down torque to ensure safety.
The Fanatec Podium DD1 also features a direct drive motor (hence the "DD" in the name) outputs 20 Nm of torque which is in line with real race cars, and thankfully also includes physical and software solutions for adjustment to lower levels of power. The servomotor is designed for low-latency and high input/output resolution. While the Pro V2 is certainly not a slouch in the feedback department, the Podium's force is dramatically stronger – and neither suffer any shortcomings in terms of control and reliability,
Winner – Podium DD1
AccuForce Pro V2 vs Fanatec Podium DD1: Build Quality
Both of these machines are built extremely well from machined aluminum, and designed for long-term heavy use. While both companies have earned a seal of trust from users for longevity and reliability, we give a slight advantage to Fanatec for including a five-year warranty whereas SimXperience only warrants their product for a single year.
Winner – Podium DD1
AccuForce Pro V2 vs Fanatec Podium DD1: Design
The Pro V2 is ready to mount in any standard configuration, and while it comes with a wheel rim and paddle shifters, it's made to be used with real-world racing wheels as well if you so choose. The controller unit is actually housed separately from the main chassis as well, which allows users to hot swap boxes if they want to regularly use two different wheels without having to reinstall them each time.
The Podium DD1 does not come with a wheel rim or paddle shifters, and is only compatible with Fanatec rims and shifters – although they do have a great variety of products to choose from. The controller and associated ports are included in the main box. While there is certainly no harm in this design philosophy, and it keeps things a bit tidier, the AccuForce unit will experience improved thermals which lends to greater performance under heavy loads.
Winner – Pro V2
AccuForce Pro V2 vs Fanatec Podium DD1: Noise
The Pro V2 is surprisingly quiet given how powerful it is, although there are a few users who complain of an overly-loud fan in the unit. The Podium DD1 is dramatically even more powerful, and it's similarly impressive that it manages to stay so quiet during regular operation as well!
Winner – Draw
AccuForce Pro V2 vs Fanatec Podium DD1: Other Considerations
Perhaps the most important consideration we've not yet discussed is price – the Fanatec product is considerably more costly than the AccuForce, which is especially noteworthy when considering that the Podium DD1 doesn't include a wheel or paddle shifters (although a bundle is available for those who want to save a few bucks).
For those with an Xbox console, you'll be happy to learn that the Podium is compatible with your system right out of the box, assuming you also have a compatible Fanatec wheel rim. The Pro V2 is not compatible with Xbox, and neither wheel base works with PlayStation consoles at all.
Conclusion
The AccuForce Pro V2 is a great wheel base that offers great value and versatility for many users, but we think that most users who are willing to spend this much for a top-shelf product are going to be okay with spending a little extra for an even more powerful product, so we give the nod to the Fanatec Podium DD1 and its improved torque, compatibility and warranty.
Our Pick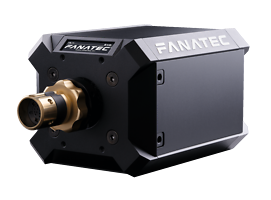 Fanatec Podium DD1
This wheel base may not be a lot better than the AccuForce Pro V2, but it's the huge Fanatec ecosystem that encourages a lot of buyers
Last Updated on April 16, 2021